DETROIT – Last December, the Wayne State University Board of Governors established the Eugene Driker Award for Distinguished Service to honor community leaders who are tireless supporters of Wayne State and the city of Detroit.

On Thursday, June 22, President M. Roy Wilson and the board presented alumna and former real estate attorney Denise J. Lewis with the award. She was honored for exemplifying Driker and all that he stood for as a two-time alumnus, former member of the Board of Governors, generous donor and enthusiastic ambassador.

"We think we have an outstanding person who does very much exemplify those qualities," Wilson said as he presented Lewis with the award. She is the second recipient of the Driker Award; the inaugural honor was posthumously presented to its namesake in December.

The Driker Award honors individuals who, like Driker, have performed extraordinary service on behalf of both the university and the community. And Lewis definitely meets and exceeds the requirements.

A champion for Wayne State and Detroit, Lewis' commitment to the university began in 1993 as a member of the Board of Governors, on which she served an eight-year term. Her dedication grew stronger during that time and, upon completing her term of office, she sought additional ways to contribute.

"Diversity is one of Wayne State's cornerstone values and a focus area in our strategic plan, and her contributions have helped create opportunities and advance social mobility for many throughout the university community," Wilson said. "Her professional work and volunteer service help elevate Detroit, improve life for its residents and cultivate communities that will be enjoyed by many for years to come. As a real estate attorney, she has helped rebuild Detroit's Downtown, riverfront and Midtown, the neighborhood Wayne State calls home."

Lewis was the first woman and first minority individual in Michigan to be elected to the American College of Real Estate Lawyers. Once named one of the nation's most influential Black lawyers by Savoy magazine, she headed Honigman's Urban Redevelopment Practice Group.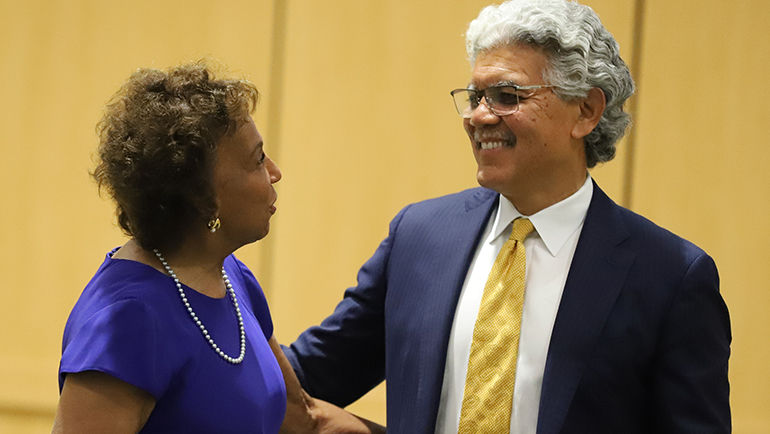 Among many of her real estate deals are the Compuware headquarters at Campus Martius, the expansion of the Marathon Oil refinery in southwest Detroit and TechTown, the research and development park near Wayne State aimed at helping engineering and business students gain real-life entrepreneurial experiences.

Currently, Lewis is a member of the Wayne State University Foundation Board of Directors, an independent nonprofit foundation that promotes advocacy and generates the financial support that provides Wayne State's students, faculty and scientists with opportunities for learning and discovery that otherwise would not be financially possible. She serves as chair of the foundation board's committee of directors and is a member of its Investment Committee, which oversees the assets in Wayne State's endowment, valued at $451 million.

Lewis, who received her master's from Wayne State, has been a long-time advocate for diversity, equity and inclusion in leadership positions. She provided important guidance to the Board of Governors and the university's senior leadership in this critical area during her term as a governor.

"She has also played a crucial role in diversifying the foundation board's membership to better reflect the community that Wayne State serves by successfully recruiting members representing different races, genders, geographical locations and career fields," Wilson said.

Lewis, who knew and shared a mutual respect with Driker, was extremely grateful in her acceptance of the award.

"In the name of someone for whom I have great respect and admiration as Eugene Driker, for the multitude of gifts, commitments and contributions he made to the city that I love, Detroit, I thank you," Lewis said. "My professional life has been really connected with Wayne State the entire time and it's because I've always seen that special connection between Wayne State and its incredible role in helping to revitalize and rebuild this city. And that close bond with this university has endured since the time I was on this board."

Lewis is also leading the charge to increase engagement between Wayne State's school and college leaders and the foundation board. As a member of the Investment Committee, she helped choose a new outsourced chief investment officer, who plays a key role in driving the growth of university's endowment.

"That commitment and drive for this special place is reinforced every time I see the commitment shown in the faces of students and their families and how much this university has meant at opening doors for whom the doors were shut and were not going to be opened," she said. "So, it's out of that love and passion that I sincerely thank you for honoring me in this way."

Lewis serves on many volunteer boards, with a zeal for increasing access to arts and culture. She is a board member at the Detroit Zoo, Detroit Opera and Motown Museum and is celebrated for looking beyond traditional philanthropic sources to garner support from diverse communities. A true leader, she has established endowed funds at several nonprofit organizations.

"Denise Lewis embodies the Warrior Strong ethos and represents the vision first contemplated when the Driker Award was created – individuals who have performed extraordinary service on behalf of both the university and community, and whose selfless approaches to service leaves a lasting impact," Wilson said.

Future awards will continue to be presented based on the emergence of potential awardees rather than on a calendar basis, and will be at the discretion of the president, with concurrence from the Board of Governors.