Samantha Dwornick is studying social work because she wants to help people — but one of the first people Dwornick is helping is herself.
Being part of the social work program, Dwornick said, requires you to take a look at yourself, in hopes that the more you learn about yourself, the better you can help clients in the future.
"The social work program dives deep into a student's core beliefs and values," Dwornick explained. "You try to really pick apart yourself in hopes that you will be able to better understand your clients. That can definitely take its toll on you, but I was able to make some of my best friends in the program because we were able to bond with each other and keep each other sane.
"It's challenging, but I've learned so much about myself as well. I enjoy the challenge in that way. I don't regret it for a minute. I probably wouldn't be a good social worker if it didn't go through it."
Dwornick said she's taken part in a number of exercises to learn more about herself, like interviewing her family, comparing her values to the social workers' code of ethics and doing some of the same assignments she will one day give her clients.
"We are able to do some of the activities that we could give our clients, and my professor said, 'You shouldn't make your clients do anything you haven't done,' " Dwornick said. "I think that's kind of the overall message when we're thinking about the themes that they're trying to teach us, which I'm so thankful for. It's definitely hard, but I am just so happy that I was able to do it."
Dwornick earned her bachelor's in social work from Wayne State in 2022. She is currently in the master's program and is on track to graduate in May.
She's made quite an impact on the School of Social Work in her tenure, holding several key leadership roles, including lead mentor for the Social Work Peer Supports (SWPS) and president of the Social Work Queer Alliance (SWQA).
As part of her role at SWPS, Dwornick has helped organize events for social work students and put together the organization's first poetry and art journal.
"We do a lot of academic and social support for the social work students," Dwornick said. "We have a lot of social events. In December, we had therapy dogs. We held our annual imposter syndrome event, and we were able to do that in person for the first time."
Dwornick enjoys helping her fellow social work students and some of the networking opportunities it has given her.
"I've gotten really close with our faculty liaison, who is Professor Judith Wineman, and she's been a mentor to me," Dwornick said. "I've made connections with her, the other mentors and people in the social work school, including a few of the deans, which is really, really cool. I think the connections and that mentorship have been amazing for me."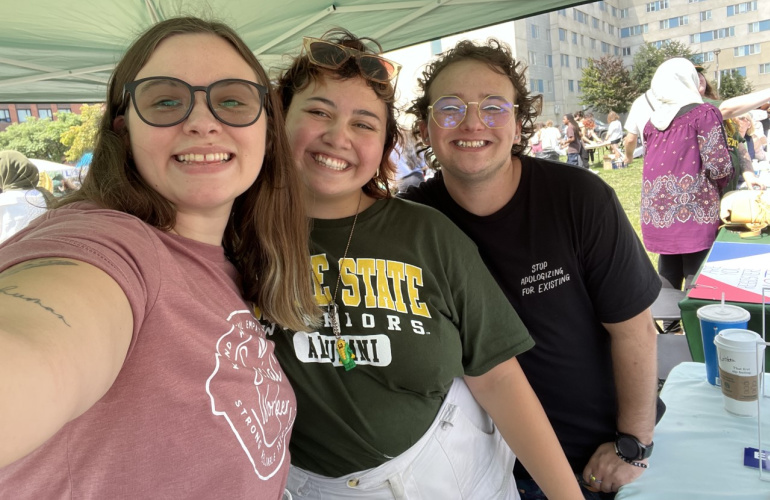 Dwornick said the SWQA launched during the last academic year, and she became co-president along with Austin Ash this past fall.
"We were able to hold a couple of events," Dwornick said. "We did a paint your flag party, which was a lot of fun. A lot of people came, and not just from social work. We've been expanding — it's mostly a social work org, but we've got psychology students and public health students that come to some of our meetings as well, which is really cool.
"We were able to collaborate with the Human Rights Campaign and do some phone banking to get equality voters during that election. So that was rewarding to get other people interested in advocacy, which is one of the things that we wanted to focus on with the Social Work Queer Alliance."
Dwornick feels a number of people at Wayne State have contributed to her education in and out of the classroom, and she's also thankful for the support she's gotten from her family.
"My parents and my sister, specifically, are just incredibly supportive of this journey," Dwornick said. "And I met a lot of friends at Wayne State. All of my best friends that I talk to now, I've met from Wayne State, and we've stayed really, really close and we support each other, which I'm so grateful for. So many of the professors are supportive — like Judith and then also Andre Iadipaolo and Geoffrey Jones, who are advisors, all of them have just been such an integral part of my education continuing and supporting me in general, but also pushing me to take on leadership roles, which I am thankful for."
Wineman has enjoyed having Dwornick in her classes and looks forward to seeing what she will accomplish.
"She is one of the most brilliant students I have ever had in 40 years in this field," Wineman said. "Sami is the essence of a well-trained social work professional as she graduates and begins her practice. What makes her unique is her capacity for empathy and clarity of purpose at the same time. I know she will be a major force in the field."
Dwornick is thankful for the opportunities Wayne State has provided her and the clarity it has given her about what she wants to do after graduation.
"I am currently applying for jobs and looking for a community mental health space or a clinic," Dwornick said. "I also plan to continue to do advocacy where I can. I am hoping to be with the children, adolescent and young adult population. Wayne State helped me get closer to these goals by lighting a spark of what I am interested in. My internships were vastly helpful in that sense, as well as seeing what kind of social work role I want to be in, and what population I match well with. With my community health certification, I would love to stay in the community setting, and develop and help implement some intervention programs for mental and overall health."