Wayne State's annual tradition Alternative Spring Break Detroit (ASBD) was back in person this year as 36 students took part, volunteering across 22 total sites throughout the week.
ASBD gives Wayne State students the chance to stay, volunteer and explore the city of Detroit during spring break.
"ASBD helps people see a different side of the city," said Niharika Dantuluri, student coordinator for ASBD. "At ASBD, you actually get to be at the grassroots level of the city. That's important because you get the chance to be on the ground with people, talk to them, get their opinions and see firsthand what they are going through in the city.
"A lot of the people who go to ASPD continue to volunteer. It's not just volunteering for a week and being done. We help students create connections that they can continue while they're at Wayne State and as long as they're in Detroit. It really brings smart and innovative people together."
Dantuluri is a ASPD veteran, having completed her sixth year. She first attended as an undergraduate student, and this will be her final year, as she is set to graduate in December with her doctorate in physical therapy.
"There have been a lot of people joking that I'll come back next year with, like, a one credit class, but this was really my last year," Dantuluri said. "ASPD definitely took me way out of my comfort zone. I've done a lot of volunteering, but I'm not an outdoorsy person. With ASPD, I got to dig up a tree and plant a bunch of saplings in the ground. Every year, I learned something new about myself. As a student it's very easy to always be looking to the future; I think ASPD every single year has brought me back to what I really love to do, which is explore the city and volunteer and meet new people. It reminds me there's a lot more to life than just working toward your career."
Sara Ellias met Dantuluri at ASPD when she was a freshman and has participated every year since. This year, she is serving as a student coordinator alongside Dantuluri. Ellias is set to graduate this May with a bachelor's degree in biomedical physics and is thankful she got to participate in the program for four years.
"It's really developed my perspective, not only of the university but also Detroit," Ellias said. "I think it's a really great program to meet others and just gain realistic insight as to how volunteering works. The experience the first year was just something that really kind of stunned me, and I just kept returning because it was so valuable."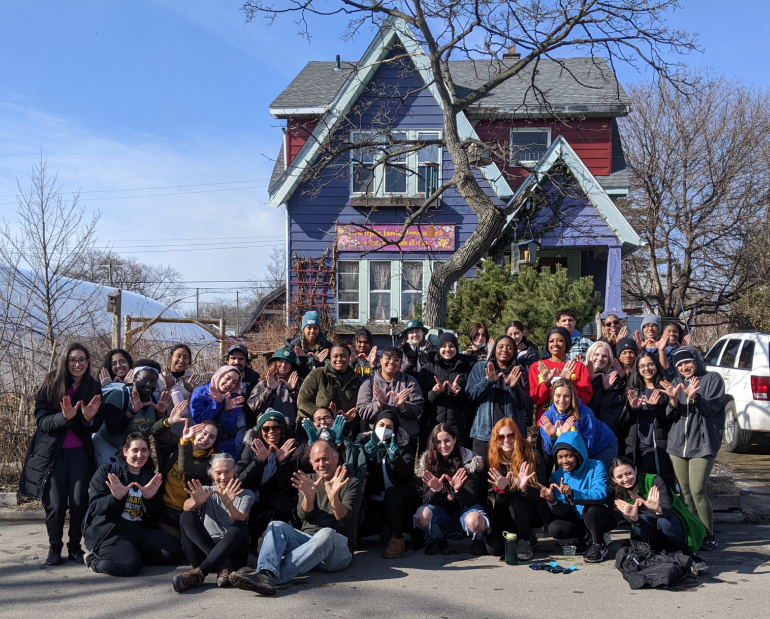 This year, ASPD partnered with Share Detroit to coordinate the volunteer opportunities. Each day, the entire group would go to one location in the morning and then break into groups to volunteer at multiple sites in the afternoon.
The stops for the entire group included Detroit Abloom, LGBT Detroit, Detroit PAL and DTE.
"Our first day, we went to Detroit Abloom in the morning, and I helped with weeding, while some people like moved really big rocks, worked in the garden or uprooted some trees," Ellias said. "That was a lot of fun. We went to LGBT Detroit and Detroit PAL and heard a lot about their initiatives. And then our last day, we went to DTE and learned about the volunteer force they implement with their employees, so that was really interesting. We got to learn about all the diverse ways of volunteering, from like a small family-owned startup nonprofit all the way to the corporate aspect."
Ellias said because of the number of volunteers and time they dedicated to helping each site, they were able to make a huge difference.
"Sometimes we can visually see the difference, and because we reserve such large blocks of time, we can actually finish tasks," Ellias said. "It's also really great to see the students flourish. You see them develop an interest in the city and the different programs, and we hear from them how they feel more connected to the university and the city after attending ASPD."
Dantuluri and Ellias feel ASPD enhanced their college experience, and while they will be moving on, they encourage others to give it a chance and keep the tradition going for many years to come.
"College is supposed to be the time you explore yourself, and I think ASPD is a really good example of how you can explore, while also helping others," Dantuluri said.