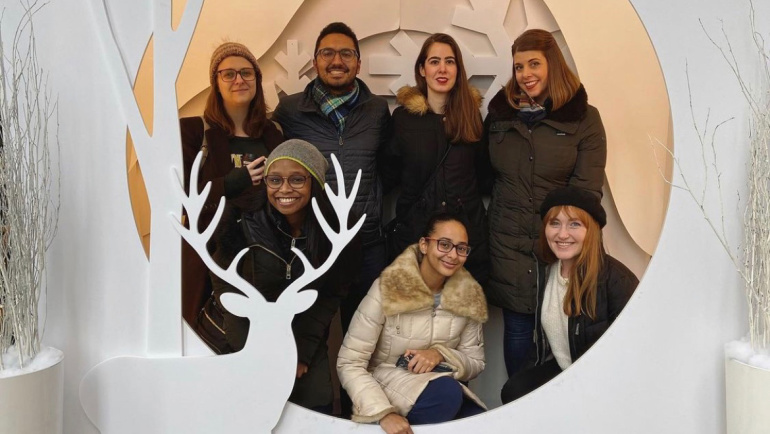 Developing successful study habits can be difficult for some students, but Wayne State's Study Skills Academy is here to help.
The Study Skills Academy is a free, university-wide program that offers a variety of services — including one-on-one and group study skill support, guest lectures, and individual consulting for faculty and staff — to enhance student success.
"We use evidence-based study skills, so that part's really important to us," Study Skills Academy Coordinator Zeina Ghoul said. "We want to make sure that we're not just telling students anecdotal or very surface-level study tips. All the information we give is backed by research."
Ghoul said her team uses a holistic approach that includes considerations such as nutrition, stress and sleep.
"We're also looking at what other factors might be holding students back from succeeding," Ghoul said. "I ask students about nutrition. We focus a lot on academic stress and focus. Sleep is a big one that we're diving into now. Learning how to prep for an exam and how to study is important, but if a student is not sleeping and they're really stressed out, they're not going to be able to learn."
The Study Skills Academy will host Sleep Week March 21 through 25. Ghoul said the format is still to be determined, but everyone enjoyed last year's inaugural Sleep Week.
"It's different events on the importance of sleep," Ghoul said. "We collaborate with other programs across the university. We have panels, trivia and discussions, and we're going to offer that again in March."
The Study Skills Academy also offers groups like the Academic Stress Support Group, Procrastination Accountability Group and Succeeding in the Sciences Group. The groups meet online and there is no RSVP requirement.
"The Academic Stress Group was created out of response to the pandemic," Ghoul said. "Students were extremely stressed, more than they ever had been. We work on different techniques to manage stress. We vary what we talk about based on the students' needs. Sometimes, students just want to process their stressor. Sometimes we participate in active techniques, meditations and other engaging tools to combat stress. These groups are good ways for students to stay connected with people on campus who can support them, but it's also a way to engage with their peers. It's meant to be social, as much as it can."
Ghoul said the procrastination group was originally created because they realized a one-time workshop on procrastination wasn't meeting the students' needs.
"It's really a habit that needs to be replaced with new habits, and that takes time and support," Ghoul said. "The students see that they're not alone. There are others who are going through that and they're there to help support each other.
"The Succeeding in the Sciences group is more study skills topics, exam prep, note taking, all of those things specifically for science classes because those tend to be some of the more difficult classes where students need extra help," Ghoul added.
The Study Skills Academy also offers the Student Success Workshop Series, which include topics like Your Brain on Sleep; Study Smarter, Not Harder; and Managing Debt and Understanding Your Credit Score.
"There are new workshops every semester," Ghoul said. "Kalyn Griffin from our team coordinates the workshops. She's a learning specialist. The workshops are not just study skills related; there are other programs, and anyone from the university can join."
Students interested in any of the services, groups or workshops can visit the Study Skills Academy website at success.wayne.edu/study-skills.
"The main service we offer is study skills counseling, which is one-on-one work," Ghoul said. "We tell students if they can't attend our groups or workshops, or just prefer a one-on-one approach, to attend a counseling session. That was the first service we offered and we've since evolved to offer so many new services based on students' needs. We ultimately want students to be successful."