When you consider everything Bana Odeh has accomplished during her time as a physical therapy student, it's hard to imagine she ever had her heart set on any other career. Odeh will graduate in December with a doctor of physical therapy from the Eugene Applebaum College of Pharmacy and Health Sciences, but in high school, she was leaning toward law — until her mother began experiencing dizzy spells.
"Her doctor referred her to a physical therapist," Odeh said. "She walked into her very first PT [physical therapy] appointment feeling nauseous and walked out feeling 100% better. She talked about it like it was magic."
Nobody in the family had ever been to a physical therapist, so they had no idea that one simple, strategic technique could result in so much relief. But as enlightening as that first brush with the profession was for both Odeh and her mom, it was far from perfect.
"As an observant Muslim woman, my mother requested simple accommodations, like the use of a privacy screen, that the PT office couldn't or wouldn't readily make," Odeh said, adding that the experience opened her eyes not just to a career path but a way to make a difference in the field by working to make it more inclusive.
Odeh spent much of her time at Wayne State making progress toward that goal. She co-founded the WSU student organization IDEA (Inclusion, Diversity and Equity in Action) and holds a leadership position in the state chapter of the American Physical Therapy Association, serving on its Diversity, Equality and Inclusion Committee and taking over as co-chair upon graduation. She also was selected as Michigan's American Physical Therapy Association (APTA) Centennial Scholar, a role that includes completing a capstone project on diversity and representing the state chapter at several events celebrating the association's 100th anniversary this year, where she was given the opportunity of providing opening remarks and introducing the APTA president. Additionally, Odeh also worked in conjunction with the APTA- Michigan chapter to develop a six-part podcast focusing on diversity in the field, as well as a continuing education module on diversity climate for the APTA Learning Center, where she serves as an instructor alongside renowned diversity climate researcher Patrick F. McKay and licensed physical therapist Leython Williams.
She has authored several articles, including "Understanding the Muslim Community from a PT-Specific Lens" featured in the APTA blog and "COVID-19: Shedding Light on Minority Accommodations," and has previously served as a panelist at a Google event to empower Muslim women and a speaker in Palestine for Genomic Opportunities for Girls in Research Labs (GO GIRLS).
Odeh, who started the program in fall 2018 and completed clinical rotations at Novi DPT, Henry Ford, and Beaumont Health systems, enjoyed the ability to learn on the job and through mentorship opportunities. Working with others in clinical settings who expressed appreciation and mutual passion for meeting patients' needs has reaffirmed her work. At the heart of Odeh's approach is an emphasis on responding to – and learning from – a community's needs.
"The most fulfilling part of working in health care is being given the chance to help identify and address someone's needs. Physical therapy should be responsive, and tailored to each patient," she said. "In this profession, you're spending hours over the course of weeks or months with each patient – you get to build relationships with people and the learning goes both ways."
Odeh cites the opportunity to work with many different people as a strength of the field, and as instrumental in helping her find strength and power in her own identity.
"As a Palestinian, I have reflected on the privileges I have here in the U.S., and am driven to give back to communities who many not have the same privileges, and to help others identify and use their own privileges to build up others," she said. "Too often, conclusions are drawn about what makes a good student, a good physical therapist — even a good person — based on expectations set by a majority population that isn't entirely accurate or representative."
As a leader in helping her profession adapt and grow, Odeh recalls feeling somewhat isolated and unsure of herself at early points in the program. She called on a childhood lesson from her father: People respect those who respect themselves.
She realized that her differences and her uniqueness were not something to be hidden but something worth drawing attention to. "Ultimately, I came to the conclusion that my experiences bring value. And accommodations for Muslim patients – or any other patients – are worth making," she said. "Respect comes over time. When you feel more confident in yourself, it changes everything."
As a student, Odeh found support from her family, all of whom are Warrior Strong in their own regard.
Odeh's entire family has a Wayne State connection, starting with her father, who holds a master's from the College of Engineering, and her mother, who defended her College of Education Ph.D. dissertation with Odeh in attendance. Odeh earned bachelor's degrees from Wayne State in health sciences and health psychology before entering WSU Applebaum, and her two older brothers and two younger sisters all are either alumni or current students.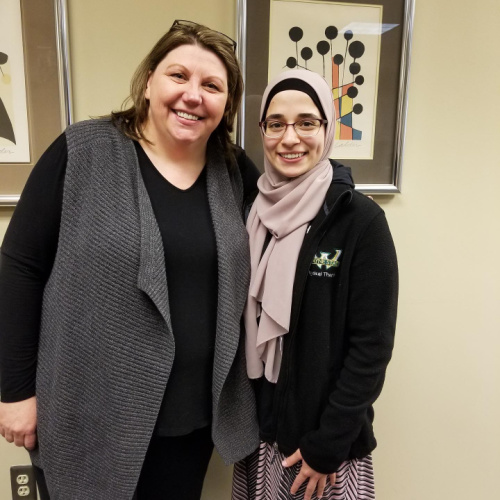 She cites an environment that fostered mutual growth over divisive competition in the PT department as another source of support, acknowledging her peers and professors, especially Kristina Reid.
"I never doubted myself, and if I did for a minute, my family and friends wouldn't let me," she said. "And I benefited from being part of a community of amazing professionals who work together to build on their own unique strengths."
As Odeh looks ahead to life after graduation, her goal is to find a position where she can continue to learn through on-the-job experience and mentorship. She'd like to treat Muslim patients and continue speaking out for their rights. And she's absolutely planning to stay active in APTA.
She's happy to have made a lasting impression on the program and her profession, but she's far from done: "If an organization is treating everyone as a valued member, people will be more motivated. When it's done right, there is no downside to diversity and inclusion."