With Thanksgiving just a few days away, we asked people from around campus to reflect on what they are thankful for in 2021. For many in the Warrior community, it was a very good year.
Heather Marks, associate director of student life marketing, spends much of her days working with college students, but 2021 saw her focusing on someone much younger. "My husband and I had our first child in January – Aidyn. Because of the pandemic, we both got to spend additional time with him while still working from home. I am incredibly grateful for him, my husband and our family."

Joseph Roche, associate professor of physical therapy, says he has plenty to be thankful for, both personally and professionally. "I am most thankful that my 7-year-old daughter recently became eligible for vaccination against COVID-19.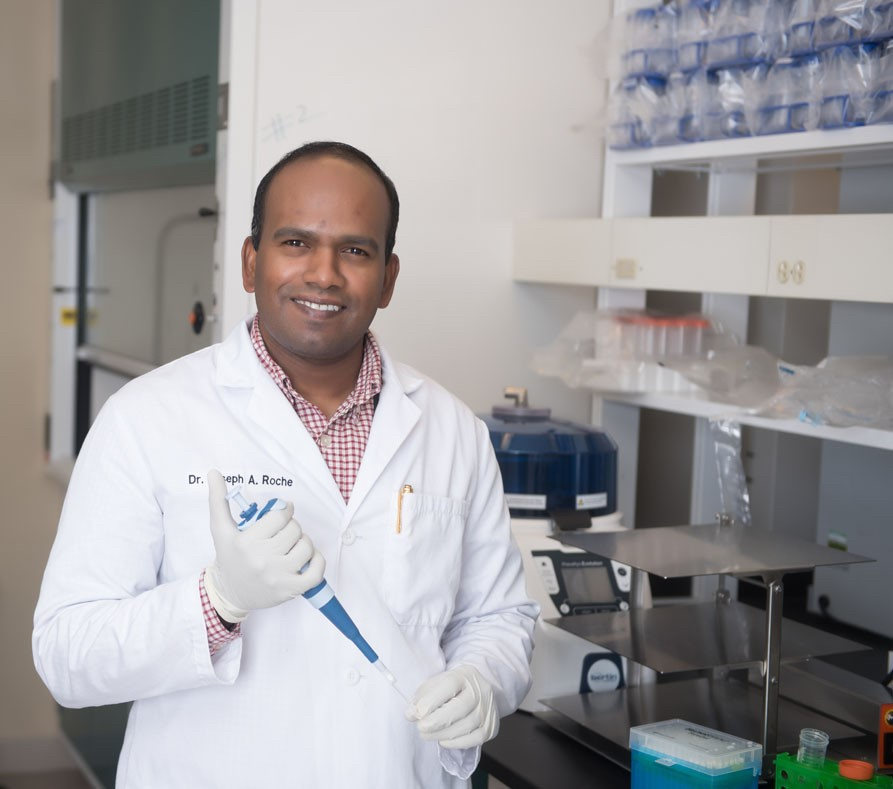 "In addition to that, I am thankful for the health education platform that my wife — an associate professor at Eastern Michigan University — and I have been given due to our scholarly work on COVID-19. Specifically, my wife and I were honored to lead a health education session for a lay audience in India to talk about COVID-19 vaccines approved in India and help increase vaccine confidence and acceptance. This virtual event was hosted by an Honorable Member of Parliament of India and was attended by more than 700 people.
"It also gave my family and me a great sense of joy, when I received a Wayne State University Board of Governors Faculty Recognition Award for scholarly contributions to COVID-19 and regenerative muscle biology research."
After eight years of dating, Mary Hiller, assistant director of marketing and communications in the Law School, is thankful that she was able to marry her fiancé, Alex, on Oct. 2 in Detroit. "Every celebratory function, tour, etc. was altered from the 'traditional' way of doing things, and there was always an extra layer of logistics. But, I'm very thankful that I was able to safely celebrate with my loved ones on my big day! The health of our family and friends is incredibly important to us, so we ended up making the decision to ask guests to only attend our wedding if they were fully vaccinated. This relieved a lot of stress and ended up creating a comfortable environment for all."
Michael Wright, vice president of marketing and communications and chief of staff, leads the university's Crisis Team and is often called upon to help solve difficult university issues. However, this summer brought about a new priority. "This Thanksgiving, I am profoundly grateful for the miracle of new life in the form of my new granddaughter, Sadie Rose Wright. She entered the world and our hearts in June, and we've fallen in love with this bouncy, wiggly, happy child. Not to seem biased, but she is the most beautiful baby, and it seems she likes her Papa best."
Alicia Nails, director of the Institute for Media Diversity, says, "I'm thankful to be working so closely with a cohesive learning community of students who are dedicated to journalism, to each other and to pressing forward during trying times. In addition to the students in my classes, I get to meet regularly with this identified group of student leaders as they navigate exciting issues like running The South End and covering the news on our campus, interning at The Detroit News and Detroit Free Press, and fielding internship and job offers in media-related fields.
"This year, we've been able to revive the in-person versions of several of our annual events, especially the Internship Fair. I'm so happy that the members of the Journalism Institute for Media Diversity were able to interact face-to-face with professional recruiters from dozens of media outlets — and were finally able to interact in person as a group with one another.
"It's difficult not to feel sorry for my students, because they are having their college years disrupted by this pandemic. But they are not complaining. They are adjusting and accepting this situation for the challenge that it is. They are winning because they refuse to lose the opportunities that do exist — and that makes it so much easier on me as I try to service their needs during unusual times."
Treesa John, a planner in FP&M's Planning and Space Management group says, "We were blessed with our rainbow baby girl, Ava on July 21, 2021. Two years ago, our first born passed away soon after birth and Ava has been our sunshine, gleaming with rays of light and hope. Travel restrictions due to COVID added some challenges to our pregnancy and post-partum period. We had to solely rely on our "non-experience" to take care of the baby. We are thankful for our bundle of joy, Ava and the Wayne State family for their Warrior Strong support and help."