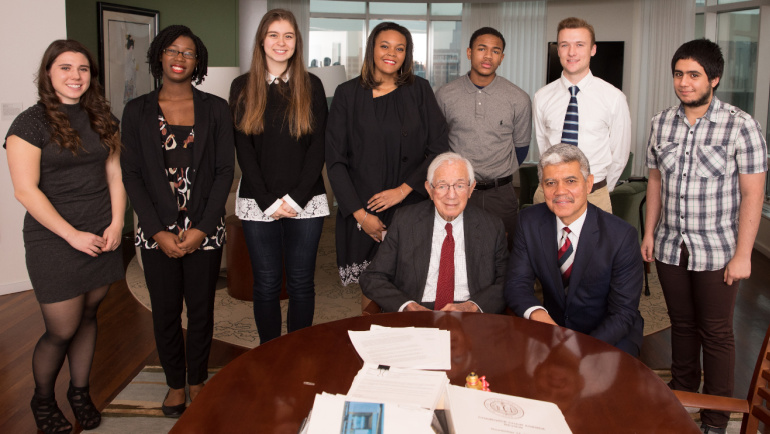 Wayne State University President M. Roy Wilson will receive the National Medical Fellowships' (NFM) Excellence in Education Award for his long-standing commitment to leadership and his efforts in developing a strategy to improve the pipeline of underrepresented students trained in the biomedical sciences.
Wilson will receive the award on Nov. 23 during the virtual 2021 Chicago Champions of Health Awards. Fittingly, dozens of Wayne-Med Direct and ReBUILDetroit (Building Infrastructure Leading to Diversity) students will attend the ceremony to show their appreciation for his efforts.
The NMF is the only national organization solely dedicated to providing scholarships and support to medical and health professions students from groups underrepresented in health care. Its awards honor individuals who have made a lasting impact on health care and diversity in health care, and whose role and influence drives positive change in the communities they serve.
In a letter informing Wilson of the award, the NMF wrote, "As the president of Wayne State University, the past chair of AAMC, and a leader at numerous other universities and institutions, we recognize your long-standing commitment to leadership. We would also like to especially recognize your efforts in developing a strategy to improve the pipeline of underrepresented students trained in the biomedical sciences, since this work aligns directly with our mission at NMF. ... You truly are 'Warrior Strong' and it would be our privilege to have you accept this award."
NMF reports that only 5 % of doctors are African American and only 5.8% are Latinx, though those groups make up 13.4% and 16.7% of the population, respectively. The underrepresentation is even more dire for Native Americans, Alaskan and Hawaiian Natives, Pacific Islanders, Cambodians, and Vietnamese.
The shortage of well-trained, culturally competent physicians is directly related to the high cost of a medical education. The average annual family income of NMF scholars is $45,000, while the average medical school tuition and fees are $66,000. Since 2010, NMF has awarded 1,620 scholarships totaling $9.6 million to students across the country.
The Wayne-Med Direct program, which was created by Wilson, admits 10 students each year to Wayne State University's College of Liberal Arts and Sciences and creates a pipeline for admission to Wayne State's School of Medicine. The program emphasizes mentoring and training of students to become leaders in the medical community determined to reduce urban health disparities in their communities.
ReBUILDetroit is a National Institutes of Health-funded undergraduate program designed to increase the number of underrepresented students on their pathway to become scientific researchers. The consortium of WSU, University of Detroit Mercy and pipeline partner Henry Ford College is striving to establish Detroit as a center for biomedical research training for underrepresented undergraduate students. The consortium was awarded a major grant to implement and study innovative approaches to engaging and retaining students from diverse backgrounds in biomedical research.