When the 38th annual African World Festival opens at the Charles H. Wright Museum of African American History on Friday, Wayne State will not only be an event sponsor for a second year — the university will also be supplying some of the brilliant Black talent scheduled to grace the festival's stages from Friday to Sunday.
On Friday, from CFPCA's Maggie Allesee Department of Theatre and Dance, Lecturer and Director of the African dance group "To Sangana" Karen Prall will follow the African World Festival's opening ceremony on the main stage with an African dance performance. Prall will also lead an African dance class on Saturday afternoon. Assistant Professor Dr. RAS Mikey Courtney will perform original songs on Friday in Peck Park on the Heritage Works stage.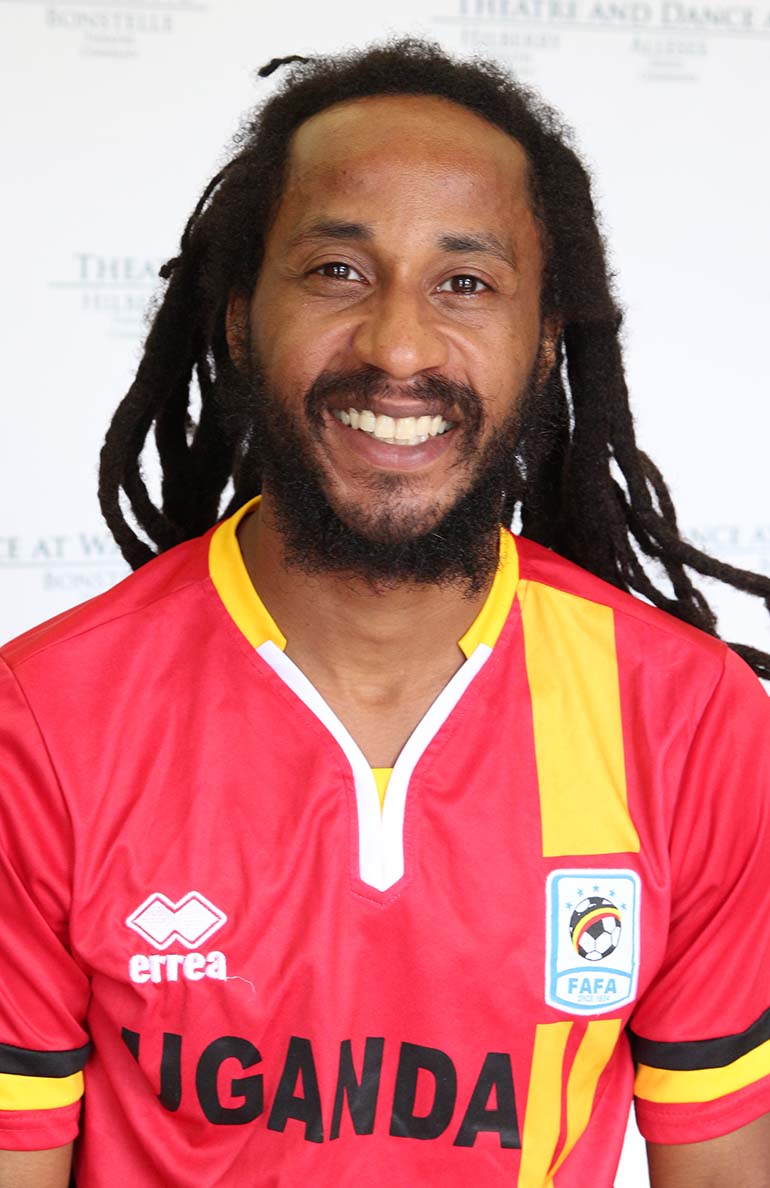 Prall and Dr. Courtney will also provide entertainment on Saturday afternoon on the Ford Stage.
On Sunday, the Wayne State Jazz Warriors, directed by Vincent Chandler, will perform two sets in Peck Park. Chandler is a Department of Music lecturer in Jazz Studies and noted musician who has performed locally and internationally with renowned heroes including Kenn Cox, Teddy Harris, Matt Michaels, Regina Carter, Herbie Hancock, Marcus Miller, Clark Terry, Bobby Watson, Marcus Strickland, Wycliff Gordon, Ambrose Akinmusire and many others.
Spoken word segments will be provided by Justin Rogers, a poet, who will emcee and introduce Wayne State alumni writers as well as read his own work.
Rogers is a Black poet, educator, coach and editor from Detroit. He is an advocate for literacy among inner-city youth, and the amplification of Black voices. With InsideOut Literary Arts, Rogers coordinates after school intensive creative writing programing and coaches youth teams at regional and national competition. His work is published or forthcoming in Tinderbox, Mobius Magazine, Apiary Magazine, 3Elements Literary Review, SkipFiction, Gramma Press and Public Pool. Rogers is the winner of the inaugural Chapbook Contest at Black Napkin Press for his manuscript "Black, Matilda" and released this collection with Glass Poetry Press in 2019. With literary magazines, Rogers has been a reader and editor in chief with multiple journals and continues to read with journals for various annual poetry contests.
Poet Taurus Dwella (B.A., 2016) is the pseudonym of Angelia Buckingham. She writes poetry as well as lyrics for theme songs on the internet and audio tracks in commercial advertisements. She completed her B.A. in English with a focus on creative writing at Wayne State University, then went on to complete her M.A. in Information Science, concentrating on Human Computer Interaction (HCI) and User Experience (UX), at Wayne State's School of Information Science (2018). She has had some of her poetry selections published in 34th Parallel Magazine, Eber & Wein Publishers, and the Warren Artists' Market. She received recognition for poetry from the Department of English, receiving honorable mention for the John Clare Award in Poetry. She was awarded the Stephen H. Tudor Memorial Scholarship in Creative Writing, Doretta Burke Sheill Endowed Memorial Scholarship, and she received honorable mention for the Tompkins Award.
Poet Robert Laidler (M.A., 2020), is an African American poet who was born in Detroit. He is a graduate of Oakland University and Wayne State University's M.A. program, where he was a Daniel Keyes Fellow and scholarship holder, as well as a graduate teaching assistant who teaches rhetoric and composition. Laidler has taught creative writing in Lapeer County Correctional Facility, and he has also worked with InsideOut Detroit, teaching poetry to inner-city youth. He was also the past president of the City of Asylum/Detroit's student organization. He has won awards in poetry for individual poems and collections. He is an Association of Writers and Writing Programs (AWP) travel award winner, John Clare award in poetry winner, a Tompkins award winner, and a Thomas R. Jasina Endowed scholarship in English recipient. He is currently an M.F.A. candidate in poetry at the Helen Zell Writers' Program (University of Michigan, Ann Arbor).