The Damon J. Keith Center for Civil Rights at Wayne Law is now, fittingly, home to the first-ever polling location on the Wayne State University campus. Keith, a longtime federal judge who fought for civil and democratic rights — including voting rights — died last year.

Beginning with the Michigan presidential primary on March 10, the majority of students who live on campus will be able to cast their ballots at what is now Detroit's Precinct 149 in the Keith Center. Students who live in University Towers will continue to vote nearby, at a church across the street from Old Main.
At a reception formalizing the polling location, Wayne State President M. Roy Wilson noted that Wayne State was one of only two institutions in Michigan to receive a platinum seal for achieving a student voting rate above 50% during the 2018 midterm elections.
"Thanks to this new, convenient polling location, I think we can expect those numbers to go up," said Wilson. "This leads me to our next announcement. I'm very pleased to announce that this year, Wayne State University has officially declared Election Day, Tuesday, Nov. 3, 2020, a university holiday. This means there will be no classes, and the university will be closed, with the exception of essential personnel who must report to work. This holiday will afford faculty, staff and students the liberty to put their civic duty first."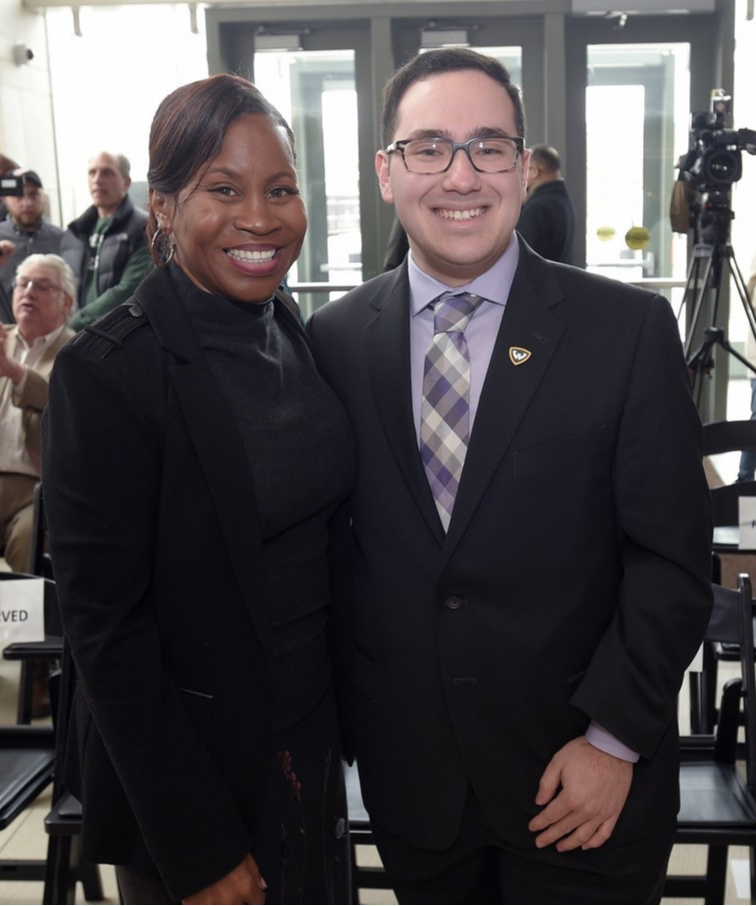 The new on-campus polling location is the result of a WSU Student Senate initiative that began following the 2016 election, when students complained that their previously designated off-campus polling location was not convenient and a barrier to voting.
Based on those concerns, the Student Senate — led by its current president, Stuart Baum — worked with the university's leadership, Detroit City Council and the Detroit City Clerk's office over a period of years to formalize an agreement for the on-campus polling location. Baum says that in addition to overcoming barriers to voting, the new location will help students feel more at home on campus.
"Part of that is adopting the identity of being a Detroiter, especially for our large residential population," said Baum. "Part of being a Detroiter is being civically engaged in Detroit elections."
Michigan Secretary of State Jocelyn Benson, a former dean of Wayne Law and law clerk for Judge Keith, acknowledged the impact the new polling location will have.
"Thanks to all you have done, more voices will be heard, more votes will be counted and Judge Keith will be proud looking down on all of us," said Benson.
WSU Board Chair Marilyn Kelly, a former Michigan Supreme Court Justice who also knew Judge Keith, recalled his pride in the eponymous center and his belief that voting rights are the most important constitutional right in our country.
"How fitting it is that right here, in this center named after the grandson of slaves who could not vote because of racism, we're celebrating the opening of a new polling place," said Kelly.
During his remarks, Wayne Law Dean Richard A. Bierschbach recognized a number of current and former Keith Scholars who were on hand for the announcement. He also noted that Keith's famous quote — "Democracies die behind closed doors" — doesn't just refer to transparency and accountability of elected officials.
"It also refers to the doors to the voting booth," said Bierschbach. "The ability to cast a vote is the most fundamental accountability mechanism there is."
An added benefit of the new polling location is the new relationship with the city. The Department of Elections had representatives at FestiFall and signed up 70 students to work at the polls, and the clerk's office now holds poll-working classes at Wayne Law. In addition, the Alternative Spring Break Detroit program run by the Dean of Students Office will have 62 students working at the TCF Center counting absentee ballots during the Michigan primary.