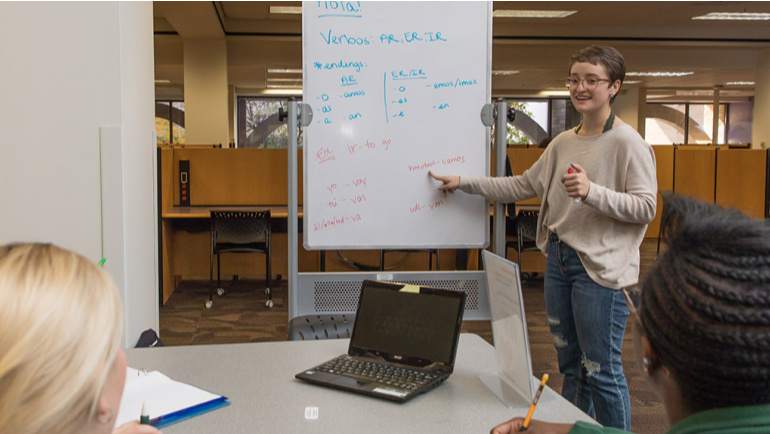 At the upcoming Leading While Learning Conference, the Academic Success Center will give students the opportunity to sit in the instructor's chair.
The student-run conference, which will be held February 22 at 9:30 a.m. in the Student Center, will assemble student leaders from across campus in an effort to encourage academic success and foster Warriors' professional and leadership skills. Attendees will also be called on to present and generate of outside-the-box ideas for student success.
"Wayne State hasn't had a leadership conference for undergraduate students like this," said Francesca Fernandes, coordinator of peer leader training in the Academic Success Center and coordinator of the Leading While Learning Conference. "What we've found in the past is that students really have specific topics in mind that they want to follow and pursue, and that's when really incredible learning takes place: when they have the vested interest in the topic."
Prior to the conference, presenters will be paired with academic staff mentors to assist them in refining the content and presentation strategy.
The first half of the conference will focus on student interests and will offer breakout sessions featuring planned presentations by peer leaders about specific topics. Suggested topics include diversity and inclusion, study skills and student engagement.
The second half of the conference, dubbed an "un-conference" by coordinators, will aim to be more hands-on and relaxed.
"Ahead of time, we'll be asking participants what topics they are interested in learning more about," said Fernandes. "In the afternoon, students will make groups of ten, based on those topics, and will have two hours to get some ideas about strategies revolving around that topic."
Wayne State's Academic Success Center works to provide unique resources to students with an emphasis on enhancing motivation and developing essential skills. Math literacy services and peer-assisted learning are just some of the resources offered to students.
"We coordinators cannot do our work without undergraduate leaders," said Fernandes. "We want to take all of those peer leaders and put them together and say, 'Share what you're doing with students on campus,' and help them be successful. It's about the connections and relationships that they're building that ultimately leads to academic success."
To learn more, contact Francesca Fernandes at fr1209@wayne.edu