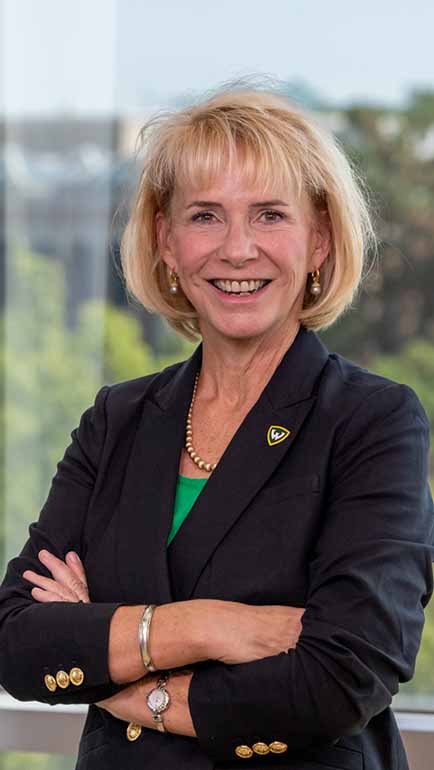 Wayne State University has received a multimillion-dollar commitment from the Michigan legislature that will position the school for its next level of success. The commitment – an extraordinary $30 million capital projects grant, provided outside of the normal appropriations process – will anchor a new world-class facility for the Law School. This is only the third such capital outlay approval to Wayne State in the last dozen years, and the largest in almost three decades.

Formal advocacy for the project began in October 2022 with Wayne State's submission of a lengthy request to the State Budget Office for consideration. In May 2023, Wayne Law Dean Richard Bierschbach provided crucial testimony about the need for the project before the Joint Capital Outlay Subcommittee of the State Legislature.

"This level of financial commitment from the State of Michigan is a testament to the law school's growth, trajectory and impact," said WSU President Kimberly Andrews Espy, Ph.D. "The university's agenda is to advance the prosperity of our community. Through Wayne Law's many public-facing clinics, this new facility will provide better spaces and expanded opportunities for our students to learn while simultaneously providing access to excellent legal services to members of our Detroit community. It's a win-win – our students will enter the workforce with more real-world experiences, and Detroiters will receive assistance in removing real hurdles impacting their lives."

Wayne Law has long opened doors to aspiring lawyers, leaders, community activists, public servants and business people from all walks of life. The need for this project is partially driven by strong increased demand for legal training that prepares graduates who can think critically, creatively problem-solve and clearly communicate — areas in which the Law School has historically excelled.

"Our law faculty and students do fantastic work and they deserve fantastic facilities," said WSU Provost and Senior Vice President for Academic Affairs Mark Kornbluh. "Our new Law School space will be modern and better aligned with today's pedagogical needs."
In recent years, Wayne Law has launched innovative programs for non-lawyers like its master of studies in law for working professionals and its undergraduate minors and majors in law, which collectively enroll nearly 600 students. Those programs, along with new interdisciplinary and service-oriented initiatives like the Warrior Housing Corps and Holistic Defense Partnership, are attracting an increasingly diverse and talented group of students. The Law School's major centers — the Levin Center for Oversight and Democracy and the Damon J. Keith Center for Civil Rights — have also grown, attracting millions in outside funding, growing their staffs and operations, and achieving national statures.

Over the last six years, Wayne Law's J.D. program has risen to its highest ranking ever in U.S. News & World Report, jumping 44 spots to #56 in the country. Its graduates have some of the lowest debt-to-salary ratios in the country, earning it consistent recognition as a Best Value Law School by preLaw and National Jurist magazine. Last year, applications to the highly selective school were up nearly 25%, despite applications being down nearly 3% nationwide.

As Wayne Law's footprint has expanded, it has outgrown its current facilities, which were built in 1966 and are ill-suited to the Law School's needs of today.

"The state's action reflects the power of our community to unite support around Wayne Law's unique public mission: combining academic excellence, access and community engagement to educate lawyers and shape legal knowledge to transform lives and serve communities in a positive way," said Bierschbach. "Combined with additional philanthropic support, it will enable Wayne Law to continue to discharge that mission at the highest level for years to come."

More details about this future construction project will be shared as they become available.