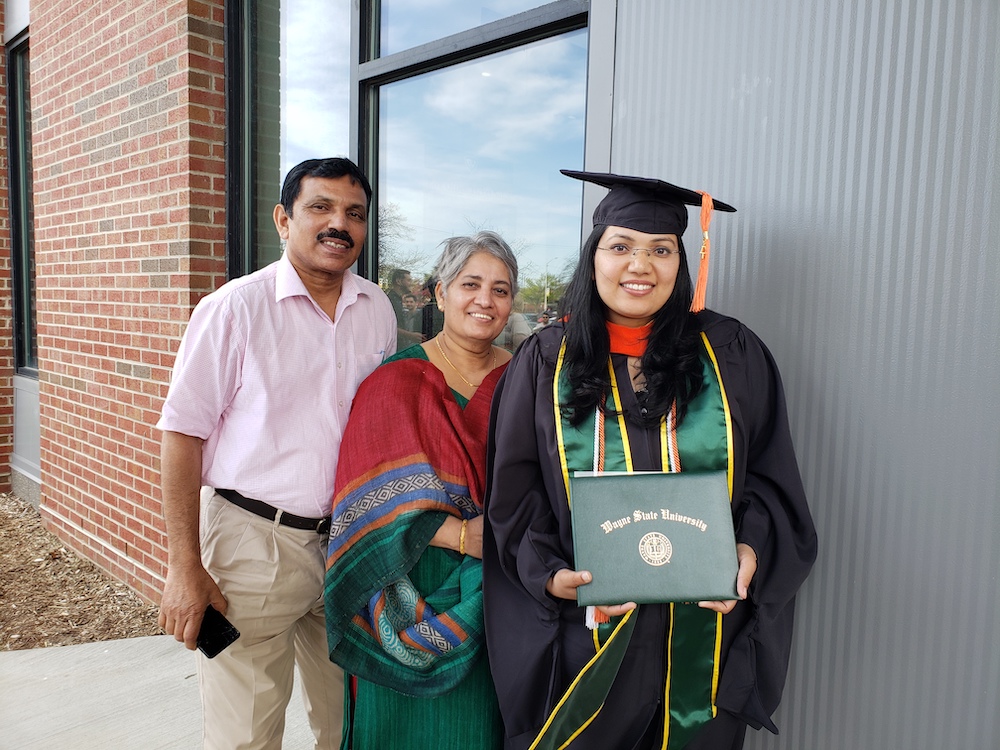 Raised in Kuwait, engineering alumna Sophiya Pulickal has always been fascinated by construction. As a little girl, she remembers accompanying her dad, a construction supervisor, to work on numerous occasions, intrigued by all the sights and sounds she experienced at the construction site. With age, this interest didn't fade but grew stronger. Now, with her master's in civil and environmental engineering from Wayne State University, Pulickal has followed in her father's footsteps — and not just in the field but in her employer.
Though time stands between them, one was based in Kuwait while the other in Detroit, Turner Construction has employed both Pulickal and her father. "For me, beginning my career with Turner is something really, really great," she said. "I'm so grateful to Turner for giving me this opportunity. I'm sure it wouldn't have happened without Wayne State."
Her father echoes that sentiment, saying he's extremely happy for his daughter.
At Turner Construction, Pulickal is one of the field engineers for the Hudson's Project. Located on Woodward Avenue in Detroit, the Hudson's Project is Pulickal's first project post-graduation, and it's enormous. At 48 floors tall, Pulickal says it's a big blessing for her to start her career with such a large project.
"The experiences I gained at Wayne State University not only propelled my career forward but also led me to secure a valuable job opportunity as a field engineer with Turner Construction," reflected Pulickal. "I am immensely grateful to Wayne State University for providing me with the chance to pursue higher education in Detroit and for enabling me to make a positive impact on society."
As a field engineer, Pulickal is responsible for many different tasks under several divisions of a project. She credits a great deal of her ability to tackle such responsibilities right after graduation to her time at Wayne State. From taking classes and acquiring mentors to asking all the questions and pursuing internships, she feels she was meant to be at the university.
"I chose WSU for its reputation and diversity. Each course I took was guided by professors of exceptional caliber, some of whom took the role of mentors," she said. "Regardless of the nature of my question," she recalled, "they never failed to provide insights and answers."
Hands-on projects also challenged Pulickal, pushing her to not only learn but also apply what she was taught. She said that no matter how time-consuming or difficult, her professors were always there to guide her through an assignment.
With her nose to the grindstone, Pulickal was recognized for her commitment and work ethic. Having received not one but two scholarships, she was able to focus on her studies while chasing her dream of working in construction management.
"Maintaining a perfect GPA of 4.0, I received the esteemed Tapan Datta Scholarship and Graduate Professional Scholarship within the program," she said. "I don't take for granted that I received these scholarships; they were indeed a big blessing, and they changed my life." Another feather in her cap was being on the M.S. Dean's list of such a prestigious institution as Wayne State University.
She acknowledges that her achievements are deeply rooted in her experiences at Wayne State University. When looking at where she started versus where she is now, Pulickal said, "All my highlights were from Wayne State."
By Katheryn Kutil