They are among the best and brightest of an entire continent: doctors, lawyers, information specialists, policymakers. For the past six weeks, they have called Detroit — and, more specifically, the Wayne State University campus — home.
In the process, the 25 participants in the 2023 Mandela Washington Fellowship for Young African Leaders program — sponsored by the U.S. State Department and hosted at Wayne State by the university's Office of International Programs — have immersed themselves in academic coursework, leadership training, mentoring, networking and community engagement. From fireworks to food to festivals, they've enjoyed some of the best of what metro Detroit has to offer, while also getting the chance to witness how dedicated institutions and individuals grapple with some of our most pressing issues.
Five weeks into the program, seven of the participants sat down to talk about their time in the city thus far, what they've learned from their visit as well as from each other, what they've been able to bring to the fellowship experience and, most of all, what they'll take back with them. They are Nigeria's Emeka Uzoho, a data management specialist; Dr. Rabi Sufi, a maternal and child health expert, also from Nigeria; Bokayo Halake, a lawyer from Kenya; Karen Chitamaluka, a literacy and information specialist who hails from Zambia; Omar Cham, a young political leader in the Gambia; Jennifer El-Duah, a biomedical scientist from Ghana; and Dr. Fatoumata Battouly, a public health specialist from Guinea who travels throughout Africa battling infectious disease.
Here's a portion of their conversation:
Why did you come to the United States for this fellowship?
Omar: I'm from the Gambia. What brought me to the program was the need to contribute towards making the Gambia a beacon of hope for democracy and human rights, rule of law and good governance. And this was particularly because we experienced two years of dictatorship, and after we elected our new officials to be with the new democracy, we found it difficult to actually move ahead with the reforms that were needed.
Fatoumata: In 2018, I applied. I was successful, but because of my career — I am a doctor — I didn't come. I canceled it. The next year, 2019, I also had it. I canceled because of my career. I was labeled by people: "This is the woman who doesn't want to go to America." [Laughs] I said, "No, it's not about going to America. It's about my career." I know what I want and when and how I want to do it.
This time, I was told I was on the shortlist. I was in Sierra Leone. The lady in charge of the program called me: "Battouly, you have been selected, shortlisted, so you have to attend the embassy." Then, after the process, I saw that I was placed in Michigan. I was happy — but I felt disappointed in Michigan. I'm not sure that I would go into Michigan. I was like, No, there is nothing that will excite me. But when I landed here, I was surprised by all the things. The first welcoming, I was impressed. And after this, I used to say that every day is the best for me because every day I have something new. There are many things we have been experiencing. The (Independence Day) fireworks was one of the best experiences of my life!
Karen: Over the years, I never felt good enough, so I never applied until last year. I said, "Well, let me give it a try," so I applied and got in! One of the reasons I wanted to get in is because it's a leadership program. You already are a leader, but the program shifts your mind to help you think and become more of who you are. It's working on your strengths and making them super strengths. For me, that was the main thing. Also, one of the things we lack in my country — I don't know if other African countries would agree — is leadership and mentorship. I feel the two can't exist without the other, like for you to have great leaders, you need to have greater mentors.
We also, in my profession, lack much ability to market ourselves. People don't know where to find information centers, partly because most people who are in the librarianship field didn't really want to be there. I studied at the University of Zambia, so it was a double major with public administration. But then most people get into the program for the other major, not the main major, so they find themselves working in a library space, and they want to transition. Without the ability to market ourselves, we don't have enough literacy programs to help the communities we are in.
Jennifer: I applied to the program for two reasons: my professional development, and my personal development. Professionally, I work as a biomedical scientist in an area which is widely unknown: antimicrobial resistance. So I was thinking, I'm coming here to learn more about it, learn about research because I'm a scientist, to find allies, work with people, tell people about antimicrobial resistance. But then I realize I have the opportunity for coalitions and networking throughout Africa. I come here and I'm giving a talk, and after the talk, Bokayo comes to me. She's a lawyer. She says there's this policy about antimicrobial resistance she's dealing with. Now I'm understanding that it's not just research; there's the policy aspects of it. Then I meet Karen. She's in literacy, so then I'm thinking, What about health literacy? Maybe we could approach it from this direction. And then there's Rabi, my roommate who's a doctor. There's a disease control officer here. And I'm thinking, There are so many ways I can approach this; I have to move out of research and just capacity building and think about all these other ways to approach this. Which one is greater, or which one is more urgent? Where do I approach it from? And I have all these people now that I can work with.
Emeka: I heard about the program from a former alumnus who's doing great work in his field. I had to go through the program. I just saw how amazing the program is, and I wanted to be in the U.S. My personal goal, career wise, I'm looking at being an African thought leader who is implementing digital health innovations all across Africa. And of course, coming to the U.S. will really be a great place and opportunity to learn how that will be.
Also, [I have enjoyed] sharing ideas with other African thought leaders and great leaders who I have had an amazing time with. I think that's really been the highlight for me, connecting and meeting them. I'm from Africa, but I've never gone to all the countries in Africa or met people from those places. So now meeting them and sharing ideas with them was something I really looked forward to. And I felt it was going to be an opportunity to have a global perspective, first of all.
Did you have any expectations or concerns about coming to the U.S.?
Bokayo: Honestly, I didn't know what to expect. I had a lot of anxiety. We sit normally and talk about our experiences before coming here, and I was telling them how anxious I was about the program because I am very socially anxious to meet new people. I normally keep a very close-knit circle of friends, circle of family. I'm a very private person despite working in a political environment — the irony. So I was very anxious, and I started Googling Wayne State, and I came across the State of the City address by Mayor Duggan. That was early June, and I looked up and my sister was telling me, "Have you seen this on the news? There is violence; there is
gun violence." There was some shooting three months before we came. The anxiety level went up. I was saying, "What did I get myself into?" I like traveling, but am I getting here to experience all this?
But I kept an open mind. I started looking at how the fellows were interacting on the platform and how open they were to meeting each other. I was very overwhelmed by the number of messages. And I didn't know coming here about the possibilities for networking and the similarities we all have because we all are serving our communities. We all target the public. So for me, the biggest thing I've learned is that you have to get out of your comfort zone: Despite the anxiety, despite the fear, despite the concerns you might have, it's stepping out of your comfort zone and giving it a try. So that is one thing that stood out for me.
Rabi: I think weeks before I was applying, there was violence at Michigan State University. Then I got posted here. I was like, "OK, I pray it's for the best."
Now, I tell my friends I think we are the best set of people that are posted here. We have the best accommodations here. I realized it's not actually what I saw, what I read; it's not actually what I was thinking. The places I've been to are very safe. The people are very nice, the staff — everyone — is very nice. The home visit we had [with sponsoring American families] was the best. I feel … I'm the kind of person that usually misses home a lot, so when I got to this home family, I feel at home. That was the first time I was meeting them. But we felt so at home we sat down, we played games, we laughed, we cried, we prayed and everything. So when I was leaving there, I even had to cry because I was just thinking, Oh, when am I meeting them again? They were so nice. That was my highlight so far for the whole fellowship.
Then getting to our program director's home. Battouly and I we roamed about the neighborhood. We went to different places. We snapped pictures and all that. I love this place. I love the people. I love Detroit, and even if I'm coming back any other time to the U.S., even if I'm not coming to Wayne State, I need to come back here because I feel Detroit is home.
Emeka: Personally for me, coming to the U.S. has been a dream. I always used to tell my people back at home that I'm going to come to the U.S., and here I am right now living that dream. Everything has just been like the way I said it: Going to the Henry Ford museum. Participating in the Freedom Walk to honor Martin Luther King. I must say that the experience so far has really been amazing.
One of the key things that I've learned as a leader with the Mandela Fellowship is the inclusion aspect, something I really never considered. But then, right from the first day of the orientation, they had to consider people who were deaf, all those people who were differently abled. I saw how carefully the U.S. Embassy brought these people on board — literally brought a translator for people. And then, people who couldn't move, they brought scooters to bring them to the venue. It was carefully thought out. That inclusion is a lesson right now that I will be careful to apply even in my leadership work down the line.
One thing I've learned about U.S. people, they're quite direct and confident. No wonder they say they are the land of the free and the brave. In Africa, we are very careful; sometimes, we don't speak up. We don't even try to put down whatever we are doing. We are careful about not being proud and stuff like that. But then you can actually be confident and say what you want without being put on force, so that's one lesson I'm taking with me. And as a leader, you should be able to really speak up, you should be confident about what you believe in, you should be confident about how you say things.
What are some of your big takeaways?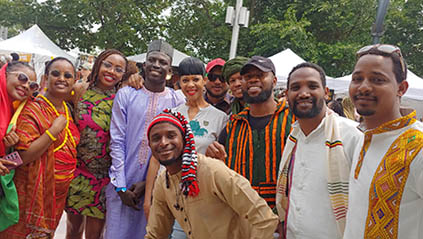 Karen: I was actually thinking when I got here that the lack of literacy programs is a problem that only Africa faces, so coming here, I discovered the issues we're facing, even America is facing them. I interacted with people during our networking sessions, and I'm telling them the issues we're facing as Africa, and they're telling me that even in America, literacy is bad. So one of the lessons is to work hand in hand with people who are doing it here and share where we can better it for everyone. I intentionally reached out to someone who connected me to people in charge of the library here. We just shared notes and compared what I'm doing in my country and what she is doing here to see where we can bridge the gap.
Omar: I realize that it's important to be able to identify your strengths. We've taken leadership surveys and training, and I can see in ways that I didn't before where identifying strengths and weaknesses is critical.
Also, I've been thinking about legal reforms here and in Africa and how difficult reforms can be. Gun violence here is a much bigger issue, and it seems to show how there can be gaps between state law and federal law that weaken the system. This made me appreciate our system a little bit more, even though there are weaknesses there also. But the fact that we don't have problems with gun violence because of the laws we have is something I can
appreciate. The United States is a role model in terms of freedom, in terms of respect to life and liberty among Africa. Every African country wants to learn from the U.S., but that is one part that no African country wants to pick up. We know that not everything here is perfect.
Jennifer: I just want to add something: This is a cultural exchange program for us as Africans with each other, too. I'm from Africa, but I just recently learned about the Maasai tribe in Kenya because somebody from Kenya wore their traditional outfits to a home visit that we had, and it was spectacular. I'm African, but I didn't know that. I know that the Americans we went to meet were very interested in learning about what he was wearing, what we eat, what we do and, most importantly, what we bring to the table as well as professionals and all of that stuff. So as much as we are learning about U.S. culture and everything that the U.S. offers us, we are also showcasing the culture of our countries. We are showcasing what young people in African countries can do or what we can bring to the table. That's quite important.