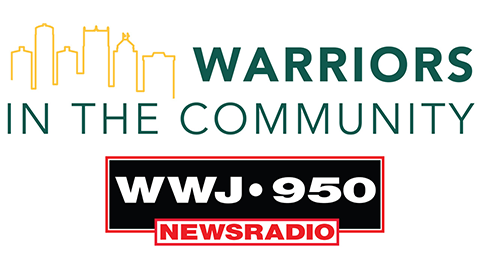 Warriors in the Community is a radio segment that features short, insightful interviews with key figures from Wayne State University about the many ways in which the university and its programs make a positive impact on the metro area and on the lives of Detroiters.
In episode 13, Ned Staebler, Vice President for Economic Development and President and CEO of TechTown Detroit, talks about the increasing impact that TechTown is having on economic growth in Detroit and on the cultivation of successful small businesses, especially among traditionally underrepresented groups. A nonprofit business service organization that provides programs, education and resources for early- to growth-stage small businesses and tech entrepreneurs, TechTown has become Detroit's entrepreneurship hub. TechTown owns and operates a 135,000-square-foot building in Detroit's New Center that supports co-working, offices, meetings and events.
Transcript
Intro: This is "Warriors in the Community" brought to you by Wayne State University, and now to learn about how Wayne State is positively impacting our community, here is Darrell Dawsey.
Darrell Dawsey: Today I'm talking with Ned Staebler, Wayne State's Vice President for Economic Development, and he's here today to talk about Tech Town Detroit, the Detroit Business Accelerator and Incubator founded in partnership with WSU. Talk to us a little bit about TechTown's mission and the role that you play.
Ned Staebler: Well at TechTown, I'm the president and CEO, and our mission is to break cycles of intergenerational poverty and generate equitable community wealth. Through entrepreneurship, we're helping Detroiters realize their dreams of starting and owning successful businesses while creating jobs in their own neighborhoods.
Darrell Dawsey: Can you name one or two of the most noteworthy programs that you currently run, and tell us how they impact Detroit businesses?
Ned Staebler: We just got a $14 million grant from the federal government to create Maine Mobility Accelerator Innovation Network. We're gonna help hundreds of mobility technology companies start up and scale, but we also do other kinds of businesses.
So for example, retail Bootcamp is our marquee program for neighborhood based retail startups. We've helped hundreds of entrepreneurs get a handle on the nitty gritty details that help a business get open, but most importantly, stay open.
Darrell Dawsey: Can you give us a few numbers that illustrate the success that TechTown Detroit is having?
Ned Staebler: Just last year we worked with almost 750 entrepreneurs who started more than two dozen new businesses. Those entrepreneurs raised more than $35 million in capital. 66% were black owned, 85% were people of color, 14% were immigrants and 64% of those entrepreneurs use she/her/hers pronouns.
Darrell Dawsey: Can you give us an anecdote that underscores the importance of the work that TechTown does?
Ned Staebler: One of my favorite entrepreneurs is a woman named Cathryn Coleman. She has a business called Bouncing Around the Motor City, and just this year she won Hatch. She won $100,000 for what will be Detroit's only balloon and party rental store when it opens up later this summer.
Darrell Dawsey: Ned, thank you so much for talking with us.
Ned Staebler: Thanks for having me and all you do for Detroit.
Extro: This has been "Warriors in the Community." For more Wayne State News, please visit us online at today.wayne.edu/wwj and join us here next Monday at the same time for more warriors in the community.