The late 1960s were a turbulent time in America, especially on college campuses where the counterculture movement was the focus for protests and rebellion. However, not everyone supported the major demonstrations — many influenced by drugs, spirituality and dissent — that erupted across the nation.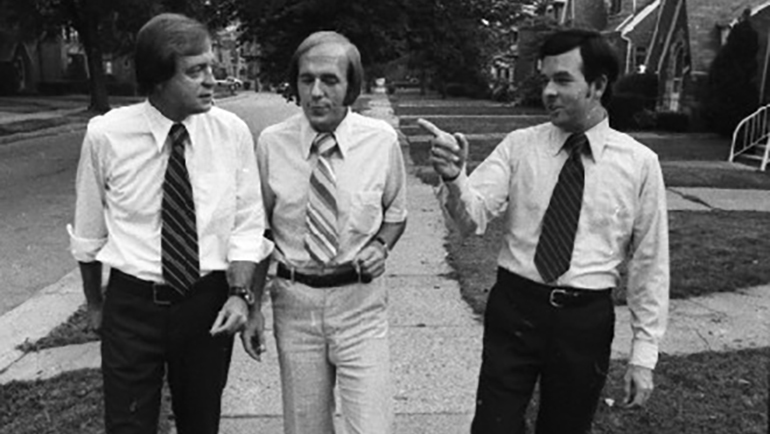 "When I was at Wayne State, I resented the counterculture," former Michigan state Sen. John Hertel said. "I did not like the counterculture because I liked Bobby Kennedy, who was running for president in 1968. I got to meet Bobby Kennedy and three weeks later, when he was assassinated, I could not tolerate the thought of Richard Nixon winning, so I threw myself into the Hubert Humphrey campaign.

"That's where I was at politically. I was not into what was going on at the Democratic National Convention, and Abbie Hoffman upset my stomach."
Instead, Hertel fueled his strong appetite for the legislative process by taking political science courses at Wayne State University. It was in these classes — taught by a few elected officials like Mel Ravitz, who was a forceful civil rights advocate and Detroit city council president — that Hertel found himself thirsting to make a difference during a time of anti-establishment protests and social reforms.

"It was an extremely exciting time in politics in the country," said Hertel, who graduated from Wayne State with a bachelor's in political science and a teaching certificate in 1969 — the same year he married Janice Amorello, moved to Harper Woods and ran for precinct delegate.

"I really believed we needed to go in a different direction," he said. "But it wasn't in the extreme direction that the counterculture people wanted to go in. Bobby certainly wanted to go in a different direction, too, and quite frankly, so did Hubert."

Soon, Hertel would launch his own political career, one that initiated a long and storied history of public service for one of Michigan's most prominent political families of the last 50 years.

For more than a half-century, the Hertel family has risen to prominence in a variety of elected and appointed positions. Yet through it all, John Hertel credits Wayne State for solidifying his political dreams and helping launch his family into public service.

"I was proud that I went to Wayne State," said John Hertel, whose younger brothers, Dennis and Curtis, also attended WSU. "I felt a real debt to the university in terms of how it had prepared me. I feel that it does a marvelous job in terms of giving opportunity to a lot of people who wouldn't otherwise have opportunity."

All Democrats, the Hertel family is a remarkable example of a political dynasty that has worked tirelessly to address the concerns and needs of their constituents. They have served metro Detroit and Michigan with distinction, and their legacy as public servants has made a lasting impact on the state's residents.
John Hertel, now 76, was a three-term state senator and the only person in Michigan history to serve as chairman of the county boards of commissioners in two different counties (Wayne and Macomb). After leaving the Senate in 1982, he became chairman of the Wayne County Board of Commissioners from 1983–86. Following a move to Lenox Township, he became a Macomb County commissioner (1988–97) and chairman (1997–2002), while simultaneously accepting gubernatorial appointments from John Engler and Jennifer Granholm to oversee the Michigan State Fairgrounds in Detroit from 1993–2006. This made him one of the rare metropolitan politicians who operated in multiple jurisdictions.

In 2006, John Hertel was selected by the county executives in Macomb, Oakland and Wayne to serve as general manager of the Suburban Mobility Authority for Regional Transportation (SMART), a public transportation system serving several counties in Southeast Michigan. He retired from SMART in 2020.

Though the two younger brothers, Dennis and Curtis, each lost campaign bids for Detroit city council in 1973 and 1977, respectively, they did not let it deter their political aspirations.
Dennis Hertel, J.D. '74, served three terms in the Michigan House of Representatives and six terms as a congressman in the United States House of Representatives. He was a strong advocate for the interests of working-class Americans and focused on labor rights, environmental protection and health care reform. He was also a supporter of increased funding for education and scientific research.
The youngest of the brothers, Curtis Hertel Sr., B.S. '77, was a nine-term state representative and co-speaker of the Michigan House of Representatives. He was known for his work on education, environmental protection and labor issues, was instrumental in passing several pieces of legislation, and was a driving force behind the bipartisan effort that led to the creation of the Michigan Children's Trust Fund, now known as Children Trust Michigan. After leaving office, he was appointed to the Michigan Public Service Commission, where he served from 2003–07. Curtis Hertel Sr. died in 2016.

As a former Lansing insider, Dan Loepp, the president and CEO of Blue Cross Blue Shield of Michigan, knows the Hertels better than most and said he admires their commitment to public service.

"My view of politics is that if you have somebody that represents you — Democrat or Republican — who wants to do the right thing from their point of view, I'd take the Hertels a million times over somebody who has some sort of diatribe view of what they should do," said Loepp, also a WSU alumnus. "I think the family, basically all five of them, view that as their role — to be public servants and do the right thing."
Today, Curtis Hertel's sons — Curtis Hertel Jr. and Kevin Hertel — carry on the family tradition at Michigan's capitol. A two-term state senator from 2015–22, Curtis Hertel Jr. is now director of legislative affairs for Gov. Gretchen Whitmer. Kevin Hertel is a first-term state senator, representing communities along Lake St. Clair in Wayne, Macomb and St. Clair counties. He held office in the Michigan House from 2016–22.

As an intern to the former co-speaker, Whitmer — who recently attended the announcement for Wayne State's tuition guarantee program — said she's incredibly grateful for what the Hertel name has meant to Michigan.

"I often think of the former co-speaker and how he would be looking down at me and being so incredibly proud to see his former intern as the governor; his oldest son, who was a senator and is now the legislative counsel to the governor; and his youngest son, who is in the state Senate, too," Whitmer said. "They've made a huge impact on our state, and we're so much better off for it."

The family's first election victory came in 1972, when 25-year-old John Hertel became the youngest person elected to the Wayne County Board of Commissioners, defeating an eight-year incumbent. In March 1974, Hertel was back in campaign mode, running in a special spring election for state Senate.

But not everyone was on board with his decision to seek state office.

"Anybody that knew me or knew anything about politics was telling me I'd never get elected," said Hertel, who won the special election, followed by the general election in November 1974. "They gave me three reasons: I wasn't an attorney, I wasn't rich, and nobody ever heard of the name Hertel in politics."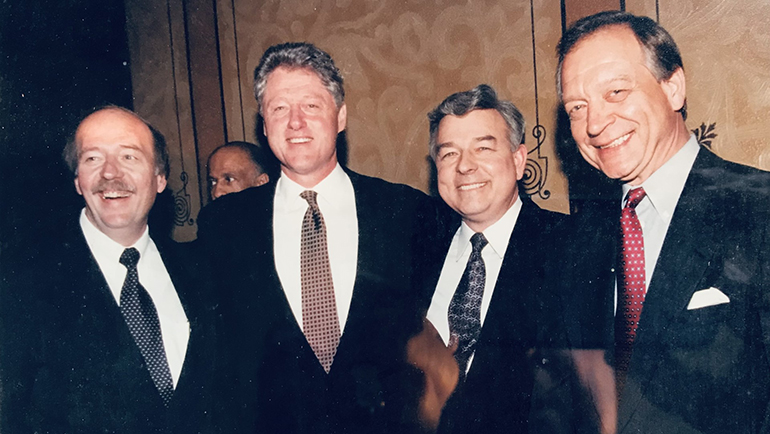 How it all began
While firebrand professors like Ravitz helped drive John Hertel's legislative aspiration, it was a middle school teacher who first introduced him to the political arena. As the U.S. prepped for the Kennedy-Nixon presidential debate in September 1960, the faculty at Detroit's Christopher Columbus Junior High School planned a mock version for the students. Hertel was tabbed as one of the two lead characters.

"It was right then that I had to bone up on John Kennedy and his positions," said Hertel of the bread-and-butter liberal from Massachusetts.

In front of a packed school assembly, John Hertel dueled his best friend's Richard Nixon in what was a one-sided debate. Students erupted with approval every time Hertel articulated Kennedy's positions.

"I'm obviously thinking it had to do with my performance," Hertel joked. "But as I look back on it, it really had to do with the neighborhood. The neighborhood was Democratic, so the kids leaned Democratic. But it really tuned me in."

A few years later, Hertel was nudged again. This time by Irvin G. Wolf, a longtime principal and counselor at Denby High School. The former president of the Michigan Association of Secondary School Principals, Wolf believed students should democratically participate in the running of their school. Hertel, a popular student amongst his peers, jumped at the opportunity to be Denby's student council president.

"It was a really interesting experience because student council met every day," John Hertel said. "I loved the fact they met every day, and that's when I made my decision that politics was going to be a lifelong hobby for me."

However, public service became more than a pastime.

The first in his family to attend college, John Hertel enrolled at Michigan State University and wasted no time in getting involved in campus politics. He was elected to student government and served alongside future Gov. Jim Blanchard. At MSU, Hertel studied agriculture and farming but soon realized raising cows, "was not the way to successfully make a living. I already was seeing signs that the dairy business had evaporated."

Hertel, who now breeds Percheron draft horses on his farm in Lenox Township, returned home and transferred to Wayne State.

"That's when I made the decision that I would do politics for a living," he said.
A father's influence
The oldest of four siblings, John (Jack) Hertel Jr. dreamt of being a teacher.

Unfortunately, in 1938, when he was 18, his mother died suddenly of uremic poisoning. "She died breathing in the fumes of cleaning the drapes without ventilation," John Hertel said of his grandmother.

A few years later, Jack Hertel married Marie Kaufmann. He was drafted into the U.S. Army, landed on the beaches of Normandy a few days after D-Day, and was wounded. When he returned to the United States, Jack and Marie took ownership of Kaufmann's Café, which had been in Marie's family. They owned the popular eastside restaurant, located on Chalmers near Houston-Whittier, from 1945 until 1976.

Operating the café wasn't easy. Sixty-hour work weeks were common for the young couple. But Jack Hertel still managed to find time to volunteer in the community. He held leadership positions with the Kiwanis Club, American Field Service and the PTA at Denby. And as a merit badge counselor for the Boy Scouts of America, he always taught his sons to be positive influences. John and Dennis both reached the rank of Eagle Scout.

"Citizenship in the home, citizenship in the community and citizenship in the nation," Hertel said. "His emphasis was about being a good citizen."
A baker by trade, Jack Hertel was determined to be a school teacher. He was 48 when he enrolled at Wayne State and got a student-teaching gig at Warren Consolidated Schools (WCS).

"My father wanted to be a teacher from the time he was 18," John Hertel said. "He passed his entrance exam, and he didn't have to go to any remedial classes. Took six years because he was still running his business."

Jack Hertel, B.A. '74, M.A. '80, graduated magna cum laude and was offered a teaching job at WCS but turned it down. For Jack, landing a job at Clark Elementary School in Detroit — where he had learned reading, writing and arithmetic — was far more rewarding than some higher-paying position in the suburbs.

"I was always very proud of him for doing that," Hertel said.
Lifelong friendships
Dan Loepp has known the Hertel family for more than 50 years, ever since his father, Robert Loepp, bowled on a men's league team sponsored by Kaufmann's Café.

"Their parents were wonderful people, and their dad, Jack, was just a heck of a guy," Loepp said. "If you run a restaurant and bar for 35 or 40 years and are successful, you had to be a friendly, personable person."

Eventually, Loepp grew to know all three Hertel boys and picked up on their political philosophies, beginning with the first time he heard John Hertel talk about important issues. It was leading up to the general state Senate election in 1974. Loepp was a 16-year-old junior at De La Salle Collegiate when Hertel visited the all-boys Catholic high school to speak to guys on the student council. He was running for Charles Youngblood's vacant seat after the Detroit Democrat was forced to resign following a conviction on conspiracy to bribe a public official.

That day, Loepp was so impressed by Hertel that he hit the campaign trail to support the young lawmaker.

"I had an ugly Chevy II. It was Earl Scheib blue," Loepp said. "But after I heard John talk, I put 'John Hertel for Senate' stickers all over it. That's how I got involved with the family."

A few years later, Loepp — then a communications major at Wayne State — went to work for the newly minted state senator. "John hired me when I was 18 or 19," Loepp said. "I did whatever I got asked to do. And then I went to work."

The Loepp and Hertel families have been friends ever since.

"They're great people," Loepp said. "I still am friendly with all of them. I talk to John quite a bit, and I talk to Dennis all the time and, of course, we see everybody's siblings and kids and grandkids."

Ultimately, Loepp, who has bachelor's and master's from Wayne State, went on to do legislative work for Dennis and then Curtis.

"When Dennis got elected to Congress in 1980, I went to work for him, and I did a lot of the same stuff that I did for John," said Loepp, who also handled military and Social Security casework for the U.S. congressman.

Loepp, B.A. '82, M.A. '86, was so close to the Hertels that he helped Dennis and his young family relocate from Detroit to the Beltway, driving more than 500 miles one way in a rented truck.

"Curtis and I loaded up a U-Haul and drove to Dennis' home in Virginia," Loepp said. "You learn when you're driving a U-Haul that sometimes the brakes don't work really well. It was the craziest thing we ever did."

Loepp says he feels fortunate to have learned from each of the brothers, but he cherishes one relationship the most.

"Curtis was my best friend," he said. "We lived two blocks away from each other and our kids grew up together. We were enormously close. He was like a brother to me, but I also learned a lot from Dennis and a ton from John."

Despite his political affiliation, Michael Busuito, M.D. '81, is a loyal supporter of the Hertels. One of two Republicans on the Wayne State Board of Governors, Dr. Busuito has known the family of lawmakers since the mid-1970s when he began campaigning for them as a medical student at Wayne State.

"The relationship I developed with the family was more as a brother than anything else," said Dr. Busuito, who has been on the WSU board since 2017. "And even though I followed a Republican path in my political career, it was the Hertel brothers who taught me the importance of fighting for the working people and the disadvantaged.

"Michigan has greatly benefited from the Hertel family, and they always give tremendous credit to their roots at Wayne State."
From Wayne to Washington
Nothing specific jumps to mind for John Mogk when asked about Dennis Hertel as a college student in the 1970s.

"We're talking 50 years ago," said Mogk, a Distinguished Service Professor of Law and chair of Wayne State's Levin Center Faculty Advisory Committee.

Though a half-century later, the now 84-year-old professor generally remembers his star pupil, saying, "Dennis was an outstanding student of mine and we just hit it off."

Mogk, who lost to Coleman Young in the 1973 Detroit mayoral race, remembers Dennis for his desire to serve his community.

"We interacted on a regular basis outside the classroom based on talking about the city and the eastside activities," Mogk said. "Dennis is a very bright guy. He's committed, he's very personable and he's a good friend. We developed a close relationship during those early years and continued to work with one another on eastside issues and local politics."

The teacher and student shared political interests, especially issues that involved urban redevelopment in eastside neighborhoods, like the Jefferson-Chambers area where Mogk resided. But the longtime professor said he would never have predicted Hertel's political rise through Congress.

"He ran for city council in 1973," Mogk said. "It was then that I had a sense he was concerned about the public wellbeing. He was active in Democratic activities and working on campaigns. He was clearly politically conscience of what was ongoing in the community framework."

John Hertel said his brothers' appreciation for public life was sparked by the time he ran for precinct delegate in Harper Woods. The seeds were planted, John Hertel said, during family vacations to historic sites like Valley Forge and the monuments and memorials in the nation's capital.
"When I was nine and Dennis was seven, my father took us to Washington, D.C.," Hertel recalled. "Each year he planned a trip based on American history, and each year we went to a different set of states. In our basement, where we had our Lionel train set, dad had a big map on the wall and he would use red ribbons and thumbtacks to show every place we went."

Prior to attending law school, Dennis Hertel earned a history degree in 1971 from Eastern Michigan University where he was student body president. Soon after graduating from Wayne State, he was elected to the Michigan House of Representatives, where he spent three terms and chaired the Judiciary Committee. During his six-term congressional career, which began in 1980, Dennis was a House Armed Services Committee member, chaired the Investigations and Oversight Subcommittee, and was Ranking Member on the Research and Development Subcommittee.

"Dennis did a fine job in Congress," Mogk said. "I didn't see Dennis very much while he was in Washington, but on occasion I see him when he comes back to Detroit. He was an outstanding public figure and public servant."

Eventually, Mogk formed friendships with all three Hertel brothers. He even volunteered on re-election campaigns for John and Dennis.

"The three brothers served their constituency very well," said Mogk, who got to know the brothers while consulting on special projects for then-Governor William Milliken. "They were committed to doing the right thing and delivered on promises they made. They developed strong reputations and that developed a strong name and image for that family name. So, for those who come immediately after benefit from that very favorable image that has been created by those who have gone before."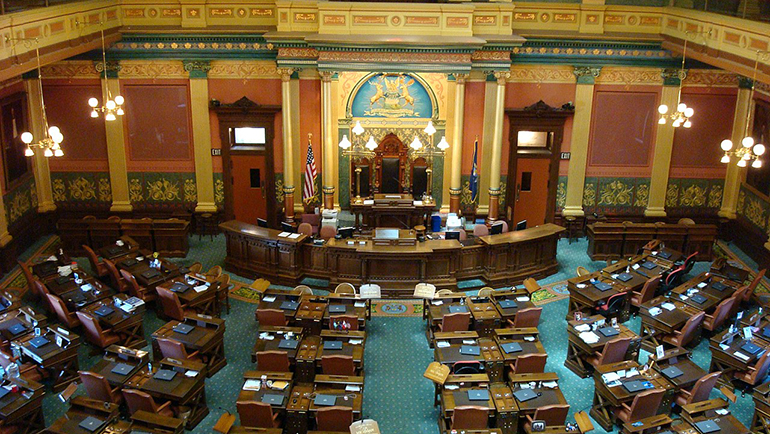 A House divided
In 1993, the Michigan chamber was divided — 55 Democrats and 55 Republicans. Curtis Hertel Sr. and state Rep. Paul Hillegonds (R-Holland) were unanimously elected co-speakers of the Michigan House of Representatives.

Curtis Hertel Sr. was sole speaker from 1997-98. Hillegonds, 74, is now chair to the Advisory Board at Wayne State's Levin Center for Oversight and Democracy.

Loepp, who served as chief of staff for co-speaker Hertel and wrote the book, Sharing the Balance of Power: An Examination of Shared Power in the Michigan House of Representatives, 1993-94, said the unique arrangement required bipartisan leadership and trust between both men.

"I think Curtis had the patience of Job," Loepp said. "Even though he and Paul Hillegonds were obviously different politically, they were a lot alike in the sense of being reasonably approachable to things from their own political perspective. They also understood that most of their job was to herd cats. You had to get along with your members. You had to cajole them. You couldn't go too far to the left or too far to the right. They never went off the rails much at all, and I think that was probably a pretty significant explanation of how it worked."
Gov. Whitmer's first job as a young college graduate was in the state legislature during the shared-power era. She was an intern working alongside Loepp in the co-speaker's office.

"It was a really unique period in Michigan history," she said. "He and Paul Hillegonds cobbled together a shared agreement, which had never been done before, and it just shows that when things are really close, if you get the right leadership in, you can get a lot of good things done. And he was a great example and a great mentor to me and so many others."

Also in 1993, John Hertel was appointed by then-Gov. John Engler to run the Michigan State Fairgrounds. Along with his youngest brother, John Hertel had the coliseum, which was built in 1922, renovated into a 5,800-seat multipurpose arena that became home to Wayne State's men's and women's ice hockey teams from 1999 to 2008.

Following the death of Curtis Hertel Sr., former state representative Tim Greimel paid tribute to his colleague during a memorial resolution on the chamber floor.

"He was truly one of the last great figures in Michigan politics in the 20th century," said Greimel, now mayor of Pontiac, Michigan. "And in the year of term limits, it's unlikely we'll see legendary figures in Michigan politics in the years ahead like we had with Speaker Hertel."
Personal choices
For Curtis Hertel Jr., being pulled in a little red wagon through neighborhoods in northeast Detroit are his first memories of political life with his dad. Despite that political exposure at an early age, a life of public service wasn't a definite for him or his younger brother, Kevin.

"It's funny. It was never expected of us," said Curtis Hertel Jr. of following in the family's political footsteps. "My cousins have not. In fact, Kevin and I are the only two that have been elected in this generation. But I think that's good because it was a choice we made, not something that we felt like we were forced into."
Determined to blaze his own trail, Curtis Hertel Jr. moved to East Lansing to escape his dad's and uncles' shadows.

"I moved 90 miles away because I didn't want people to vote for me because of my father's name," said Curtis Hertel, Jr., who was first elected Ingham County register of deeds in 2008.

Curtis Hertel Jr. and Kevin Hertel are the first siblings in Michigan history to serve districts so far apart.

"I've got a bumper sticker in my office that says, 'Hertel, vote for the one nearest you,'" said Curtis Hertel Jr., who has four children. "I'm proud to be part of a legacy. But I don't remember a time where I didn't think a life of service is what I wanted."

Asked if he thinks his children will follow in the family business, Curtis Hertel Jr. said, "We'll see how that goes. My son, C.J., is at Michigan State and studying the bassoon. Though he did once tell me that politics was his backup plan.

"Obviously, I talk to my kids about what I do and the importance of it and what we're working on, but one of my kids wants to be a teacher. To me, that's where all the public service started. I mean, my grandfather served in World War II, came back, ran a bar in Detroit, and then decided to go back to school and become a teacher. He's probably the first public servant in the family. In all honesty, if he doesn't do that, his love for history and for service, I don't know what the rest of the legacy looks like."

Asked to sum up the meaning of his family's 50-year legacy in Michigan politics, John Hertel took a long pause, and then said, "When I look back, I realize that this is something that my father would just be so thrilled about. I mean, he was already pleased because he got to see the three of us. But he would be additionally thrilled in seeing this about his grandsons."
---
The top photo is from Nov. 5, 1999, when Wayne State sold out its first-ever home ice hockey game, an 8-4 exhibition loss to the University of Western Ontario at the renovated Michigan State Fairgrounds Coliseum. Pictured with the Hertel brothers is former WSU President Irvin Reid. (Walter P. Reuther Library, Archives of Labor and Urban Affairs, Wayne State University)