DETROIT – Considered the America's Cup of civil engineering, the Eastern Great Lakes Concrete Canoe regional races will be hosted by Wayne State University at Lake St. Clair Metropark Friday, March 31.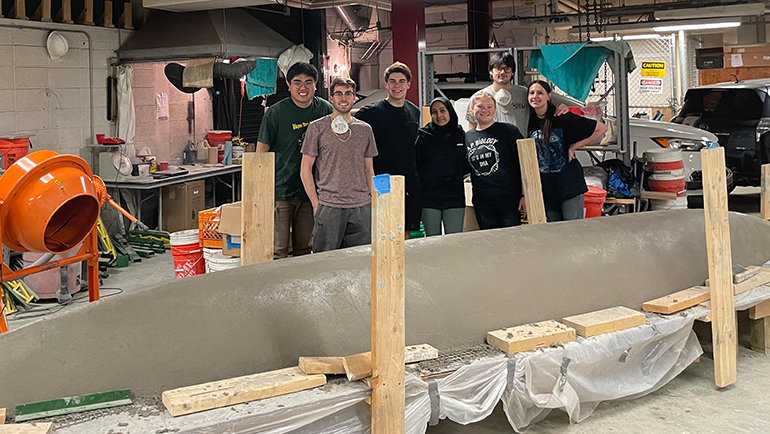 This elite competition, sponsored by the American Society of Civil Engineers (ASCE), combines engineering excellence, hydrodynamic design, racing technique and, yes, canoes made of concrete.

"Who would've thought concrete could float?" joked senior Knicko Mojica, vice president of Wayne State's ASCE student chapter and co-captain of the Warriors concrete canoe team.

The concrete canoe races are a big deal for students in the College of Engineering. Students spend a year of planning, designing, testing and constructing a canoe out of concrete to race it against other schools.

Since the early 1970s, ASCE student chapters have competed to be the best at designing, constructing and racing concrete canoes. During that time, canoe mixtures and designs have varied, but the longtime tradition of teamwork and spirited competition has been constant.

"The competition takes what we learn in the classroom and challenges us to follow closely in the footsteps of a real-life construction project: It ties together engineering concepts like project management, research, design, developing deliverables and construction," Mojica said. "It's been quite the challenge hosting and competing, but the connections I've made with my team and throughout the community while putting this together have made this an unforgettable experience."

This marks the first year in more than a decade that Wayne State is hosting the regional races. WSU will compete against 12 other college teams in disciplines of concrete canoe, surveying and sustainable solutions. This year's Eastern Great Lakes regional races include a 200-meter slalom and 200-meter sprint for men, women and coed teams from Michigan and Ohio, including Lawrence Tech University, Michigan Technological University, Ohio Northern University, Ohio State University, Ohio University, University of Akron, University of Cincinnati, University of Detroit Mercy, University of Michigan, University of Toledo, Western Michigan University and Youngstown State University.

Bill Shuster, Ph.D., chair of Civil and Environmental Engineering at Wayne State and faculty advisor for the school's ASCE student chapter, said Friday's event will be an intensive and fun competition among hundreds of students.
"Each team designs, composes and tests materials, and constructs an actual concrete canoe that is then tested for safety on Lake St. Clair," Shuster said. "Finally, there are a series of races that are pretty exciting, too.

"These students will literally build the future of our cities through the built infrastructure. The concrete canoe experience is the sort of thing that our students will be doing on a day-to-day basis as civil engineers. They'll be confronting the challenges of designing, building, restoring our worn structures, transportation networks, and water infrastructure. Seeing the project through from raw material and design concept, to a finished canoe is a unique team forum for exercising all of the core aspects of the civil engineers' experience."

Friday's winning team will advance to the ASCE Student Championships hosted by the University of Wisconsin-Platteville June 10-12.

Below is the schedule for Friday's races at Lake St. Clair Metropark, which is located at 31300 Metro Parkway in Harrison Township:

9 a.m. Canoe displays: Kayak Launch
11 a.m. Lunch break: Activity Center
12 p.m. Swamp testing/flotation test: Kayak Launch
1-5 p.m. Canoe races: Kayak Launch