For the bulk of her professional life, Carolyn P. Hafner, associate vice president and chief human resources officer for Wayne State University, has operated far from the limelight, quietly plying her executive skills to great effect in the university's administrative shadows.
As a recent recipient of the Michigan Chronicle's prestigious Women of Excellence Award, she admitted that it's taken some time to adjust to the glare of the spotlight.
"I can't even fully wrap my head around it," Hafner said. "I believe that you just come and you do. You don't do for the sake of reward and award and recognition. You just do your best each day. So, when someone nominates you and recognizes the work that you do — not only here at Wayne State, but in the community — it's just humbling. I've always had jobs where you're behind the scenes, doing work that not a lot of others may want to do. I never know what I'm going to be faced with. But the great part of this job and others that I've had is the ability to make a difference, not only to the institution but in people's lives every day."
And it's precisely because of this ability — Hafner's 28-year-long knack for "doing" and getting things done across an assortment of jobs at Wayne State — that the professionally trained accountant now counts herself among a veritable who's who of influential Black women in metro Detroit who have been honored with the Women of Excellence Award. A ceremony celebrating the award winners will be held April 5 at Detroit's MotorCity Casino Hotel.
Hafner has served Wayne State in a wide range of capacities since she came on board as an assistant director in the accounting department nearly three decades ago following a four-year stint at the once-fabled Arthur Andersen & Co. public accounting firm.
"I've been so blessed in my career," she said. "To go from an assistant director to being an associate vice president who sits on the cabinet reporting to the president, CFO and the board, I think that's growth. And not a lot of people have my story. But the roles that I've had here — from the accounting department to internal audit to human resources — they're not glamorous jobs. They're difficult, but rewarding, jobs."
She's handled the difficulty with aplomb and optimism, successfully implementing ideas that have reshaped policies, refined and improved operating practices, attracted capable personnel, and ratcheted up morale in multiple administrative departments. And just as she's lifted the institution, Hafner also has provided a boost to numerous individuals — from students to co-workers — whom she's mentored during her ascent at Wayne State.
"My proudest accomplishment is to really be able to make positive, lasting change by working with people," Hafner said. "I would say my second-proudest accomplishment is to really be able to mentor people and see them succeed."
During her time in the university's Office of Internal Audit, for example, she created an internship program that collaborated with the Mike Ilitch School of Business to help give students precious hands-on experience in auditing.
"Sometimes, students would come to me and say, 'I don't really even know what I want to do, but I saw you had a job and I need a job.' And we'd work directly with them to develop their skills," said Hafner. "I gave them very specific experience that second-year, not first-year, auditors do. And we trained them not only on auditing, but resume writing, interviewing and presentation skills, professionalism – the works. You ask them what they'd do and they could tell you, 'I was doing risk assessment, interviewing the president and the head of legal, fraud investigations, and audits.' They were not making copies and running to get coffee for anybody. So, this experience gave our WSU students a distinct advantage over their competition from other schools."
The employment rate for her interns, she said, was 100%.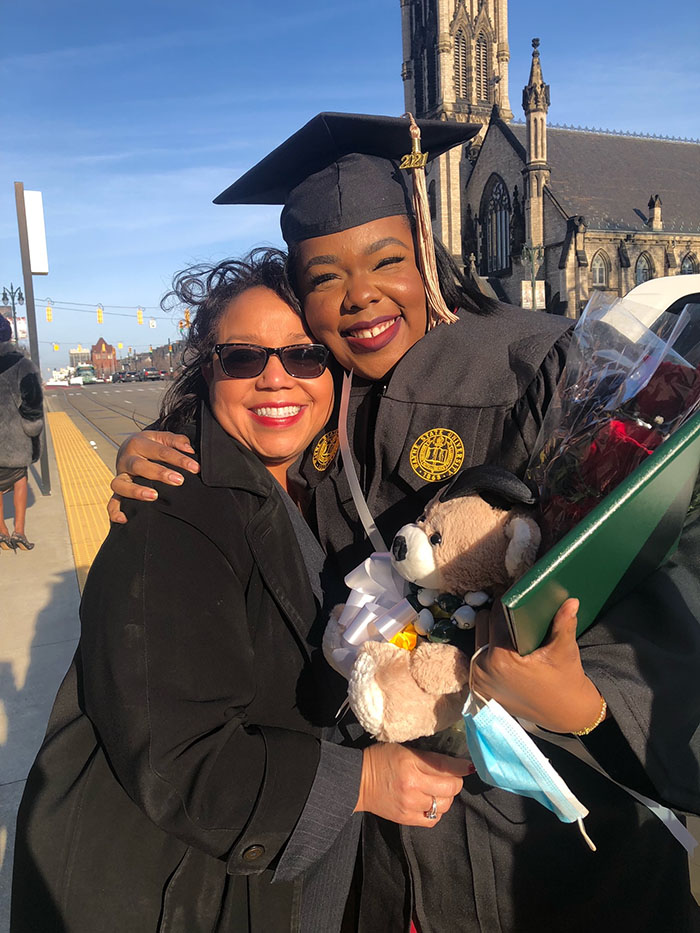 That same desire to provide professional and personal guidance at Wayne State also compelled Hafner, a member of the historic Little Rock Baptist Church in Detroit, to create a mentorship organization called SOAR (an acronym for Students with Outstanding Achievement and Results), which prepares students and their parents for college.
"I learned that eagles fly very high above the clouds," she said. "They also see so much better than other birds. Can't mess with eagles. And so, we built that acronym for SOAR. That's what eagles do. They soar and they glide. They fly high. And that's what we mean when we are encouraging kids on the idea that you can achieve anything with education, so don't let anyone tell you what you cannot do."
Although the pandemic slowed the group's growth, Hafner continues to work with young people in both her church and on campus through tutoring and mentoring.
Interestingly, while she has taught her interns, mentees and others to better promote themselves, Hafner acknowledges that she has usually been reluctant to promote herself in the course of her work. In fact, she said it took her some time to even reveal that, out of a pool of 300 candidates, she had been named one of the 50 women to earn this year's Women of Excellence Award. And even then, she didn't exactly holler out from the rooftops.
"It just blows my mind, it really does," said Hafner of the award. "We've been so busy that I didn't even tell my leadership team. I'm not a braggart, so it feels awkward, like, 'Hey, I got this award kind of thing.' But I do know it's huge. It's just huge."
Hafner's selection marks the third straight year that a WSU employee has earned the award, with assistant vice president Nikki Wright and community affairs director Stacie Clayton being chosen in 2021 and 2022, respectively.
A lifelong Detroiter, the Cass Tech alumna said she continues to be awed to be honored among so many women she described as "heavy hitters." And as has been Hafner's practice throughout her career, she hopes to leverage her work and her honor to motivate others.
"It never occurred to me that I could be among the women who've won this honor," Hafner said. "And I hope that other women will see it and say, 'If she could be one of those Women of Excellence doing what she does, I can be that, too.'"