Daphne Ntiri, Distinguished Service Professor in the Department of African American Studies at Wayne State University, was one of 18 illustrious scholars and practitioners inducted into the International Hall of Fame by the Board of the International Adult Education and Continuing Education (IACE). Ntiri and the other honorees were recognized at IACE's 26th annual ceremony in Cork, Ireland, on Sept. 28. She earned this distinction due to her outstanding scholarship, leadership, advocacy and service in adult literacy and gender empowerment locally, nationally, and internationally for over three decades.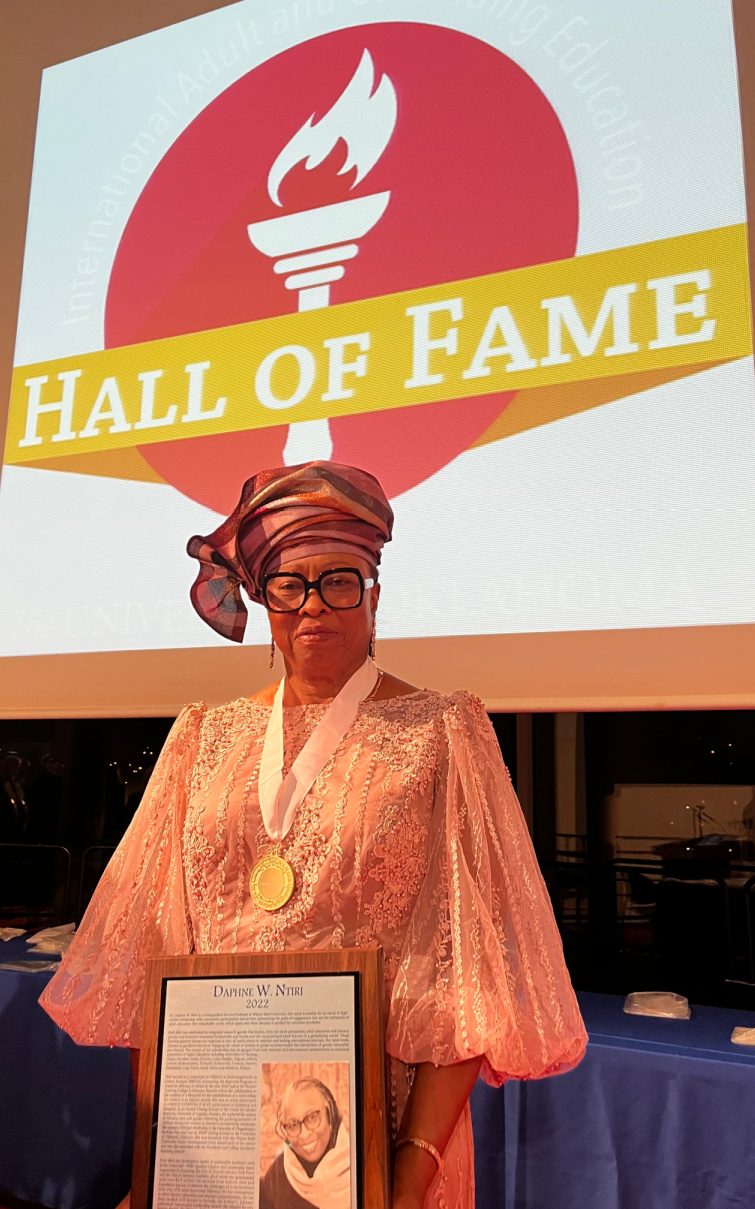 Ntiri's journey into adult education began with a postcard story of a friend at Fourah Bay College, whose perfect grooming and command of English collided with her existence in a totally illiterate home environment. This friend's story inspired Ntiri to examine her own assumptions and triggered her consciousness about illiteracy, noting that she had " come to see adult literacy as a reflection of social and economic order, and equally as shaping this social and economic order in both her international and local endeavors."
A commemorative plaque and medallion in Ntiri's honor will be displayed at the International Adult and Continuing Education Hall of Fame gallery at the University of Oklahoma, in the company of past inductees such as world-renowned adult educator Paulo Freire of Brazil; Julius Nyerere, former President of Tanzania; former first lady Barbara Bush; and Un Shil Choi, a renowned researcher from South Korea. The inductees came from Canada, Denmark, Estonia, France, Germany, Hungary, Ireland, Mexico, Poland, Portugal, Scotland, Singapore and the United States and covered the pandemic years, 2020-22. Ntiri is a native of Sierra Leone.
Learn more at International Adult and Continuing Education Hall of Fame