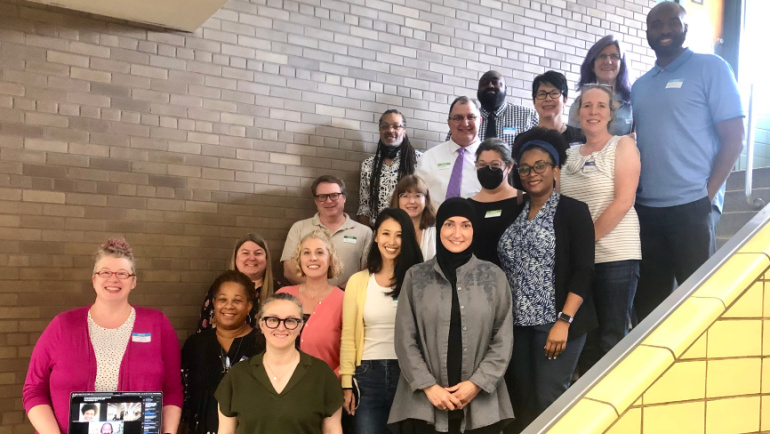 The Academic Leadership Academy (ALA) has launched its 2022-23 cohort with its first in-person retreat for new fellows in two years.
Created by the Office of the Provost in 2019 as part of the university's ongoing commitment to the success and growth of its faculty and staff, this prestigious group follows a competitive application process, and each selected fellow develops a leadership project to improve a facet of campus life. Fellows are also given the opportunity to build their leadership skills via the group's retreat, monthly seminars, ongoing meetings with coaches and mentors, and a variety of assessments.
"Wayne State will benefit for years to come because of the thoughtful, collaborative efforts of the Academic Leadership Academy fellows. The new cohort will join previous fellows in improving the university as committed, life-long learners working together for a common goal," said Sara Kacin, assistant provost for faculty development and faculty success and director of the Office for Teaching and Learning.
The 2022-23 Academic Leadership Academy fellows represent disciplines and units across campus:
Sharif Ali-Dinar, financial aid officer I, Office of Student Financial Aid
Ali-Dinar will design a program that meets the objectives of the university and supports retention, helping students make informed decisions concerning housing while also helping them self-advocate during the appeals process.
From Ali-Dinar: "I love the idea of partnering with a group of innovators and problem-solvers working together for the common good."
Shanique Brown, assistant professor, Psychology
Brown will develop and implement a Team Science Community of Practice.
From Brown: "The aim of the project is to increase access to resources available to support the work of members of the Wayne State community, including those in community-partnered teams, who are engaged in team science."
Lauren Budrow, assistant professor, Clinical, Mortuary Science
Budrow will create a professional review process that aligns professional practice experience against the outcomes of the general education courses and converts those activities into college credit that can be applied toward an undergraduate degree in mortuary science. The project aims to meet the needs of many licensed mortuary science practitioners in Michigan who hold a certificate from the program before it was converted to a bachelor of science in the 1990s.
From Budrow: "I considered applying to the ALA every year, but my teaching load didn't leave much room to work on a project. I now have some instructional assistance and feel that I am able to give full attention to a project, so I can do it well. I know I need the assistance and input from faculty and administrators in other departments to make this project happen and to be quality for university consideration. I have close colleagues who have gone through ALA and felt it was a valuable experience. They encouraged me to apply knowing that I have this project I've been wanting to develop."
Meghan Courtney, outreach archivist, Walter P. Reuther Library of Labor and Urban Affairs
Courtney will continue developing her program for teaching critical thinking skills through the lens of archival primary source research by incorporating data collection about student outcomes, to inform program expansion.
Moira Fracassa, academic services officer IV, Office of Student Affairs, Eugene Applebaum College of Pharmacy and Health Sciences
Fracassa will develop a general bachelor of health sciences for students who are interested in obtaining a broad understanding of health sciences and health care fundamentals, including both those who are interested in health sciences but do not necessarily want to pursue a clinical path and those who are interested in applying to an advanced degree program.
From Fracassa: "I applied for the ALA because I had heard such positive things and it just feels like the right challenge at the right moment in my career. I look forward to defining my leadership style and learning how different styles function. I hope to assess myself and ultimately grow as a leader for the benefit of myself, my colleagues, and the university — and also have some fun along the way."
Mershawn Gayden, financial aid officer II, Office of Student Financial Aid
Gayden will develop a campus mediation program that will create opportunities for healthy conflict and dispute resolution, engaging trained volunteers as mediators.
From Gayden: "I applied to the ALA to work and collaborate with other academic professionals. I hope to gain from their expertise and experiences to grow as a higher education leader, in addition to working with volunteers to create safe spaces on campus that engage in healthy dialogue. I am most excited to develop a new campus program and the potential to recruit volunteers to train as mediators."
Frank Goeddeke, assistant professor, Teaching, Management and Information Systems, Mike Ilitch School of Business
Goeddeke will engage the local business community in existing Carbon Literacy Trainings to help drive community engagement and significant change in reducing carbon emissions and other ecological problems.
From Goeddeke: "I want to engage our students, faculty and local business professionals together in climate change education, prevention and mitigation efforts. I am fairly new to the university and don't have a lot of connections with the right people or the position power to make this happen by myself. The ALA will help me to strategize in a way to make and execute effective plans."
Penelope Higgs, associate professor, Biological Sciences
Higgs will develop a biological science M.A. program with coordinated coursework leading to an emphasis in distinct biological sub-disciplines, like microbiology or neurobiology.
From Higgs: "My proposed project will involve putting together teams to design the curriculum so that the appropriate courses are offered regularly within a two year period and developing a marketing strategy to develop student interest. I was interested to apply for the ALA because I realized I needed to develop the skills to bring groups of people together to work on a common goal."
Geoffrey Jones, academic services officer II, School of Social Work
Lawrence Robinson, academic advisor II, School of Social Work
Jones and Robinson will collaborate to create a comprehensive recruitment and retention initiative for Black and Latinx males to enter the field of social work as clinical therapists, community leaders, policymakers and entrepreneurs. The initiative will improve upon current recruitment strategies for minority males at the WSU School of Social Work, and will also establish student support programming and produce data and research to support the implementation of practical strategies to reduce barriers that deter Black and Latino males from entering the social work profession.
From Jones: "This project will not only expand the school's existing efforts to attract minority males but will also develop specialized supports for their educational journey. Through the identification of primary barriers that deter minority males from pursuing the social work profession, we will develop resources and support service partnerships within the WSU campus community and Detroit-area partners. I'm excited about working on this project, making new connections, building new bridges and enhancing my skillset with all the new experiences this project will bring."
From Robinson: "We seek to expand the diversity of social work professionals, particularly Black and Latinx males. This project's success will provide a roadmap for schools across the nation seeking to do the same. The academy will advance our knowledge, resources and leadership skillsets to the next level, which will enable us to effectively combat the educational and social barriers that prevent Black and Latino males from entering social services professions."
Layla Saatchi, assistant professor of teaching, Irvin D. Reid Honors College
Saatchi will create a Center for Civil Discourse on campus.
From Saatchi: "Given the university's commitment to making our faculty and administration more reflective of our diverse student body, and that our students have unprecedented access to wide-ranging sources of information, I think it's time to provide an arena in which students can constructively engage with controversial subjects that affect their lives and their academics. To that end, I hope to complete the first step toward a Center for Civil Discourse that will be student-driven and faculty supported."
Tuoanyene Sims, academic advisor, II
Sims will develop dedicated services for African American students that will help with their sense of belongingness, with the ultimate goal of increasing retention and graduation rates.
From Sims: "I applied for the ALA because I saw it as an excellent pairing to my doctoral program in educational leadership and policy studies. My hope is that the ALA will provide me with an opportunity to gain practical exposure, under the guidance of experienced leaders, in conjunction with the theoretical approaches I'm learning in the classroom."
Stephanie Tong, associate professor, Communication
Tong will explore emergency preparedness on campus by assessing the feasibility and utility of offering Stop the Bleed classes, designed by the American College of Surgeons, to teach laypeople skills such as injury assessment, wound packing and tourniquet application that can be used to treat traumatic bleed injuries. The project will look at training as a means of motivating individuals' feelings of emergency preparedness, increasing public safety, and inspiring a more welcoming, inclusive and productive campus environment.
From Tong: "I'm excited to gain new perspectives, learn new skills and meet colleagues from across the university. It will be nice to connect with people and spend some time thinking about my own professional development — which was difficult to do during the pandemic."