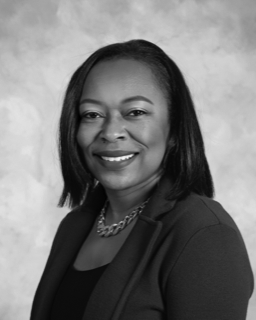 Born and raised in Detroit, Tiffany Stewart is committed to serving her city. Stewart, who is graduating with a master of business administration from the Mike Ilitch School of Business, has been a dedicated advocate for the city of Detroit and its community during her 25-year career in law enforcement administration with the Detroit Police Department (DPD), where she currently serves as a police commander.
Growing up, Stewart always wanted to be a police officer, and she is proud to serve — and learn — in Detroit. "I'm a lifelong Detroiter, and I know that this is the way my life was supposed to go," she said.
A proud graduate of Cass Technical High School, Stewart started with the DPD shortly after earning her high school diploma. While navigating her way through the ranks and working on a variety of investigative and support assignments, she earned a bachelor's in public administration from Central Michigan University. When the time came to continue her education, Stewart looked back to Detroit.
As a public servant balancing professional and academic responsibilities, Stewart said she had to be "disciplined" in time management, a task made somewhat easier because of the flexibility and convenience of online coursework. While she earned a graduate certificate in business from the Ilitch School with classes on campus, the entirety of her M.B.A. program has been online.
"With my work, there are on- and off-duty times, but law enforcement is always on call," Stewart said. "Being able to complete my courses whenever and wherever has allowed me to keep a balance."
She said that completing the program alongside her best friend, who also serves on the force, has provided support and accountability. Stewart also drew on encouragement from her family, including her partner and son.
"When you're in it together, you've always got someone who understands the commitment," she said, "and someone to help see it through with you."
Although she's preferred the flexibility allowed by remote coursework, Stewart said that some of her most rewarding experiences as a student involved opportunities to learn from and connect with industry leaders in Detroit, including representatives from Leer, the Ilitch family and Emagine theaters.
"Learning in Detroit from this city's most influential leaders is an experience that really made an impression," she said.
Stewart's M.B.A. will be the newest addition to a list of accolades. She is also a graduate of the FBI National Academy Session 274 and the Michigan Association of Chiefs of Police's Police Executives' and New Chiefs' School. Additionally, she is a member of the Detroit Police Command Officers Association, the National Organization of Black Law Enforcement Executives, and the Community Advisory Committee for Gilda's Club Metro Detroit.
Stewart looks forward to continuing to serve Detroiters for years to come and said that Wayne State University will always be a special part of that community.
"I'm so happy I went back to school," she said, "and WSU could not have been a better place for me."