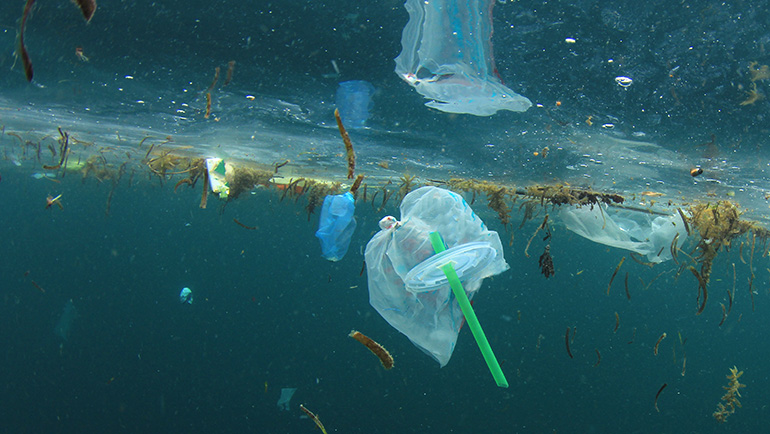 The law of unintended consequences is a frequently observed phenomenon.
Case in point: A 2015 viral video showed, in graphic detail, rescuers removing a plastic straw from a sea turtle's nose. News and media outlets ran extensively with the story. The outpouring of emotion from those witnessing an innocent creature experiencing trauma — resulting from a plastic straw — demanded an immediate shift in society.
But even though plastic straws comprised .025% of the 8 million tons of plastic entering the ocean every year, the straw continued to become the major focus of an environmental campaign — the straw ban movement.
"But as good as this public outcry may have appeared, it is imperative to understand that had this stemmed from an environmental motivation, it would have been prioritized prior to this viral video," said Ariana Kabodian, who graduates May 7 with an MBA from Wayne State University's Mike Ilitch School of Business. "This is because the amount of plastic ocean pollution was astronomical, even before the video's launch. The systematic approaches to tackling plastic pollution should have been at the forefront, rather than the straws obtaining the centerfold, because of consumer popularity through social media."
And the response from several corporations' straw alternatives inadvertently generated more waste, said Kabodian, who presented her findings — "The Flaws of Straws: Greenwashing, Social Media, and the Straw Ban Movement" — at the recent WSU Graduate Research Symposium.
"I wanted to research the mediation of consumers' perceived information, from corporations in the straw distribution industry — which includes Starbucks, McDonald's and Dunkin', specifically," said Kabodian. "I knew both parties were going to be on the opposite side of my presentation. That's why it was important to me to make sure I did my job as a sustainability advocate, if you will, because part of the whole topic of greenwashing is making sure that you're not misleading the consumer. Unfortunately, this example I presented on is doing just that."
When it comes to greenwashing — the deceptive promotion of a company as environmentally friendly — Kabodian said it is the responsibility of companies representing that product to educate consumers on exactly what they are claiming their product entails, "and failing to do so results in the occurrence of greenwashing."
The best intentions
After the sea turtle video, the urgent demand to ban plastic straws led Starbucks, McDonald's and Dunkin' to participate in the straw ban movement. However altruistic (or business-minded) the corporations' intentions were, the end result didn't appear to Kabodian to add up to a more sustainable outcome.
Starbucks, she found, produces more than four billion cups a year worldwide. Their response to the viral video: eliminate one billion plastic straws globally per year by having strawless lids as a replacement for plastic straws within their United States and Canadian stores.
"Starbucks' 'flaw' occurred when they marketed their strawless lid as a 'recyclable, lightweight alternative made with polypropylene that has only 9% less plastic than the prior lid and straw' option," Kabodian said. "This exemplifies greenwashing because the polypropylene material is still a variation of plastic and is unrecyclable. Polypropylene, also known as PP #5, is commonly used to make drinking straws. Furthermore, these strawless lids are also heavier and use more plastic than the previous combination — leading to inadvertently generating more waste."
Next was McDonald's, which Kabodian said distributes an estimated 95 million single-use straws around the world every day, and in 2019, marketed their paper straws to be distributed in the United Kingdom as 100% recyclable. But due to the thickness of the straw, she said, the paper straws were not easy to recycle and should be disposed of like regular trash. It also didn't help that customers were apparently unhappy with the new straw, which often dissolved before the drink was finished.
"McDonald's green advertising example led to customer dissatisfaction and a misinformed straw claim," Kabodian said, "which propelled customers to petition to bring back plastic straws — the opposite of what McDonald's originally intended."
And when it came to Dunkin', in 2020 they had 250 locations in the United States test a biodegradable straw "made with PHA, a material created by the fermentation of canola oil, claiming to be both marine and soil biodegradable." But Kabodian found that PHA, short for polyhydroxyalkanoate, is a costly bioplastic created for single-use food packaging and is detrimental to the environment since "canola oil is a non-organic oil that is genetically modified."
"Dunkin' also marketed that their blue straw 'beautifully complements their iconic pink and orange colors,' but did not disclose the color's origination," Kabodian said. "Circling back to the concept of greenwashing — the question is 'then what is that blue color made from?'"
Kabodian feels people, generally, want to do the right thing. "But they may put their trust in those companies and those corporations, with the messaging and marketing tactics, and think what they're doing is enough. I wanted my research to show that sometimes you can't always believe what you see or hear."
Moving forward
One thing Kabodian hopes people take away from this is to "begin to ask more questions while at the grocery store or when they go into different types of stores, such as Target," she said. "By being a conscious consumer, we're taking this a step further by asking, where is the evidence behind the claim? Where's the proof? That can really make a difference, as we move forward."
And that's exactly what Kabodian hopes to accomplish after she crosses the commencement stage this May with a dual concentration in global supply chain management and entrepreneurship/innovation. "I wanted to grow in my career, and I felt getting an MBA, with my concentrations in entrepreneurship, innovation and global supply chain, would all tie together with my undergraduate sustainable business degree from Aquinas College."
In between earning her degree and serving as president of the Ilitch School of Business' Net Impact — which focuses on generating sustainable initiatives and hosts webinars featuring professionals in sustainable corporation positions — Kabodian also found time to become an author. The 29-year-old Armenian interviewed her relatives and wrote a book called "Forget Me Not: Armenian Genocide Recollections," published in April 2021 by Schuler Books, Chapbook Press. The Armenian Genocide is remembered annually on April 24.
Upon graduation, she has a position lined up at Deloitte to work in its Environmental, Social and Governance (ESG) consulting division to help companies implement sustainable developments.
"I'm really excited to work with Deloitte and it's, honestly, a dream job," Kabodian said. "My experience at Wayne State has been phenomenal and I've enjoyed my time. If I had to do it all over again, without a doubt, I would go back to the Ilitch School of Business."