As many return to campus for the first time in months, it's understandable that they may have questions concerning the safety and cleanliness of their work spaces.
As the pandemic has evolved, Facilities Planning and Management (FP&M) has continued to update its procedures and its online Facilities Campus Restart Playbook. New additions to the playbook include information on custodial tasks and frequencies, indoor air quality initiatives, and Plexiglas requests.
"The safety of the campus community continues to be our number one priority," said Rob Davenport, FP&M associate vice president. "Our team has been on campus for the duration of the pandemic, and I'm proud of their commitment and the work they have done."
Custodial Services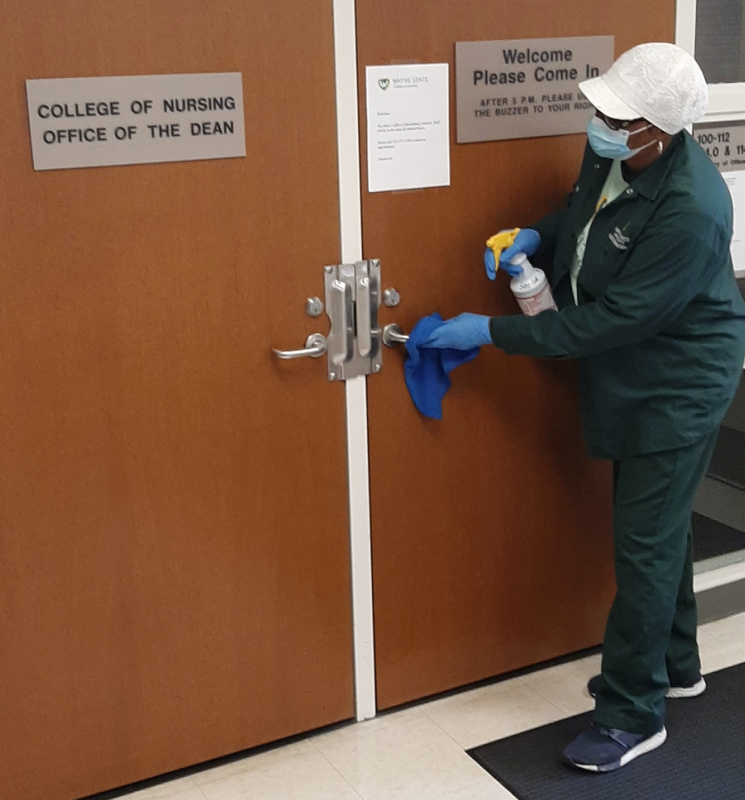 Custodial Services has an updated service matrix it is following to ensure cleanliness. Information on when and how particular spaces are cleaned can be referenced in the playbook. While Custodial Services strives to provide a clean campus, all Warriors are asked to help maintain it. By maintaining personal-use areas such as desks, cubicles and research equipment, each person promotes a cleaner and safer campus.
Custodial is also strengthening various elements of its service. Over the last few months, the team has introduced:
Building check process – Custodial Services has implemented an inspection program to identify areas that need attention. This is performed on a regular basis and increases accountability for supervisors and custodians.
Building Coordinator check-ins – Ongoing interaction with building coordinators to gauge customer satisfaction and custodian performance. Custodial Services also proactively seeks information about upcoming events and activities within a building.
Ambassador training – Recognizing that custodians are the face of FP&M and, often, the first staff members that issues are shared with, all custodians are receiving ambassador training to further emphasize that role and importance.
Custodial Services is providing hand sanitizer and NanoSeptic applications at entrances and exits. Departments can purchase additional supplies through the FP&M Stockroom and take advantage of savings through supply contracts that are already in place.
Students, faculty and staff who see areas in need of attention are asked to submit a work order.
Indoor air quality
All on-campus HVAC systems are designed to meet code and design requirements set forth by governing entities. The FP&M team has worked diligently, particularly over the last 18 months, to ensure the systems are operating as designed.
Under the guidance of the Facilities Restart Committee, specifically the Indoor Air Quality Subcommittee, MERV 13 filters have been used since last year and the amount of fresh air into buildings has been increased depending on ambient conditions and system design attributes.
"During the pandemic we have been running air handlers 24/7," said Davenport. "Over the last 18 months, we have also been purging system air in the mornings and evenings."
One challenge to this is as more fresh air is introduced, it requires more energy to condition air to a comfortable range.
Flood recovery
FP&M plans and efforts to ready campus for the fall were thrown a curveball due to severe storms on June 26, which caused extensive flooding throughout metro Detroit and on campus. Sixty-eight of 111 buildings on campus took on varying levels of water. Of those, 11 buildings experienced significant flooding.
After much work, eight weeks later, 95% of the buildings will reopen for fall classes. The art complex and McGregor Memorial Conference Center will have delayed openings, but that work is nearly complete.
In addition to getting flooded buildings back online, FP&M also held a "Curb Appeal Blitz" on Aug. 3 that was staffed by more than 200 associates. During the blitz, more than 400 work orders were created to address interior and exterior items on campus needing immediate attention.