Three Wayne State community members and a team of employees were selected by a committee of their peers to receive the latest Profiles in Warrior Strong recognition for their accomplishments during the COVID-19 pandemic.
The winners, who were acknowledged and had an opportunity to speak at the June 25 Board of Governors meeting, are: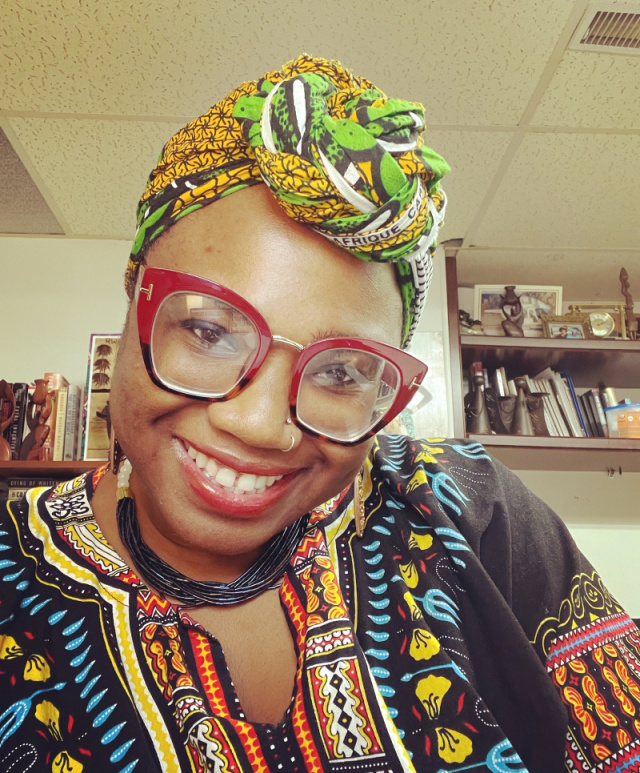 Ijeoma Opara, assistant professor of internal medicine and pediatrics in the School of Medicine, associate program director of the internal medicine-pediatrics residency, and a physician with Wayne Health.
A long-time advocate for equity in the health care industry, Dr. Opara was recognized for her tireless work during the pandemic to raise awareness about racialized medicine; create new systems of training for medical students, residents, and doctors; advocate for professional and policy changes; hold institutions accountable; create advocacy networks of Black doctors; and highlight the stories of Black patients.
She also continues to serve her patients as a physician with Wayne Health, including providing care and testing in the city's homeless shelters at the height of the pandemic.
Her nominator wrote, "Her endless compassion, care, and enthusiasm and her incisive critiques and insights make her a powerful advocate who has established Wayne State as a center for this work and improved the education of everyone in our med school. She is a perfect example of what it means to be Warrior Strong."
---
Nathan Chavez, associate director of academic application, serves as the Canvas Learning Management System administrator and Zoom administrator in the Department of Computing and Information Technology.
Chavez has worked closely with faculty over the last 15 months to get them comfortable setting up and using their online classrooms.
Additionally, as the vice chair of the Latinx Faculty and Staff Association, Chavez partnered with the Center for Latino/a and Latin American Studies and other organizations on campus to host the Nuevo Comienzo graduation annual celebration for students and a week of virtual events to celebrate Hispanic Heritage Month 2020.
"I'm honored to be recognized by this committee; it means a lot that this comes from my colleagues and my peers," said Chavez. "I know a lot of us did everything we could to support our people during the pandemic."
---
Colleen McDaniel, a graduate student in the Department of Psychology.
In addition to working toward her dissertation, McDaniel is extremely involved around campus.
She is one of the leading campus advocates in the Academic Alliance of Survivor Choice, which seeks to improve Title IX at Wayne State.
McDaniel is also a social media educator who uses Instagram to educate people on sexual assault prevention, intervention and research.
Last summer, McDaniel organized graduate students in her department to work with the administration to accommodate and support student needs during the pandemic.
She also serves as the Department of Psychology steward and grievances officer for the Graduate Employee's Organizing Committee in the Office of the Provost.
"Thank you all for recognizing me and the work we've all been doing," said McDaniel. "Wayne State is a leader in anti-discrimination, and I'm so honored to be here and do my research work here."
---
As Wayne State prepares for a full return to campus in the fall, the Planning and Space Management Group of Sean Campbell, Ashley Flintoff, Jacob Jackson and Treesa John in Facilities Planning and Management (FP&M) was recognized for working continuously to ensure that campus buildings are ready.
Over the last 15 months, the group has pivoted multiple times, from preparing the campus for the shutdown of buildings, allowing for physical distancing in classrooms and offices, and now the return to campus.
Collectively, this team has analyzed more than 600 classrooms to develop physical distancing capacities and layouts.
It has assisted with installation of signage, and moved and reworked furniture layouts across campus to ensure that classes that did occur in person were held in appropriate and safe spaces. Every pivot; every request for additional information; and every rework of diagrams, drawings and maps was met with a willingness to go above and beyond to ensure the safety of students, faculty and staff.
"As a team, we are truly honored to be able to create and maintain spaces that allow the university mission to be realized," said Flintoff. "We also absolutely need to acknowledge our FP&M colleagues, especially trades, engineers, custodial and grounds who kept this campus running every day regardless of the pandemic."
More "Profiles in Warrior Strong" will be highlighted this year at a future board meeting.