The way zoologist Michael Reed remembers it, it was the birds who called to him first.
As a kid growing up in Detroit, he would join his classmates for regular outings with his school teacher at Courville Elementary School, the group strolling through the neighborhood and scanning the treetops as they listened intently to a chorus of chirps.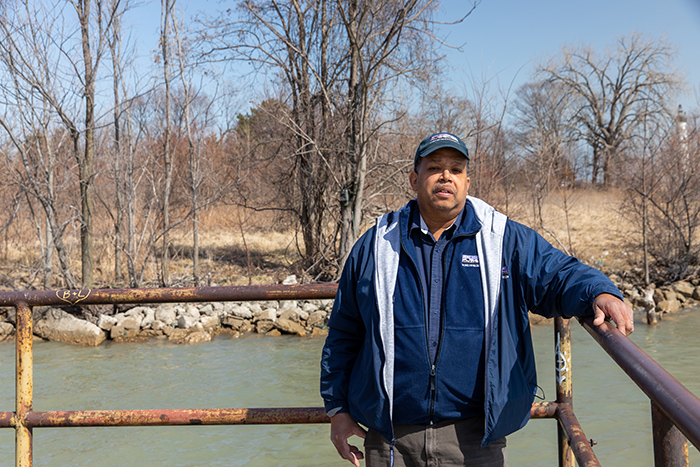 "I loved that, when we would go outside and listen for the sounds of the different birds," Reed recalled recently. "We would try to figure out which bird made which sound. I can remember that being one of the first places I really began to take an interest in animals. My mother spent some of her hard-earned dollars to buy my sister, my brother and I a set of encyclopedias that was the top education support material back then — there was no internet."
Over the next several decades, Reed's curiosity about animals blossomed into a passion that led him from Detroit's Benedictine High School to Wayne State University — where he earned a bachelor's in biology in 1986 — and fueled a groundbreaking career that has lifted Reed into the rarefied ranks of leadership in Detroit's sprawling zoo system and in zoological circles state and nationwide.
Currently serving as curator of citizen science education for the Detroit Zoological Society, Reed has spent some 30 years caring for the stunning variety of fish, insects and other animals that populate the Detroit Zoo, Belle Isle Nature Center (formerly Belle Isle Zoo) and Belle Isle Aquarium. But just as importantly to him, he has also spent that time exporting his love for and deep knowledge of the animal kingdom to schoolchildren throughout Michigan — and especially in his hometown.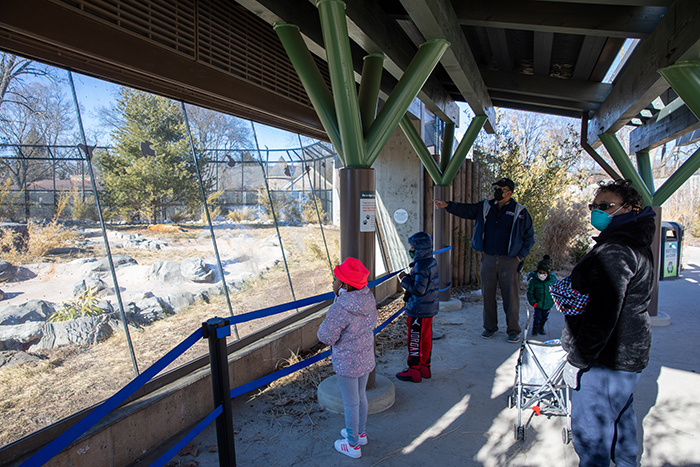 "I've been to just about every public school in Detroit," said Reed, "and I still love talking to these kids about animals as much as ever. It's the smile they give when they say, 'Wow, you work at the zoo.' It puts you in a different place and makes all those nights studying until 2 am worth it."
As a high-profile African American zoologist, Reed said he feels a particular obligation to help educate Black children in the city about the wonders of the animal world. To this end, he has pushed back hard against not only stereotypes but against staid, traditional approaches to science education.
"Throughout my career, I've heard, 'We can't get Black scientists,'" he said. "But the way it's taught, the emphasis is usually put on the book side of science. I have a lot of success reaching kids — and this is one big reason I love my career — because most kids love animals. Most kids love being outside.
"However, they don't think of it as a being science a lot of times. But when I come in, say I'm a zoologist, an environmental scientist and a geneticist, and I talk a little bit about what I do, many young people become very interested. They're like, 'Wow, I didn't think you could work at the zoo being a scientist.'"
A love for the lab
Conversely, for much of his own childhood, Reed said, he didn't think much about being anything other than a scientist.
"I was just one of those kids, man," he said. "I would do little experiments to show off to my friends. My dad even built me a laboratory in the basement. He had no idea what I was doing, but he trusted me. I would do my thing. I would go out and impress the kids by making rockets with vinegar and baking soda. I was always a quiet, shy kid so I used science to make friends."
Reed said that when his friends would go around a group pointing out who was "cool," he'd always get hesitant looks at first. "Then they'd think about the science experiments and go, 'Mike is kind of weird … but he's cool, too.'"
After high school, Reed set off to the west side of the state for college, thinking that getting away from Detroit would be a good experience. He said he enjoyed his time away from the city and even eventually bought property in bucolic Idlewild, once a hotbed for Black vacationers seeking to connect with music and nature.
But a year into college, Reed came back to Detroit, hoping to integrate himself into a stronger support system. "So many minority students in the science field had dropped out," he said.
He enrolled in Wayne State that summer, where his desire for more support was gratified. "Wayne State was tough," he said. "But the major thing I was able to do was connect with a bunch of like-minded people. We formed a study group and made sure everybody made it through."
Reed said he was considering a career in medicine, but first he needed work. Not long after receiving his bachelor of arts in biology, Reed found himself at a City of Detroit job fair at the old Veterans Memorial Building, seeking a municipal position as a general science technical aid.
"I walked in and there were at least 500 people," he remembered. "I thought that there couldn't possibly be this many people with backgrounds in chemistry, physics, biology. I was like, 'Where were they during my classes?'" Turns out, most of the attendees were seeking jobs in psychology, business and other fields.
"When they called people for science, there were five people left standing there," he said. "And I was the only African American."
Reed wound up being called for a position with the city, but before he could start, the post was eliminated due to budget cuts. Fortunately, a recruiter had noted that Reed had also expressed a desire to work with the zoo and informed him that the city had an opening for a zookeeper the Detroit Zoo.
"They hired me on the spot," he said.
Months later, Reed was moved to the Belle Isle Zoo, which excited him. "Belle Isle was where I wanted to go in the first place," he said. "That meant I'd get to work with different animals. At the time, at the Detroit Zoo, people tended to stay in one place. If you got assigned to, say, the penguins, people would spend 20 years there."
Called to serve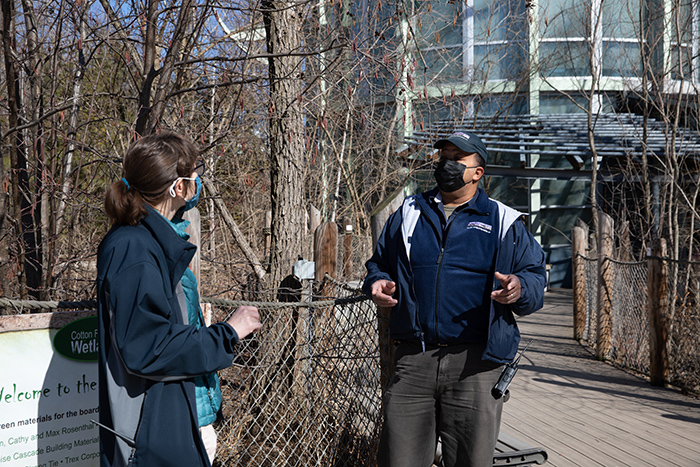 After about a year of exemplary work at the Belle Isle Zoo, Reed received a call from a woman who oversaw the Belle Isle Zoo affairs for the office of then-mayor Coleman A. Young. The then current director of the zoo was leaving, and Young was looking to shake up leadership at the zoo.
After summoning Reed to the Manoogian Mansion, Young vetted the young zookeeper and, following their chat, tapped Reed to become the youngest person to head up a zoo division. In the years since, Reed's profile has grown. He has helmed zoological work at both zoos and the aquarium and, for a two-day period, oversaw all three institutions simultaneously — a feat that hasn't been done since.
Throughout his rise, Reed has remained grounded. At the start of the pandemic, he was once again able to provide hands-on care to many of his winged, four-legged and furry charges. Although his position doesn't demand that he wear a uniform, Reed can almost always be found clad in his work togs, even when touring the grounds and glad-handing with zoo visitors. And of course, he continues his outreach work.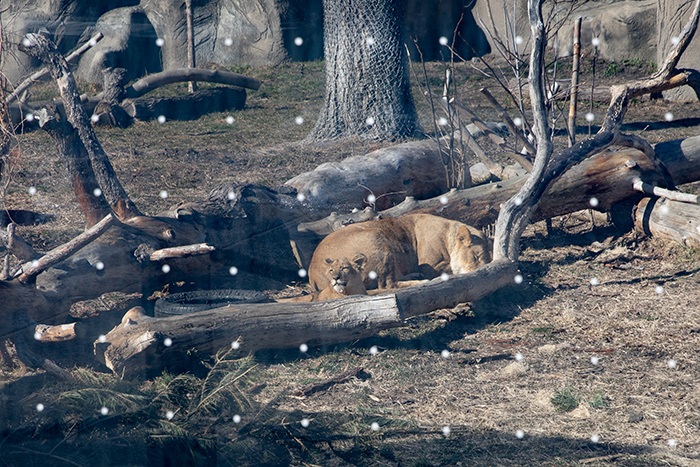 "A lot of stuff I do isn't required by my job," Reed explained. "If you see me at the zoo, I'm usually in full uniform. I don't have to do that, but I do because I want the kids who come to the zoo to see and say, 'Look, that guy looks just like me, and he's working at the zoo.'"
His speaking gigs in public schools and colleges — at which the insect expert often talks about the value of bugs — have grown so popular over the past several years that he's earned the nickname "Spiderman." Additionally, he participates in programs such as Metro Detroit Youth Day, an annual all-day celebration of local children that is held on Belle Isle. Reed also provides science lessons to kids at Ecotek, a science research organization comprised of science students ages 10 to 17 and headquartered at WSU's TechTown.
"Mike is a wonderful man, and he genuinely cares about children," said Barbara Jean Johnson, Ph.D., a co-chairperson on the Metro Detroit Youth Day executive board. "In the 30 years I've known him, he has always had a smooth demeanor. He's quiet in nature. He doesn't have to be in the spotlight. But when he's working, he demands attention because of the power of his work. From the time he started at the zoo, he had done a phenomenal job."
His work isn't limited to Detroit either. For years, Reed worked with Michigan Technological University and the U.S. Forest Service's Urban Connections program to bring scores of underrepresented high schoolers to the Upper Peninsula to explore STEM career opportunities, learn survival skills and fan their love of science.
"It's interesting because a lot of them are afraid of going into the woods before the program — but afterward, they are not," said Reed. "They are curious. And while it seems like we're just up there in the woods, throughout that time, I'm actually teaching lessons related to environmental science and stewardship: How do you ID bugs in water and know whether the water is clean? I'm also trying to teach lessons on life in general. A lot of kids turn around and want to go into that field after we finish."
Named the first Black president of the Michigan Alliance for Environmental and Outdoor Education in 2012 and now a board member of the alliance, Reed also works to recruit science teachers and to provide them professional development. Not surprisingly, he's as popular with the instructors as he is with students.
"I'd tell them, 'Don't complain to me about having 'bad' students,'" Reed said. "There's no such thing as a 'bad' student. If they are bad, it's usually because they aren't being engaged properly. It went over well. Teachers would actually sign up and wait in line to chat with me. They would tell me they'd love the passion in my voice and would ask me to come talk to their class. 'Our kids need to meet — and more importantly, see — you.'"
Fueled by passion
Reed is rarely happier, though, than when he's simply doing his job, whether that's feeding moose, caring for chimps, or showing off insects. He recalled how Executive Director Ron Kagan, after granting Reed permission to design a unique exhibit dedicated to spiders, asked him to spend more time talking with kids and to create an education program for them about arachnids and more. Such work also gives him a chance to address some serious questions.
Said Reed, "The kids always ask how many times I've been bitten, and I tell them, 'None.' Why? Because you should always make sure you know what the 'business end' of the animal is — and by that I mean the end that can hurt you. For instance, I once caught an alligator in the field and had an older brother come up to say, 'I don't know how much they pay you, but it's not enough.' I explained to him the mechanism of how an alligator captured prey — a three-year-old can hold an alligator's mouth shut. He said I was one cool brother. It took me back to my childhood."
Reed said the practical lessons his job allows him to impart are a big aspect of what draws crowds to him. When showcasing the spiders or bees on a tree, Reed gets to explain to students just how important insects are to people's survival. "They don't know that as much as 80% of our food is impacted by insects," he said.
Whether tending to animals, sharing little-known facts with children, training teachers or exposing Detroit students to careers in science, Reed said he always strives to bring fun to his endeavors.
"I have an opportunity to do what I love, which is work around animals from all over the world, and combine that with the opportunity to impact all these young people and those young at heart," he said. "There's nothing better than when a kid comes up to me and is interested in the work that I do. Right then, right there, I'm always reminded of what my calling is."