Not sure what to put on the table this Thanksgiving? No worries. From the side dishes to what to do with those turkey leftovers, check out these recipes from fellow Wayne State Warriors' kitchens.
---
Christa Raju, director of publications and design, Office of Marketing and Communications: "A favorite for the sweet tooths at our holiday table. Depending on who is in attendance at the meal, there have been years that the turkey is only a vehicle for the delivery of the saucy goodness this dish delivers up.
"It's a bit like pie but in casserole form and therefore allowed on the table with the rest of the entrees. A special note, over the years we have caught it on fire — literally flames shooting off the marshmallows — on three different occasions when someone forgot to watch it under the broiler. Each time we managed to eat it anyway."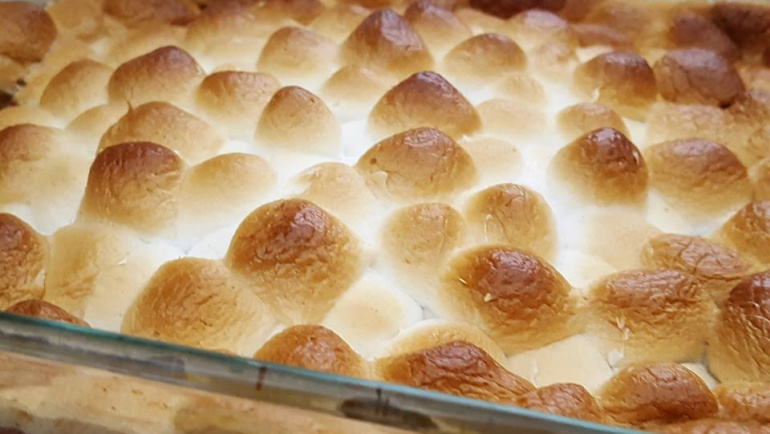 Yams with Marshmallows
1 large can of Bruce's yams (or other brand in syrup)
Reserve half the juice from the yams
¼ cup butter
1 tablepoon brown sugar
1 teaspoon cinnamon
¼ teaspoon cloves
1 bag marshmallows
Empty yams into 8" casserole dish. Poor half the can of juice over yams. Cut up butter and place on yams. Top with brown sugar, cinnamon and cloves. Bake until yams are warm (it's a good dish to put in with the turkey so it can be whatever temp. the oven needs to be. Once warmed through, top with marshmallows. Let them sit for just a bit to get a gooey from the heat of the yams. Right before everything else is ready. Place in the broiler to brown top. Watch constantly. Will only take a minute. Failure to watch will result in the flaming marshmallows.
---
Kevin Piotrowski, special assistant to the dean, Irvin D. Reid Honors College: "Now you can buy a box of stuffing in the store and just boil water, add an envelope of seasonings and the dried bread and in minutes you got stuffing. But if you never tried making it from scratch, I think you should give it a try. You can really make it unique, depending on the kinds of things you want to include.
"The basic idea is the same — dry bread of some kind, seasonings, a binder like eggs, something to moisten it, such as broth, and then you decide what else you would like to have in it. My recipe is very traditional — lots of onions and celery, but I also put in a good measure of fresh parsley because I love the brightness it brings the dish. You could put in apples, nuts, sausage (pork breakfast sausage, chorizo, kielbasa, etc.), oysters, carrots, artichokes, turnips — the possibilities are limited only by your imagination!"
Cornbread Dressing
For the cornbread (I use a shortcut in the form of a cornbread mix, but if you have a cornbread recipe that you love, by all means use it):
3 boxes of cornbread mix (such as Jiffy)
3 eggs (room temperature)
1 cup milk
1 teaspoon garlic powder
1 teaspoon onion powder
½ teaspoon poultry seasoning
½ teaspoon rubbed sage
½ teaspoon each salt and pepper
Preheat oven to 400 degrees. Blend all ingredients together in a large bowl until combined. Pour batter into a greased 9x13 baking dish. Let sit for about 5 minutes and then put into oven for 20-25 minutes until top is golden brown. Remove from oven and let cool completely. (You can make the cornbread a day or two in advance, if you like.)
1 stick butter
2 cups diced onions
2 cups diced celery (include the leaves if you have them – they have great flavor)
Salt and pepper
1 cup chopped fresh parsley
3 eggs, beaten
1 teaspoon poultry seasoning
2 teaspoon rubbed sage
32 ounce turkey or chicken broth
Preheat oven to 350 degrees. In a large skillet or an electric skillet, melt butter until it starts to brown slightly. Over medium heat, add onions, celery, salt and pepper and combine so that all the vegetables get coated with butter. Sauté the veggies until they become translucent and tender, about 15 minutes or so. Remove from heat and set aside.
Take your pan of cornbread and cut it into small squares. Remove cornbread from its baking dish and put in a large bowl. Using a fork and your fingers, crumble the cornbread into smaller pieces. You can leave some larger chunks; it will give the texture a nice variety. Add your celery and onions to the cornbread. Then add the fresh parsley, beaten eggs and seasonings. Using a large spoon or spatula, mix ingredients together until well combined. Pour broth over dressing gradually – about a third of the amount at a time, mixing well after each addition. Transfer dressing to a large casserole or baking dish that has been greased. Cover with foil and place in oven for 45-50 minutes. Remove from oven and it's ready to serve!
NOTE: You can do most of this the night before. Simply put it together and place it in your greased casserole or baking dish. Cover and put in the refrigerator. Bring it out about an hour before you put it in the oven and then bake 50 minutes or so.
---
Heather Marks, associate director of Student Life Marketing: "This is our must have Thanksgiving side. The tradition is more of a 'this is always there and it feels wrong if we don't have it.' It's not something that anyone else typically has on their Thanksgiving tables, and when it's not there, I miss it. I have strong German connections on my mom's side and this is one of those recipes that gets verbally handed down. When I asked my mom for the recipe, she and my grandma both said 'Oh, maybe we should write this down.'"
German-style Egg Noodles
2 cups flour (plus more for rolling)
1 teaspoon salt
4 large eggs
Turmeric (for color)
Chicken/turkey broth (enough to coat noodles in pot)
Make a well in flour, crack eggs in middle, use fork to beat the eggs. Incorporate flour gradually. Once incorporated, roll until thin. Use extra flour as necessary. Once rolled out, lightly flour the top so it doesn't stick, then roll the dough (like your rolling up a cinnamon roll) and cut into ¼ inch pieces. Unravel each section and let noodles dry. Cooking in boiling broth (enough to coat noodles, but not like soup) until tender. Can be served as a side on its own, or on top of mashed potatoes.
Note for great leftovers: add additional broth, cut up any leftover turkey and vegetables for Black Friday Turkey Noodle Soup.
---
Nick Board, interim associate director, Student Auxiliary Services Operations: "This is my favorite holiday dessert, aside from pumpkin pie, and is a family tradition. My grandma always makes this for Thanksgiving and is a dessert we fight over. It is relatively simple to make and decadent."
Pumpkin Roll
3 eggs
1 cup granulated sugar
2/3 cup canned pumpkin puree
1/2 small lemon juiced
3/4 cup all-purpose flour sifted
1 teaspoon baking powder
2 teaspoons cinnamon
1 teaspoon ground ginger
1/2 teaspoon nutmeg
1/2 teaspoon kosher salt
1/2 cup powdered sugar
Cream Cheese Frosting
1 cup powdered sugar
1-8 ounce package cream cheese (brick-style) softened
4 tablespoons butter softened
1 teaspoon vanilla extract
Instructions
Preheat oven to 375 degrees F.
In the bowl of a stand mixer, beat the eggs for 5 minutes, then gradually add sugar. Stir in the pumpkin and lemon juice until well blended.
In a medium size bowl, mix together the flour, baking powder, cinnamon, ginger, nutmeg and salt. Fold into the pumpkin mixture until just blended. Take care not to over mix the batter so it stays light.
Spread the mixture onto a 10x15-inch baking sheet or jelly roll pan lined with parchment paper, leaving a 1/2 inch from the sides of the pan.
Bake for 12-15 minutes.
Meanwhile, sift powdered sugar on a clean, fine napped dish cloth or flour sack. After removing the pumpkin cake from the oven, immediately invert onto the powdered sugar covered dish cloth. Sprinkle with more powdered sugar and roll the cake up in the dish towel. Allow to cool completely.
Unroll the cake. Mix the powdered sugar, cream cheese, butter and vanilla in a small bowl until smooth. Spread the cream cheese mixture evenly over the cake. Roll up again and chill. Slice into pieces and serve or freeze.
---
Krystal Tosch, web accessibility coordinator, Office of Marketing Communications: "As the daughter of a small business owner, eating, shopping and supporting local businesses has been engrained in me since I can remember. Visiting Traverse City is a favorite fall time activity for my family and this recipe from a Michigan winery is perfect to make with all of those Thanksgiving leftovers, especially if you live with someone who is not into eating leftovers for a week. As a bonus, this recipe freezes very well and is perfect to pull out of the freezer when you just need a comforting meal. So, enjoy and don't forget to enjoy some (hopefully Michigan) wine while you cook."
Smoked Turkey and Wild Rice
Adapted from Black Stars Farms Soup Sips & Soups 2019
2 tablespoons olive oil
1 tablespoon chopped garlic
1 tablespoon chopped shallot
½ cup small diced carrot
½ cup small diced onion
½ cup small diced celery
½ cup small diced red pepper
½ cup small diced butternut squash or sweet potato
1 cup white wine (any kind works, but a buttery chardonnay goes really well with this)
½ cup roasted, peeled and diced poblano pepper – if you like spice, a few jalapenos work, too!
1lb diced smoked (or roasted) turkey
16 ounces chicken stock
16 ounces heavy cream
1 cup cooked wild rice
Sauté garlic and shallots in olive oil over medium heat until fragrant about 2-3 minutes. Add carrots, onion, celery, butternut squash (or sweet potato) and red pepper and cook until tender. Deglaze pan with white wine. Add all remaining ingredients except rice and simmer for one hour on low heat. Add pepper to taste (salt, too, but the salt from the chicken stock and turkey can be plenty for some. Garnish with chopped green onions and hot pepper jam or compote. Add in rice right before serving. If you plan on freezing, make rice before serving it or else the rice will absorb most of the liquid. Serves 6-8 people.
---
Esther Epple, web content administrator, Office of Marketing and Communications: "A lot of people don't really like brussels sprouts. When I was a kid, one winter was super mild and my mom — who had an enormous garden — grew enough broccoli and brussels sprouts that we ate one or the other every single day through the winter. By the time it was over, I grew to hate both veggies and refused to eat them for years.
"I got over my hate for broccoli in my 20s, but it took until my 40s to overcome how much I detested brussels sprouts. This is the recipe that won me over. I had wanted to get past how gross I thought they were, and I figured cream would make them good if anything could. So I tried this, and instantly became a convert. I've served these brussels sprouts to quite a few people who didn't like them either, and won over each and every one of them. I'm proud of that, even though I didn't make up the recipe. This is from Molly Stevens' All About Braising: The Art of Uncomplicated Cooking — best cookbook in my library."
Creamy Braised Brussels Sprouts
You can prep this a couple of hours ahead up to step 3. Just leave the pan covered at room temp. To finish, remove the lid and heat over medium til warm, then add the lemon juice and correct the seasoning. The cream will have thickened up on its own so you won't need to boil it to do that.
Serves 4-6
Braising time: 30-35 minutes
1 pound brussels sprouts (increase this to as much as you need)
3 tablespoon unsalted butter
Coarse ground salt and freshly ground white pepper
I usually also add some granulated roasted garlic
1 cup heavy cream
½ lemon
Trim the base of each sprout with a sharp paring knife and remove any yellowed or ragged outer leaves. Cut the sprouts through the core into halves, then each half into halves or thirds. This is a key detail: it is what gives you sprouts that aren't bitter.
Melt the butter over high heat in a large saute or skillet. Once the butter stops foaming, add the sprouts, salt and pepper (and garlic if you want). Cook, stirring occasionally, until the sprouts begin to brown — about 5 minutes.
Pour in the cream, stir, cover and reduce the heat to a slow simmer. Braise over low heat until the sprouts are tender enough to be pierced easily with the tip of a knife — 30-35 minutes. The cream will have reduced some and be a fawn color.
Finish. Remove the lid, stir in a generous squeeze of lemon juice, and taste for seasoning. Let simmer, uncovered for a few minutes to thicken the cream to a glaze that coats the brussels sprouts. Serve hot or warm.
You'll never think of brussels sprouts the same way.