Though COVID-19 has silenced major international jazz festivals, there's one whose song will not only carry on but also bring the fight for justice center stage.
The 41st Detroit Jazz Festival presented by Rocket Mortgage — the annual free outdoor showcase of local, national and international musicians — is going virtual this Labor Day weekend, Sept. 4 to 7. Performances, all closed to the public, will be streamed and broadcast live from indoor sound stages specially built at the Detroit Marriott at the GM Renaissance Center. Jazz fans can view all the performances — 12 hours per day — in real time, for free. But with one caveat:
"There will be no replays or on-demand viewing, and I did not want Zoom performances from living rooms or pre-recorded from around the country — it has to be live," said Chris Collins, the festival's president and artistic director, and Valade Endowed Chair in Jazz, professor and director of jazz studies at Wayne State University. "If we can't do it live in Detroit, we don't have a jazz festival. We will light up the stages at 11 a.m. and won't shut down until midnight. It's going to be pretty special. "
Opening this year's festival will be a musical composition, titled "JUSTICE!," that is a tribute to the quest for equal rights and an homage to civil rights icon U.S. Rep. John Lewis. Four different groups of musicians, on four separate stages, will contiguously play a rearranged musical piece or new composition.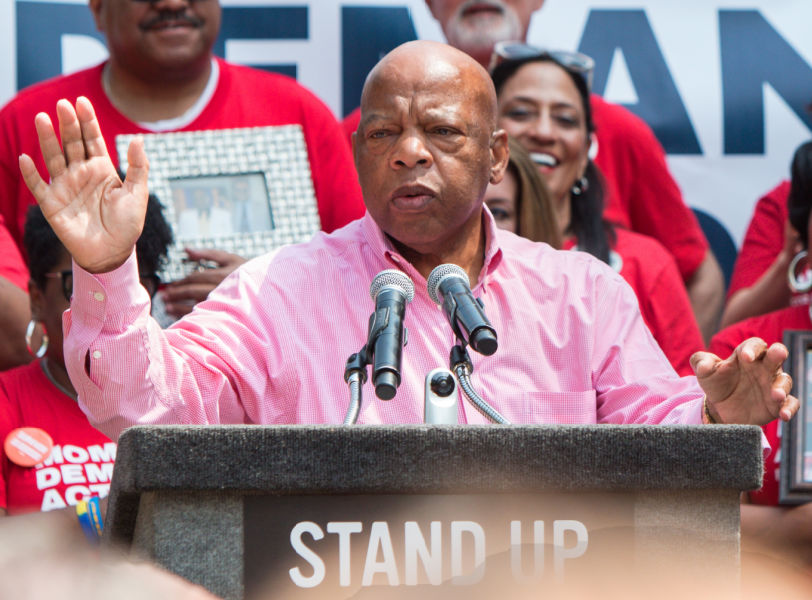 "It's a way to deal with all of the issues that have been amplified, all from the artist's perspective in a way that removes some of the narrative and becomes more about a feeling or sentiment," Collins said. "When Congressman Lewis passed, I started to go back and review his speeches. I wanted to know and learn more about him that I hadn't previously taken the time to do. I was so inspired by his words, and that's woven into the piece as well."
Sets can be heard/streamed locally on WDET-FM (101.9), WRCJ-FM (90.9), and WEMU-FM (89.1), and seen on Detroit Public Television and via Detroit's new arts and entertainment outlet, Channel 22. The festival also can be viewed worldwide on the festival's social media channels (Facebook and Instagram) and through the festival's smartphone app, Detroit JazzFest LIVE!
"I wanted to make sure that anyone — with or without internet access — in our community could watch it on television or hear it on the radio. It's truly accessible to the broadest possible audience," Collins said. "Once we reached all those thresholds, then I decided it could be what we wanted it to be."
As the pandemic began to strike Michigan, Collins formed a task force in April to try to work through all the variables. Jazz Fest officials also were part of a 100-plus-person entertainment subcommittee that submitted a package of event reopening and safety recommendations to the state of Michigan in June.
At least three contingency plans were in the works, Collins said, ranging from the virtual option to possibly having a reduced jazz festival at Comerica Park with only 5,000 people in the 40,000-plus capacity stadium. The move to a health-conscious virtual festival came after consultation with local, state and federal authorities.
"And so that led to variations on our new theme — safe, live, free for everyone — which eventually became no audience," Collins said. "When we started to see the spike in the southern states, and then Michigan started to creep back up, that's when I decided we needed to postpone some of the out-of-town artists — elderly, African American and those with secondary issues. We had so many high-risk people in our patrons (and) artists that we thought it was wise and ended up with the current audience-free version."
The Detroit Jazz Fest's original 2020 lineup, announced during pre-COVID times, included artist-in-residence Dee Dee Bridgewater, along with Herbie Hancock, Pharoah Sanders, Gregory Porter and others who planned to travel Detroit to perform. And although the pandemic put the kibosh on that, Collins said viewers can expect to see them in some form during the four-day programming.
The coronavirus hasn't just affected Collins professionally. It also hit home. On July 12, while in the midst of planning for the festival, Collins' father, William, succumbed to complications from COVID-19 and passed away. He was 84.
"Without exception, at his core, he was the most optimistic person," Collins said. "He was a humorist, in every sense of the word, and unable to ignore the good in anything and everything. That's where he put his chips, every time."
Performances at the RenCen will be staged under a set of intensive protocols, Collins said, including onstage social distancing and regular disinfecting of gear and green rooms. Safety had to be the first and main requirement, with all protocols based on CDC, state and city guidelines. Information regarding the planning and preparations will soon be published and available on the Detroit Jazz Fest's website. It's extensive, Collins said.
"It included watching the data on performers on stage and the trajectory of vapors. And how long it takes for those vapors to clear," he said. "We have numerous protocols in place, such as soundstages are not used one to two hours in between each performance because we're ping-ponging from one to the next. It gives time for vapor dissipation, disinfecting and all of that. We really want total isolation for artists. There are also staggered entrances, counts and thermal scanning and all that stuff that's common. We tried to go above and beyond."
Throughout this period of uncertainty and constant adjustment, Collins said he was inspired by a message from Wayne State President M. Roy Wilson during a recent university town hall about teaching online and "how it was about excellence in teaching, no matter the venue."
"I took that to heart," Collins said. "If we can't do it on the level of excellence that is the festival's reputation, we don't do it."
Here is the current schedule for the virtual event:
Friday, Sept. 4, 6:15 to 11:45 p.m.
"JUSTICE!" with Sister Strings: Roots, Voice & Drums: Kumbaya, Traditional Spiritual, Detroit Jazz Fest All Stars Generations Band including Chris Collins, Michael Jellick and Robert Hurst
Lulu Fall and the Kris Johnson Group
Pharoah Sanders: Icon
Legacy Artists: Ursula Walker and Buddy Budson
Saturday, Sept. 5, 11:20 a.m. to midnight
Tartar Sauce Band
Alex Harding
Ron Di Salvio Trio
Dr. Prof. Leonard King
Gayelynn McKinney & McKinney Zone
Sabbatical Bob
Aguanko
Rodney Whitaker Septet w/ Vocalist Rockelle Fortin featuring the Music of Count Basie and Billie Holiday
Steve Turre Quintet
Something to Live For – Music of Billy Strayhorn
Sunday, Sept. 6, 11:20 a.m. to midnight
Collegiate Combo Competition Winner
Cosmic Music Collective
The Rayse Biggs Collective
The Dave Bennett Quartet
Beartrap
Sean Dobbins Trio
Sister Strings: Roots, Voice & Drums
Robert Hurst presents the Black Current Jam Band
Walter White Big Band
Michael Jellick Solo Piano
Monday, Sept. 7, 11:20 a.m. to 11 p.m.
Marion Hayden: Detroit Legacy
David McMurray
Joan Belgrave presents: The Marcus Belgrave Legacy Ensemble
Joey Alexander Trio
The Curtis Taylor Quartet
James Carter Organ Trio
Call Al
Henry Conerway III
Rene Marie & Experiment in Truth
Robert Glasper