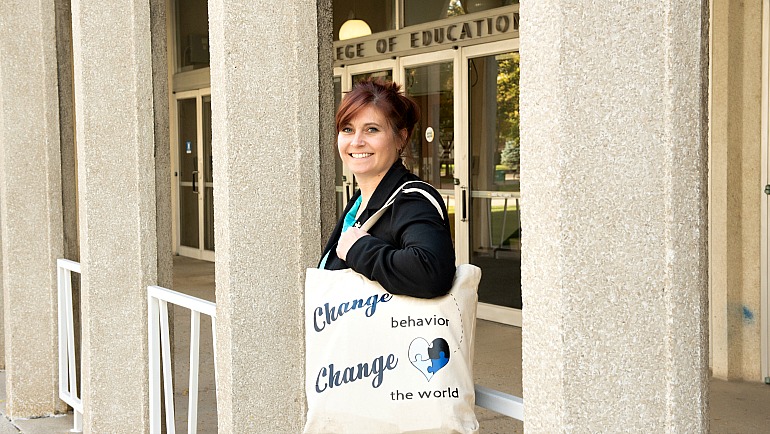 DETROIT — How can Michigan ensure that children with autism receive the therapy they need without potentially exposing them — and their providers — to COVID-19?
Organizations across the state now have a new resource to help them answer that question, thanks to a task force led by experts from Wayne State University and Michigan State University.
The toolkit, "Risk Assessment and Mitigation Strategies for Applied Behavior Analysis: Treatment of Children with Autism during a Pandemic,," provides a collection of tools designed for applied behavior analysis (ABA) providers to assess and reduce health risks related to COVID-19 for the families they serve.
Approximately 21,000 students with autism attend Michigan's schools, and many receive ABA therapy to improve learning and social skills in settings such as clinics, schools or homes.
"Providers already have so much to think about when developing treatments, and COVID-19 introduced a new range of medical and community factors we must consider," said Krista Clancy, co-lead author of the toolkit and director of the applied behavior analysis program and a lecturer of educational psychology in the Wayne State University College of Education. "Our goal was to create a simple tool to help providers evaluate variables that may impact client health during the pandemic."
Clancy guides Wayne State students working in metro Detroit agencies to complete field experience hours required for ABA certification. She said many of her students needed additional consultation and support during the pandemic because providers had different safety standards, expectations and responses. Some stopped providing services, while others continued existing services or transitioned to telehealth models. Clancy said the toolkit will not only help providers deliver services safely, but it will also help their employees and clients identify potential personal risks and strategies for addressing them.
The toolkit includes a regional risk assessment focused on the prevalence of COVID-19 in a given area, an individualized risk assessment for specific clients and a health screening tool for day-to-day decisions. It also includes a worksheet that providers can use to create specific mitigation plans and a set of guidelines they can share with parents. Based on the level of risk, providers and families can design strategies to reduce the risk of contracting or spreading COVID-19 to the greatest extent possible.
Authors emphasize the importance of the toolkit as an example for service providers to modify and build for their specific needs.
"Providers may not be able to use the same approach in every situation," Clancy said. "Different circumstances may require different solutions. The tool should be used as a guide for evaluating risks in a family's situation and creating strategies that will help them address those particular challenges and obtain services for their children safely."
Clancy hopes it will increase providers' confidence in making decisions about delivering services and developing treatment.
"Providers should use what they already know about their cases and other data they have available to decide what is best for their clients and their staff," she said. "The toolkit cannot replace their existing training or the ethical guidelines we follow as a field, but it can supplement their current knowledge and make navigating the return to services easier."
Additional authors include Sharon Milberger of Wayne State University; Josh Plavnick, Dr. Keith English and Dr. Jane Turner of Michigan State University; Colleen Allen from the Autism Alliance of Michigan; Angela Capuano of the University of Michigan-Dearborn; Jacob Daar of Northern Michigan University; Wayne Fuqua of Western Michigan University; and Scott Schrum of Residential Opportunities Inc.
The toolkit is available to download from the Michigan Developmental Disabilities Institute at https://ddi.wayne.edu/covid19/aba_risk_management_document_revised_and_disseminated_july_2020.pdf
About Wayne State University
Wayne State University is a premier urban research institution offering more than 350 academic programs through 13 schools and colleges to nearly 27,000 students. For more information, visit wayne.edu.
About Michigan State University
Michigan State University has been working to advance the common good in uncommon ways for 160 years. One of the top research universities in the world, MSU focuses its vast resources on creating solutions to some of the world's most pressing challenges, while providing life-changing opportunities to a diverse and inclusive academic community through more than 200 programs of study in 17 degree-granting colleges. For more information, visit msu.edu.