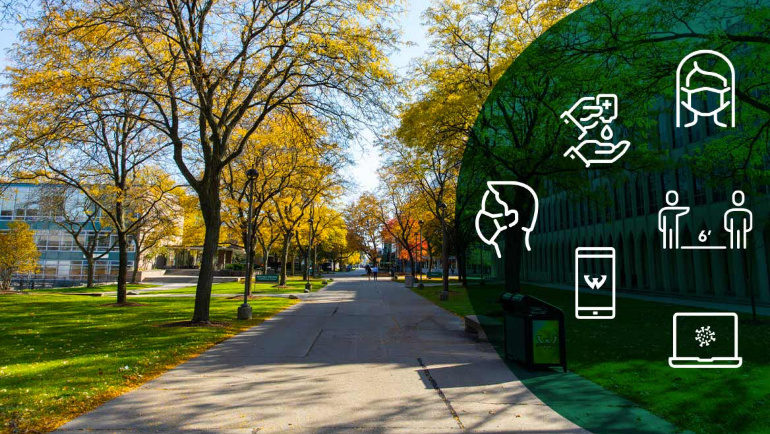 As Wayne State University prepares for the fall semester, guidelines have been developed for students to maintain safety and prevent the spread of COVID-19. While there are many decisions to be finalized, the university expects to have a combination of in-person, online and remote instruction available in the fall. All Wayne State students will play a pivotal role in keeping the campus community healthy and safe.
"While the ways in which we interact with one another may have changed, Wayne State's focus on its students and academic mission remains stronger than ever," said Provost and Senior Vice President for Academic Affairs Keith Whitfield. "We've been working nonstop to develop plans and guidelines for the fall, and I am confident in our community's ability to successfully navigate these changes and challenges together."
"The pandemic has presented unforeseen challenges for everyone, but Wayne State students are determined and resilient," said Dean of Students David Strauss. "We remain committed to their well-being and success, and want our students to be informed, enabled and empowered to help keep themselves and our community safe."
The Dean of Students Office, in accordance with recommendations from the Coronavirus Campus Restart Committee's public health and academic affairs subcommittees, has developed a three-pronged approach that includes:
Education
A Warrior Safe is Warrior Strong student ambassador team will promote the message of health and safety and the importance of compliance to campus rules and policies related to COVID-19 safety. Any student interested in serving on the ambassador team should complete this form.
All students will be expected to familiarize themselves with mandatory campus health and safety guidelines— including practicing social distancing and wearing a face covering — by completing the Be Warrior Safe training in Canvas. Additionally, students will need to complete the Campus Daily Screener daily health screener beginning 48 hours before coming to campus and each day that they will be on campus. Students who are cleared to be on campus will receive a bar code that they may be asked to produce. Students who will be living on campus will receive specific instructions from the Office of Housing and Residential Life.
Distribution of reusable face coverings
Students will receive a Warrior Safe is Warrior Strong swag bag that will include, among other items, two reusable Wayne State face coverings. More information about the swag bag will be shared via email later this summer.
Compliance
Although it's not expected to be a common occurrence, in the rare event that a student refuses to adhere to the campus' health and safety procedures, the Board of Governors passed an amendment to the Student Code of Conduct on June 19. The amendment requires the wearing of face coverings in all public spaces, including classrooms, laboratories, and offices; observing social distancing; and completing WSU's Warrior Safe training and Campus Daily Screener prior to coming to campus. The primary purpose of the Student Code of Conduct is to promote civility and academic integrity, and the new amendment will allow the university community to have a mechanism to address students whose behavior does not support Wayne State's focus on civility and safety.
"Keeping our campus safe and healthy is a shared responsibility," said Laurie Lauzon Clabo, dean of the College of Nursing and chair of the public health subcommittee. "Until such time as a vaccine and effective therapeutics are widely available, our shared commitment to responsible social practices and careful monitoring of symptoms are our best strategies to reduce transmission of the virus."
"Although these are challenging times, by working together and actively engaging in these public health measures, we as students will be able to keep ourselves as well as our community safe and healthy," said Riya Chhabra, Student Senate president.
Students are encouraged to stay connected to Wayne State University for the latest information as it becomes available by visiting the dedicated COVID-19 website. Students can also submit questions to doso@wayne.edu or via this form.