When Mason Chudzik and Gianna Manchester came to Wayne State University, they had no idea they'd revive a sport that had been dormant for nearly four decades.
The pair are behind Wayne State Club Rowing, an effort to put university oars back in the Detroit River, a place they haven't been since 1984.
"Once I settled into Wayne State, I looked into all the club sports they had so I could decide how I wanted to involve myself at the university. I noticed we didn't have a rowing program," said Chudzik, a 21-year-old finance major in the Mike Ilitch School of Business. "I thought about how odd it was that we have this great resource in Detroit — the Detroit Boat Club Crew — that Wayne State wasn't using."
Founded in 1839, the Detroit Boat Club Crew (DBCC) on Belle Isle is the oldest rowing club in North America and is dedicated to the education and promotion of rowing throughout metro Detroit.
Sponsored by Friends of Detroit Rowing, a 501(c)(3) organization, the DBCC provides competitive and recreational programs for men and women of all ages and abilities, as well as training opportunities for rowers competing on national, international and Olympic levels. It was through one of these programs — Learn-to-Row — that Chudzik and Manchester were each separately introduced to the sport. Learn-to-Row is offered during the summer to middle school and high school students, as well as adults, and teaches the basics of rowing.
Prior to his senior year at Dakota High School, Chudzik said he was never interested in rowing. But he found out about a free Learn-to-Row event and thought it'd be fun. Plus, he'd have a reason to get inside and see the historic DBCC. "Learn-to-Row is a great way for someone who knows absolutely nothing about rowing but has an interest to be introduced to the sport," Chudzik said.
After finding he loved being on the water, Chudzik reached out to the DBCC about organizing a Wayne State team. He first connected with Robb LaCasse '00, Friends of Detroit Rowing board member and president of Southfield-based United Paint. LaCasse, who continues to row competitively, was excited for the opportunity to help Chudzik and Manchester bring the sport back to his alma mater.
"It was instrumental having them lead this effort," LaCasse said. "People have approached the university before about this, but if it's not a student-run grassroots effort, it's more difficult to get off the ground. In addition, clubs and competitive sports leagues mean that athletes don't have to set aside their oars."
LaCasse connected Chudzik with Manchester, whose path to rowing began much earlier. She first rowed the summer before her freshman year in high school. An eighth grade teacher was into the sport and gave Manchester a flyer for the summer Learn-to-Row camp, where she became hooked and continued to row all four years for Grosse Pointe South High School. During that time, Manchester started coaching the Learn-to-Row program and eventually the DBCC's masters rowing team, which is the adult competitive squad.
Crew, as with many sports, takes a lot of discipline, strength, conditioning and endurance. The discipline comes into play with practices that begin at 5 a.m., since the water is the stillest at that time, with minimal boats and freighters out.
"They say it takes a day to learn to row and a lifetime to perfect," said the 21-year-old Manchester. "It's not that hard to learn how to get the oar in and out of the water. But you can work forever trying to perfect your stroke."
When the Detroit River becomes blocked with ice and Michigan's harsh winter months settle in, you'll still find dozens of rowers practicing and racing inside one of the Boat House's grand ballroom or dining rooms.
Manchester considered continuing to row in college, but was more focused on academics and ended up not going to a rowing school — or so she thought.
"As soon as the Boat Club found out I was coming to Wayne State, a bunch of people were telling me, 'You need to start a team,'" Manchester said. "I ended up getting involved in other things on campus and didn't really find the time. But then Mason came along and was really excited about it."
Early beginnings
Among the dozens of shells in the Belle Isle Boat House building, one boat stands out. Written on the side is the name of the founder and first coach of Wayne State's rowing team — Judson "Jud" O. Ross. He began the university's program in 1957 and led the team until 1976.
Ross was nationally known for coaching some of the most successful championship teams. The first shell ever used for Wayne State's crew was the "eight" used by the University of Washington when it represented the United States in the 1956 Olympics. Ross would eventually take that shell with him to Orchard Lake St. Mary's Preparatory, where he coached for a few more years after leaving Wayne State.
While the current — and future hopeful — Wayne State rowers ship out at the Boat Club Crew Boat House, the early Ross teams had their own house on Belle Isle. It was located in a large building on the island, on the opposite side of the MacArthur Bridge to the current Belle Isle Boat House. The team moved to the current Detroit Boat Club in 1968 after that original crew house was demolished to make way for an enlarged Detroit Police Harbormaster facility.
Dennis Wojdyla '75 runs the DBCC's rowing operations, including the Learn-to-Row program that set Chudzik and Manchester on their paths. He also rowed under Ross' tutelage.
"I was a walk-on in 1971 at Wayne State. It was a great time and experience," Wojdyla said. "Plus, to be on campus and part of a sport that's so closely tight-knit, you can't beat it."
Much like the current Wayne State Club Rowing, the university's original crew team rowed "eights," aptly named because each boat or "shell" had eight rowers plus a coxswain (who steers the boat). The races stretched over a 2,000-meter course (approximately 1.25 miles), with times typically over five minutes.
Ross' crew team competed against well-known schools such as the University of Wisconsin, University of Notre Dame and Marietta College (Ohio). Each year, they would travel to Philadelphia for the Dad Vail Regatta, where the team competed against schools like Georgetown University and Temple University.
The DBCC's Ross boat was dedicated in July 2018, with many returning Wayne State alumni taking part to remember the glory days on the water. Wojdyla and the boat have even won a couple of national championships in the masters group.
"This is personal," Wojdyla said of reviving the university's crew program. "All of the alumni are excited about possibly getting this back as a sport."
History in the making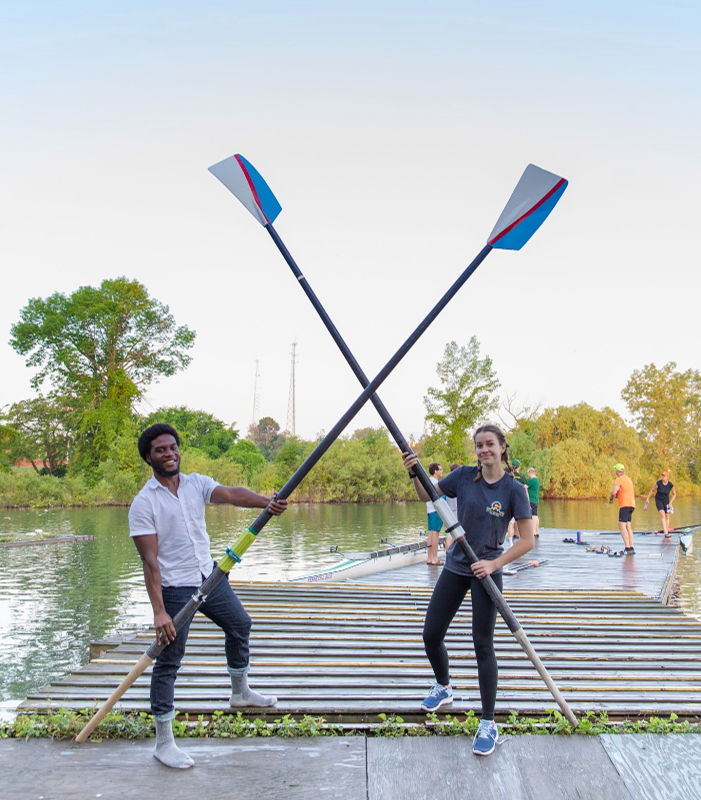 On one early morning in August 2019, a full crew of eight Wayne State students took a shell out on the Detroit River. They had no idea how historic the moment was. Their skills varied from novice to seasoned rowers, and there was some learning curve. But Manchester, the boat's coxswain that morning, was impressed with how the crew of eight performed.
"We had a few people that it was their second or third time on the water, while others have been rowing for years. There was a big improvement from the beginning of practice to the end, especially for this being everyone's first time together in the boat," Manchester said. "It didn't take us long to get all eight going, and each stroke felt better and better."
For Dwayne Sanders, a 25-year-old chemical engineering student in Wayne State's College of Engineering, it was his first time on the water as a group. His first experience rowing on the Detroit River came the previous summer, also through the Learn-to-Row program. While watching videos online of rowing, Sanders' interest was piqued. He searched "rowing in Detroit" and found the DBCC.
"I met Gianna and the rest before I even knew the other Wayne State students. Learn-to-Row is a great program that really just wants to teach everyone how to row," Sanders said. "To be part of the Wayne State Club Rowing feels like history in the making; it's surreal. I am definitely coming back."
Lucy Sutliff, 18, is in her second year at Wayne State and majoring in secondary education in the College of Education. Sutliff, like Sanders, had never rowed before this past year. She reconnected with Manchester, who she knew from high school, during the 2018 FestiFall — an annual Wayne State tradition showcasing more than 600 student organizations, campus departments and learning communities to incoming students and guests. Manchester and Chudzik had a table at the event to help recruit for Wayne State Club Rowing.
Both Sanders and Sutliff said they plan to stick around to help Wayne State Club Rowing get its sea legs. "Once you get past the early mornings, it's quite beautiful and calming out there," Sutliff said. "Not to mention, it's a lot of fun and good exercise."
Next steps include continued recruitment, more Learn-to-Row sessions and regularly scheduled practices throughout the winter. The goal is to come out in spring/summer or fall 2020, ready to compete. Prospective crews to race against include teams from the University of Michigan, Michigan State University, Eastern Michigan University, Northern Michigan University and Grand Valley State University, among others.
Manchester graduated in May 2019 with a bachelor's degree in secondary education from the College of Education, but she still plans to see Wayne State Club Rowing come to fruition.
"I helped start it and I'd like to see it get off the ground," she said. "I would love to see it be successful. It's kind of crazy that there's a university so close to water that doesn't have a rowing team."
For more information on how to get involved with the Wayne State Club Rowing, please reach out to Mason Chudzik.