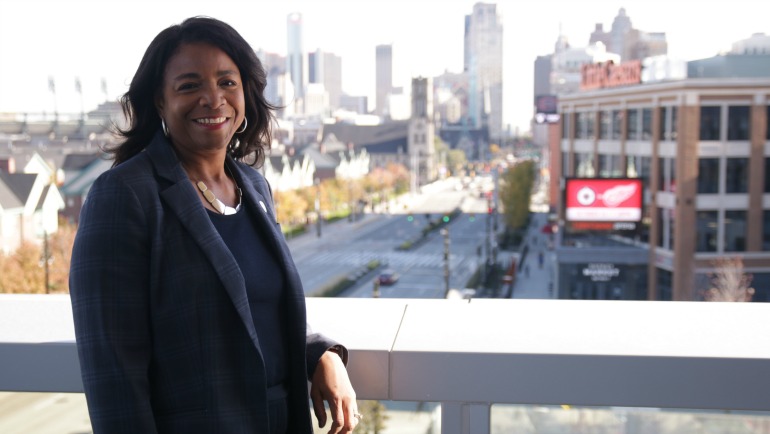 Perched in her fourth-floor office ­­inside Wayne State's newly opened Mike Ilitch School of Business, Associate Dean for Strategy and Planning Bertie Greer, Ph.D., enjoys a vivid, expansive view of the city below, her gaze able to stretch in all directions and out toward the horizon.
Perhaps it's no wonder then that, when considering the potential the new facility gives the Ilitch School to make significant positive impact on Detroit, the view in her mind's eye is just as far-reaching as the urban panorama unfolding outside her window in the District Detroit.
Greer — who served as an associate professor of global supply chain management before being installed in January as associate dean for strategy and planning — harbors high hopes for the business school, its ability to help spur Detroit's ongoing rebound, its benefit to the university's reputation and its potential to bring greater diversity to an all-too-homogenous business landscape. Though the facility only officially opened this fall, the Ilitch School — and its more than 4,000 students — is deepening the university's impact already, she says, in its neighborhood, in the city as a whole, and in the dreams and ambitions driving its hard-charging students.
EngageD sat down with Greer (who in addition to being a faculty member is the wife of WSU basketball Head Coach David L. Greer), to take a long gaze through her lens and discover why her outlook for the Ilitch School and its potential for Detroit seems nearly as unbounded as the picturesque view ­­­below.
EngageD: What's your primary role at the Mike Ilitch School of Business?
Greer: As an associate dean, part of my responsibility is accreditation. I also oversee instructional technology, diversity and inclusion, and the events here at the Mike Ilitch School of Business. And while we're new here in the middle of downtown Detroit, we're not new in general. We have always been in business and have been doing a lot. In this role, particularly because we're down here, we're looking to get more engaged with the community and meet our neighbors. And since I'm in charge of events, we do have a process in which communities from outside, external from the school, can rent a space or come in and try to have some program, if there's space available. In terms of instructional technology, we have a lot going on, from looking at different modes of teaching to different ways of engaging the students as we move deeper into the 21st century.
In terms of instructional technology, for example, we are doing a joint venture with Apple where we're getting students to learn how to code and develop apps. We are doing stuff with Microsoft through a certification program that they offer. And we will be working with the city and its Grow Detroit's Young Talent program, in which young people from the city work with us on a variety of ventures and projects for hands-on experience.
Speaking of diversity and inclusion, how are those values reflected right now, in both the student body and the programs in place?
We're making concerted efforts to be more inclusive. We're diverse in general, from the presence of different international groups to people of color from the area — but we have to do more in terms of African Americans as well as in trying to make sure everybody feels comfortable and is able to learn without obstructions.
One very big example is that we have a new program that were working on with PricewaterhouseCoopers wherein we build and put in place support systems for African Americans in accounting and finance. It's called PwC MPREP Scholars, which stands for Multicultural Professional Readiness Education Program. We've got about 15 students right now, and we only just started. Our goal right now is to recruit 20 students into the program. We're going to meet that.
RELATED: PwC MPREP Scholars program promotes diversity, equity within Mike Ilitch School of Business
The program itself is open to everyone, of course, but we are especially interested in students who are of color, African Americans, Hispanics and Native Americans.
Also, Ally Financial sponsors our corporate mentoring program, which is aimed at first-generation students of all colors. We've been doing that for five years. Now we're looking to broaden a program like MPREP to include all the financial service industry, to go beyond finance and accounting. And there's been a lot of interest from external companies who want to help with that.
What does opening this new chapter in business education at Wayne State do for us as a university and for our community as a whole?
One, it's had a tremendous impact in the community. The fact that someone of the Ilitches' status would donate that much money to us says something about us, and it says something about them. Their donating money to the school tells people that they are good stewards in the Detroit area who are willing to give back to the Detroit community.
Second, the fact that they're willing to give it to us tells us that we've been doing something right, that they wanted to attach to us. Now the impact is that when people see that you're going to invest in the community, it puts a spark in them: "Wow, the Ilitches are willing to donate? I went to Wayne State; I'd like to donate." We have all types of naming rights in this building, and almost everything is getting named.
Our stunning auditorium space is sponsored by Lear Corporation. Alumnus Frederick Hessler named our Undergraduate Student Success Center. We've had the Kresge Foundation make investments in our finance department. Ford Motor Company has sponsored multiple spaces, and Microsoft wants to work with us on some things. All of our sticky spaces — the little spaces where students sit — a lot of them have been named. They aren't all big spaces or famous donors. A lot were just individual people who love Wayne State.
What else about the new surroundings excites you?
Well, I'm really excited to be downtown and to be in this building. I think this building gives us a lot of opportunity to operate as one. Because when we were on main campus, all of our functional areas weren't in the same building. We were not large enough to have events, so we had to go to the McGregor Memorial Conference Center.
Bu
t now we can do it in this building, and I'm hoping that, because of that, we'll get more people engaged. Because we got new neighbors, we were able to work with them on more community engagement.
We started our second cohort of the Detroit Police Department Leadership Academy, which offers training to Detroit and Wayne State University police officers to grow their leadership skills and business expertise. That's big for us, just to build that relationship with the community and to work with the police officers to bring them into the fold of what we do here with the students.
Also, as I am a global supply chain professor, I was excited to learn our global supply chain program just got ranked in the top 25 [in the United States, by Gartner Research]. And along with the academic work, we also do community service projects that involve our advisory board, industry leaders and our global supply chain student association. Last year, we did a project with Habitat for Humanity. We're looking to see what we will be doing this year. We let the students pick it so I don't know just yet what it's going to be.
What's your vision for what the school of business will be, what the programs will become, and for the student body in which you have to offer?
We were, I hope that as we move forward more and more and more engagement, more innovation, I want us to come up with things that, and programs that are unique to us sitting here in Detroit and are engaging with the community. I want to see our faculty more engaged. I want to see us have more programs that meet the need. Some programs may just be for the support of the community. I want to see more of that nature. I want to see more diversity, more inclusion.
Most business colleges have some ways to go, but because we sit in a city that's 85 percent African American, I want to see us do better.
Do you think that the Ilitch School will be able to boost entrepreneurship in Detroit?
Where we were before, kind of embedded in the campus, we weren't really doing as much as we can. We have TechTown, of course, where we have some incubators of entrepreneurship businesses.
But being here allows us to do more. One big step forward is our BELL program. In August, we announced a generous $500,000 gift from alumnus Russell Belinsky and the Belinsky Family Trust to launch the Belinsky Entrepreneurial Learning Laboratory, BELL for short, this fall. That money will help us kick off sustainable, investment-ready student startups and startups based on WSU intellectual property. The BELL will help student founders commercialize and draw additional funding.
We have an area for pop-up shops near the Avalon bakery so if there's a business that wants to come in on a short-term basis and be in this location and start showcasing themselves, they can get that space. It is a temporary space, but they can showcase their entrepreneurship ideas, so we are doing better.
As a business school educator and dean, what do you think about the business climate here in the city and about Detroit as a place to do business?
I mean, 2008 was a wake-up year for us, when the economy was failing. Businesses were abandoning Detroit. But I think people realized how important the economy and businesses are to the city proper. Because of it, they've come back — and they've come back with a vision and with a degree of commitment and loyalty to Detroit, and they're starting to invest. In about five to 10 years, this city is going to be just as vibrant as any city anywhere. And Wayne State and the Mike Ilitch School of Business will be part of that.