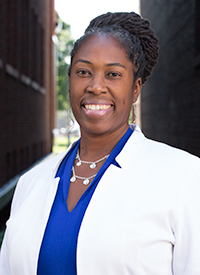 Asandi Conner has been named director of Detroit Revitalization Fellows (DRF), a program of Wayne State University. She succeeds Graig Donnelly, who in April assumed the role of assistant vice president for economic development at Wayne State and chief strategy officer of TechTown Detroit, the university's affiliated business incubator and accelerator. Conner has been serving as interim director of DRF since that time and previously served as the program's strategy leader.
In her new role, Conner will oversee strategic development, fundraising, communications and overall management of DRF, which matches emerging leaders from across the United States with civic, community and economic development organizations working at the forefront of Detroit revitalization efforts. Currently, 20 fellows are serving two-year positions with Detroit organizations, and a growing network of DRF alums continue to drive progress across the city and the surrounding region. The program will launch applications for its fourth cohort in winter 2017. Conner will also oversee DRF's spinoff program, the Kresge Mayor's Fellows, which places DRF alumni in leadership positions in Detroit Mayor Mike Duggan's administration. The DRF is housed in Wayne State's Office of Economic Development.
"Detroit Revitalization Fellows is increasingly being looked to as a national model for urban leadership programs," said Ned Staebler, Wayne State's vice president for economic development. "The program will benefit greatly from Asandi's vision and strong leadership as it continues to deepen its impact on neighborhoods across Detroit."
Prior to joining DRF, Conner served as operations and development manager for Black Star Educational Management and as program coordinator for the University of Michigan-Dearborn's Fairfax Initiative, an oral history and alumni engagement project.
"My respect for the Detroit Revitalization Fellows program and our talented network of doers has only deepened during my two years with this program," said Conner. "I look forward to leading our team as we continue to develop a strong, diverse group of urban leaders who are driving some of the most high-impact projects in Detroit."
Conner assumed her new position on Aug. 8.