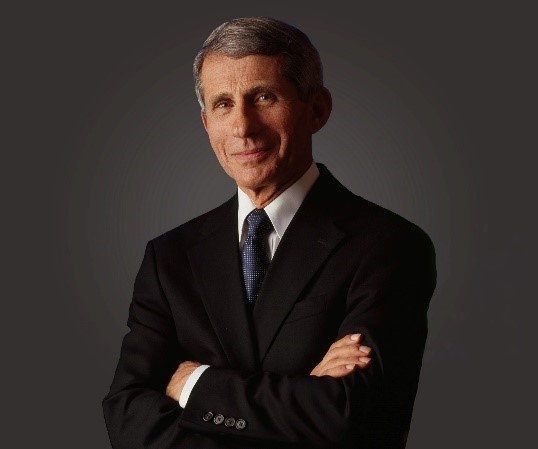 Faculty and students of Wayne State University will have a chance to hear and learn directly from Anthony Fauci, M.D., the former director of the National Institute of Allergy and Infectious Diseases at the National Institutes of Health, during an Aug. 15 interactive discussion.
"Pandemic Lessons and Role of Faculty in Pandemic Preparedness," presented by the School of Medicine's Office of Faculty Affairs and Professional Development, will offer lessons learned during the COVID-19 pandemic and how faculty can be more engaged in pandemic preparedness.
All members of the WSU community are welcome to join in the interactive discussion, scheduled for noon to 12:40 p.m.
The session will be moderated by Professor of Medicine Teena Chopra, M.D., M.P.H.
Dr. Fauci is a distinguished professor in the Georgetown University School of Medicine's Department of Medicine. He also holds an additional appointment in the university's McCourt School of Public Policy.
He served as director of the National Institute of Allergy and Infectious Diseases from 1984 to 2022, and was a key advisor to seven U.S. presidents on global HIV/AIDS issues, and on preparedness against emerging infectious disease threats. He also served as the chief medical advisor to President Joe Biden. Dr. Fauci was one of the principal architects of the President's Emergency Plan for AIDS Relief, which has helped save more than 25 million lives throughout the developing world.
A member of the National Academy of Sciences, the National Academy of Medicine, the American Academy of Arts and Sciences, and many other professional societies, Dr. Fauci has received numerous awards, including the Presidential Medal of Freedom, the National Medal of Science and the Mary Woodard Lasker Award for Public Service. He has been awarded 61 honorary doctoral degrees from universities in the U.S. and throughout the world. He is the author, coauthor or editor of more than 1,400 scientific publications.
Dr. Chopra is a professor of Medicine in the Division of Infectious Diseases at Wayne State University. She is also the corporate medical director of Hospital Epidemiology, Infection Prevention and Antibiotic Stewardship at the Detroit Medical Center, Wayne State University. Her research interests include epidemiology of health care-associated infections, infection prevention antibiotic stewardship and immunization.
One of the founding leaders of the WSU Center for Emerging and Infectious Diseases, Dr. Chopra has published more than 90 papers and book chapters. She championed the mammoth task of leading COVID-19 pandemic efforts for Wayne State University and the DMC. She serves on the president's COVID Task Force and on the President's Public Health Committee. She has appeared in countless media and print interviews, including CNN, FOX, NPR and TIME magazine. She is fellow of the Executive Leadership Academy of Medicine.
The event will be streamed at wayne.edu/live. If you are unable to attend, a recording will be posted online after the event.
For more information, please contact Kate Laimbeer at 313-577-0216 or gq1362@wayne.edu.