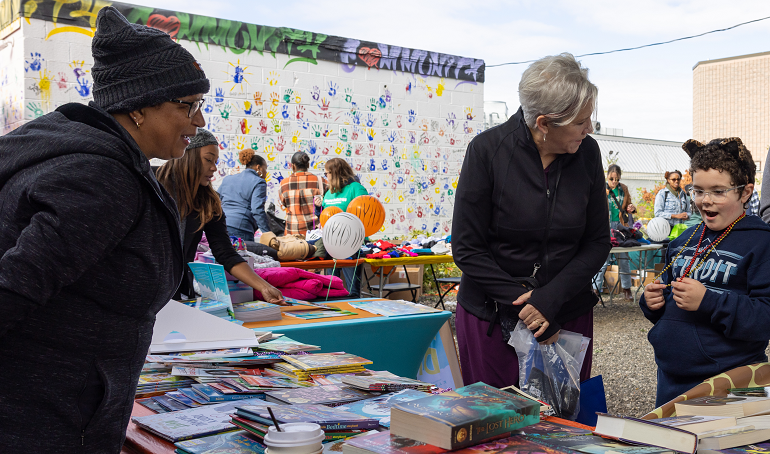 Medical students from Wayne State University embodied the School of Medicine's vision of urban clinical excellence while volunteering at a community outreach event for children in Detroit.
An estimated 200 children and their families attended the Wayne Pediatrics "Treasure Your Health" Health and Nutrition Expo, held Oct. 8 at Eastern Market's Art Park. The event addressed social determinants of health in children and adolescents in Detroit and southeast Michigan by having participants walk through 10 stations addressing various topics, said Wayne Pediatrics Director and WSU Professor of Pediatrics Eric McGrath, M.D.
"Addressing social determinants of health for children in our community aligns with our Wayne Pediatrics vision to create a healthier future for metropolitan Detroit children and families through comprehensive, community-based primary and specialty pediatric care, medical education and training, and community and population-based research," Dr. McGrath said.
School of Medicine students served as "safari" guides for the day, taking children to each station and handing out promotion flyers through the market.
"Students from all four years of medical school were presented, and their evaluations reported that all 30 said that they would be willing to participate in an event like this again," Dr. McGrath said.
Physician-led station topics included accessing primary care with Wayne Pediatrics, HIV education and materials, and mental health and childhood development information provided by on-staff clinical psychologists.
Families also visited a literacy station led by WSU Associate Professor of Pediatrics Lynn Smitherman, M.D., featuring Wayne Pediatrics' Reach Out and Read program, which provides a new book to children at each clinic visit. The table also featured book giveaways, including more than 100 by Detroit author P.J. Bass.
The event provided free clothing, including 54 winter coats, 31 winter hats, 48 pairs of winter gloves, 73 pairs of new children's underwear, 55 pieces of gently-used clothing and 54 pairs of socks, totaling more than 320 items, to more than 40 families.
The families also received a reusable lunch bag and healthy snack, including fresh Michigan apples from Eastern Market – which provided a $25 gift card to a winning family – plus celery and peanut butter, and carrots and hummus.
This was the first year the event was held at Eastern Market.
"The concept of showing the local community what Wayne Pediatrics has to offer by going out into the community and meeting the people and children where they are built off of our learning by experience over the past two years performing pediatric vaccine-related events during the pandemic at our 400 Mack clinic site," Dr. McGrath said.
Miriam Behar, M.D., led a physical activity station that included jump ropes, Hula Hoops and information on exercising. Two players with the Detroit City FC soccer team signed soccer balls and helped children practice shooting on goal.
The Detroit Health Department provided vaccinations to adults and children who requested them.
The event was funded by a $10,000 grant from the Michigan State Medical Society and partners the Detroit Health Department, Eastern Market, Detroit City FC, Henry Ford, and Detroit Kiwanis.
For more information on Wayne Pediatrics, visit www.waynepediatrics.org