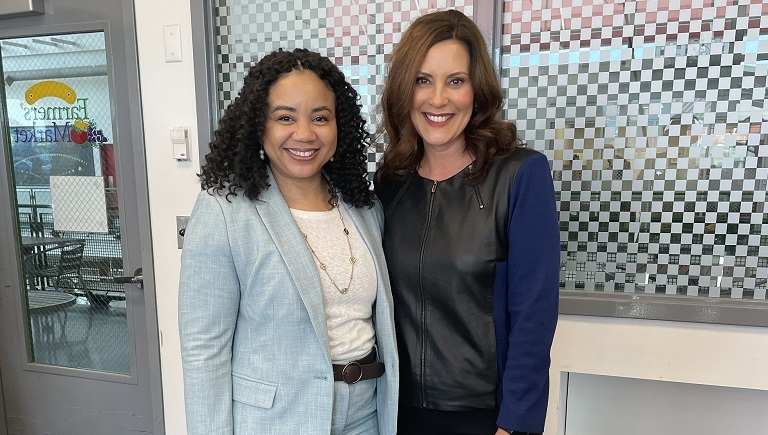 When Michigan Gov. Gretchen Whitmer traveled to Flint, Mich., last month to host a roundtable regarding the overturning of Roe v. Wade and the affect it would have on women's health, a Wayne State University School of Medicine faculty member initially thought she would simply be part of the conversation. Instead, she was asked to moderate the panel.
Perinatal and Women's Health researcher Rhonda Dailey, M.D., is an assistant professor of Research in the Department of Family Medicine and Public Health Sciences, and scientific director to the Office of Community Engaged Research within the Office of the Vice President of Research. Her research work includes projects focused on community-engaged research, perinatal health, health equity and disparities related to systemic racism and chronic disease (particularly asthma and cardiovascular disease), patient attitudes and beliefs about health and health care quality.
"As the moderator, I kept the conversation flowing and asked some sample questions that were supplied by the governor's office and some generated on my own that derived from the conversation," Dr. Dailey said. "Although the initial plan was for me to be a member of the Flint panel representing the perinatal research angle to reproductive rights, I felt honored to be asked to moderate once the plans had changed."
"I am currently writing a proposal where engagement of women from the community using focus groups and training modules will be the key to building research capacity and creating sustainable community-university connections. We cannot underestimate the power of the community voice, which should be heard prior to changes in practices, policies, and laws. It is good to see Governor Whitmer conducting these roundtables with community members."
Dr. Dailey is a published author and has more than 20 years of experience in behavioral and health disparities research, expertise in the recruitment and retention of minority populations, and the engagement of medical professionals and community stakeholders in research.
The Flint panel was one of several Gov. Whitmer convened on women's health rights in Michigan. Panel members included community members and health care professionals who could be affected by the recent overturning of Roe v Wade.
"I was pleasantly surprised at how the roundtable members openly shared their deeply personal stories, which shaped their advocacy, career paths and reasons for attending," Dr. Dailey said.
In addition to Gov. Whitmer and Dr. Dailey, roundtable participants included Melva Craft-Blacksheare, D.NP, associate professor of Nursing at the University of Michigan-Flint; Anesha Stanley, a Saginaw, Mich.-based birth, bereavement and postpartum doula; Omari Young, M.D., director of the Hurley Medical Education Obstetrics and Gynecology Residency Program; a Flint college student who lost a child to Sudden Infant Death Syndrome; a Saginaw college student not in a financial position to have a child and at a medical risk if she were to become pregnant; Meleah Denson, a former mentee of Dr. Craft-Blacksheare and maternal health advocate; and Michigan Senate Minority Leader Jim Ananich.
"Over the last few months, I've met with Michiganders across the state to discuss abortion, hear their stories and talk about how we can work together to protect reproductive freedom," Gov. Whitmer said. "After Dr. Rhonda Dailey and I led a discussion in Flint on Sept. 19, I announced that pharmacists in Michigan with delegated authority would be able to prescribe self-administered hormonal birth control — oral contraceptives, the patch, the ring — expanding access to birth control and ensuring that women could plan their own future on their own terms. Dr. Dailey did a great job moderating our discussion, and we rely on medical professionals to advise on important medical conversations. As reproductive freedom is under attack across the nation, we are using every tool in our toolbox to guarantee that Michiganders have the right to make their own decisions about their own bodies."
A clip of the roundtable featuring Dr. Dailey aired on the seventh season of Showtime's political docuseries "The Circus" on Sept. 25.
"It is so important for us to realize what women have been suffering through when abortion was not legal," Dr. Dailey said on "The Circus."
The goal of the roundtable discussion was to raise awareness of the 1931 Michigan law, raise awareness of the governor's actions to protect abortion and reproductive freedom, and raise awareness of the popularity of keeping abortion legal in Michigan.