Faculty, scientists and students from the Wayne State University School of Medicine were among the 14 women who traveled to Washington, D.C., this summer to advocate for science-based policies by meeting with U.S. representatives.
The women are members of the WSU-based Science Policy Network-Detroit — known as SciPol-Detroit. They visited Capitol Hill for meetings June 8-9, and advocated for three issues chosen by students: federal science funding (America Competes Act), maternal and perinatal health (Momnibus bill) and health disparities (Health Equity and Accountability Act).
The group is a branch of the National Science Policy Network, affiliate of the Union of Concerned Scientists, and a registered student organization at Wayne State University.
"I thought the D.C. trip was amazing," said member and School of Medicine postdoctoral research fellow Clara Zundel, Ph.D. "I learned so much about how to effectively communicate my science to lawmakers, and how important it is to let them know the implications that their votes on bills and packages could have, not only on my research and scientific studies, but also on all citizens who experience environmental injustice."
Zundel has been involved with SciPol Detroit for more than 18 months, joining soon after she began working in the lab of Assistant Professor of Psychiatry and Behavioral Neurosciences Hilary Marusak, Ph.D.
The organization started at the School of Medicine in July 2020 with three students in Dr. Marusak's lab, then made a lateral move to register as a main campus student organization to become all-inclusive. She is now a co-advisor, along with faculty and staff from other colleges and units at WSU. Members include individuals from Oakland University, Michigan State University and "anyone who is really focused on what's happening in Detroit," she said. "Scientists are trained to speak to other scientists in our specific discipline. It creates a gap. We really want to learn, as scientists, how we can communicate better what we're doing in the lab."
Zundel's fellowship focuses on the impact of air pollution exposure on brain development and mental health in metropolitan Detroit adolescents. "Through my research I saw the environmental injustices that many Detroit residents experience. While my research helps identify the effects of environmental exposures, I wanted to do more on the prevention side of things, and I thought getting into science policy would be a great way to start," she said.
She plans to stay active in the group. "My goals moving forward with the organization is to continue to create important policy briefs surrounding environmental health issues within the city of Detroit, such as air pollution, lead exposure, increased heat exposure and more" she added.
The trip was supported by donations from the WSU Division of Government and Community Affairs, the WSU College of Liberal Arts and Sciences, the WSU Department of Psychiatry and Behavioral Neurosciences, and a Research!America microgrant.
SciPol-Detroit worked closely with the Division of Government and Community Affairs to prepare for the trip. The group spent months training on speaking with lawmakers to deliver their message in a concise, meaningful way, with a focus toward relevant policies. They learned how to translate their work as scientists into actionable recommendations and direct "asks" of lawmakers.
The group met with the offices of five representatives: Rep. John Moolenaar, Rep. Rashida Tlaib, Rep. Peter Meijer, Rep. Haley Stevens and Rep. Lauren Underwood.
Lana Grasser, Ph.D., has been traveling to D.C. for advocacy work since 2015. During this most recent visit, Grasser's friend and colleague from SciPol Detroit, Ayia Almufti, shared her personal story and research interests when advocating for the Black Maternal Health Act.
"Her message was so powerful and her story really moved me. We actually found out we have shared research interests, and we were able to work together to get her a position in a lab doing the work she is so passionate about," Grasser said. "Her representation in that moment as a constituent was so critical, and I really believe she is a role model and witness for how we can all use our stories and experiences to shape our communities for the better."
Grasser has been a member of SciPol Detroit since its founding in 2020, and served as its liaison to the National Science Policy Network. She graduated from the WSU Graduate School's Translational Neuroscience program in 2022.
"I feel it is absolutely critical for scientists to share their work with the public and policymakers, keeping the public as active stakeholders in research," Grasser said. "The need for this became especially prevalent in the context of the pandemic — it became clear the huge gaps we have between what we are learning in the lab and what the general public is aware of. For example, there was a lot of fear surrounding the rapid vaccine development, and I believe this was deeply rooted in the lack of knowledge that mRNA vaccines have actually been in development and testing for more than 20 years. The discrepancy was that no one was talking to the public about this. We need to keep the public and policymakers involved in our research at every step of the way."
She is leaving Wayne State in the fall for a postdoctoral fellowship at the National Institute of Mental Health. "However, I will be bringing the tools and skills I gained from SciPol Detroit with me," she said.
Victoria Kelley is second-year medical student who joined the group a month before the trip after hearing about it from Marc Corriveau, who teaches the Medical Political Action Elective at the School of Medicine.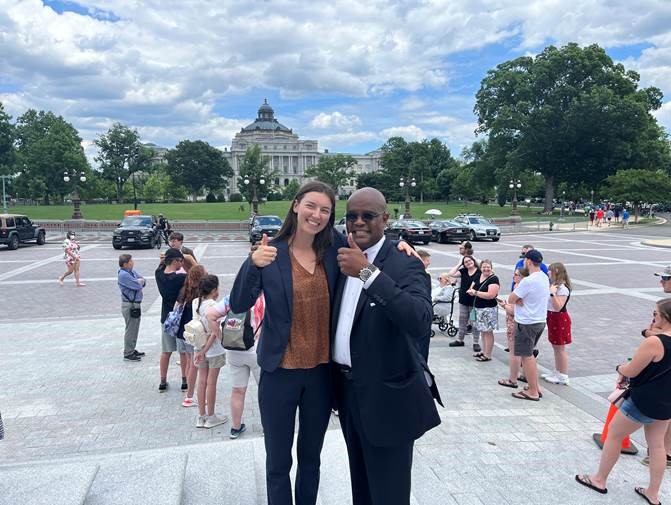 "Sci Pol allows me to translate my passion for policy into direct advocacy for specific health policies at the local, state and national level," Kelley said. "I spoke to Congressman John Moolenaar to ask for his support on the Health Equity and Accountability Act, using my experience as a medical student on the board for the Robert R. Frank Student Run Free Clinic in Detroit to highlight how this bill could improve evident health inequities. Although we were aware going in to this meeting that Representative Moolenaar was unlikely to support this bill, the experience for me emphasized the importance of connecting with your representatives in Congress in the hopes of creating change at home."
SciPol Detroit is open to anyone interested in science communication or policy. The group is planning several events and opportunities this summer and the next year, including workshops, panel discussions, community engagement internships and trips to Lansing and Washington, D.C. For more information, visit www.scipoldetroit.org.