Wayne State University School of Medicine alumna Jawan Gorgis, M.D., was named by the Michigan Academy of Family Physicians as one of only two Michigan Family Medicine Residents of the Year.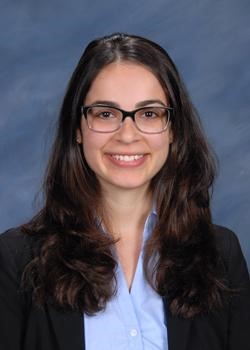 Dr. Gorgis who graduated from the School of Medicine in 2017, is a resident in Beaumont Health of Troy's Family Medicine residency program.
Associate Dean of Student Affairs and Career Development Margit Chadwell, M.D., wrote Dr. Gorgis's recommendation letter for the Beaumont residency program.
"I (had) the pleasure of getting to know Jawan through her engagement with our Family Medicine Interest Group, where I serve as the faculty advisor. Jawan is inquisitive and resourceful, and has actively explored family medicine as a specialty choice. I have been impressed by her professional and pleasant demeanor, and her enthusiasm," Dr. Chadwell wrote.
Dr. Gorgis will receive the award during the virtual Academy Awards celebration Aug. 8, immediately following the virtual MAFP Annual Meeting.
The Michigan Family Medicine Resident of the Year award recognizes a Family Medicine resident (PGY-1, PGY-2 or PGY-3) who exhibits qualities of exemplary patient care, demonstrates leadership among colleagues, displays a commitment to the community at large and is dedicated to the specialty through involvement in the MAFP and AAFP, service to the residency program, and/or other Family Medicine organizations.
As a student, Dr. Gorgis served as the education and training director for Street Medicine Detroit, coordinating and providing medical assistance to the city's most disadvantaged population. She was elected the school's national representative to the American Medical Association, and participated in the comprehensive Fabric of Society and Medical Political Action Committee Co-Curricular program, volunteering 150 hours in multiple community organizations, clinics and lobbying efforts. She obtained certification as an HIV counselor. She also was involved with multiple research studies resulting in a publication on her diabetes project. Her work with Street Medicine Detroit resulted in two posters she presented at national conferences.