Photos by Matt Garin
U.S. Surgeon General Jerome Adams, M.D., M.P.H., surprised students at the Wayne State University School of Medicine on July 22, popping into a Basic Life Support class on his way to the Shiffman Medical Library, where he met with School of Medicine and Wayne State leadership and faculty.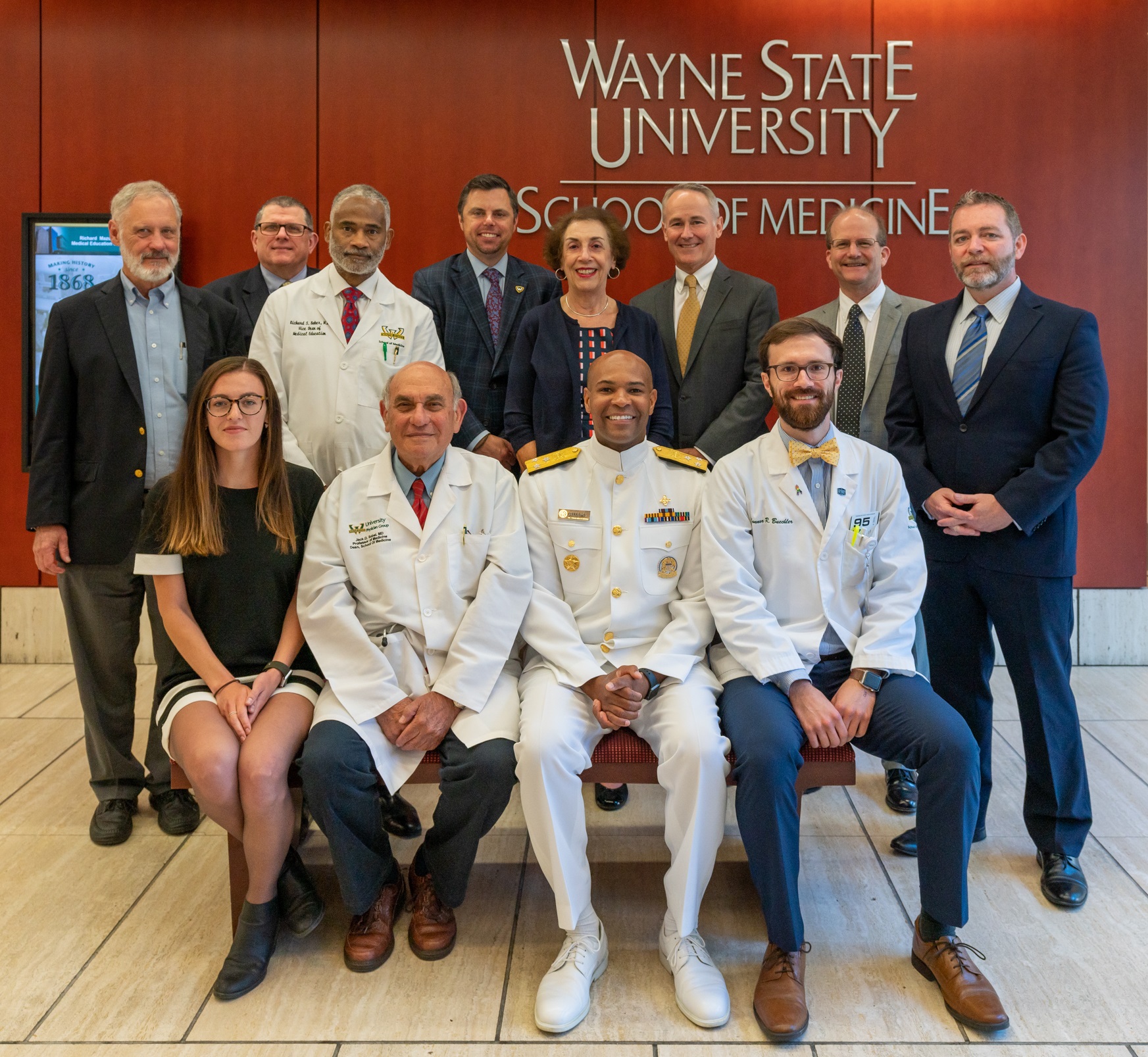 During his impromptu visit with the medical students, Dr. Adams reminded students to always carry the opioid overdose reversal drug, Naloxone.
"You are more likely to encounter someone out there having an opioid overdose than a heart attack," Dr. Adams said.
The opioid epidemic was one of several key topics Dr. Adams discussed in the one-hour conversation. He also pushed for a better understanding of the economic challenges of health, oral health, tobacco use and cessation, and the links between community health and both economic prosperity and national security.
"If we want to move the needle on health issues, we have to understand the economic issues," he said. "You're not going to lower health care costs until you lean in to prevention."
Dr. Adams, an anesthesiologist and Vice Admiral in the U.S. Public Health Service Commissioned Corps, assumed office Sept. 5, 2017, as the 20th Surgeon General of the United States.
"I would love this to be the beginning of a longer conversation. I love your mission here and I love what you're doing. I want to applaud you all for your mission of lifting up the people of Detroit," Dr. Adams said.
The School of Medicine's mission is to educate a diverse student body in an urban setting and within a culture of inclusion, through high-quality education, clinical excellence, pioneering research, local investment and innovative technology, to prepare physicians and biomedical scientific leaders to achieve health and wellness for society.
Dean Jack D. Sobel, M.D.; Vice Dean of Medical Education Richard Baker, M.D.; Vice Dean of Research Linda Hazlett, Ph.D.; Vice Dean of Clinical Affairs Charles Shanley, M.D.; faculty members from the School of Medicine's Department of Psychiatry and Behavioral Sciences, as well as the WSU Ilitch School of Business and Center for Urban Studies were part of Monday's discussion.
The Surgeon General was in town to speak at the 110th annual NAACP Convention, and was thrilled to pay a visit to Wayne State University during his limited time in Detroit.
"It is important for me to try to get input from you," he said. "You are helping us figure out what this new world looks like."
He asked how responsive Wayne State is to emerging trends, then listened to the answer, hearing from students like M.D.-Ph.D. student Jenna Carter and third-year medical student Connor Buechler, who talked about their experiences as medical students caring for the city's most vulnerable populations.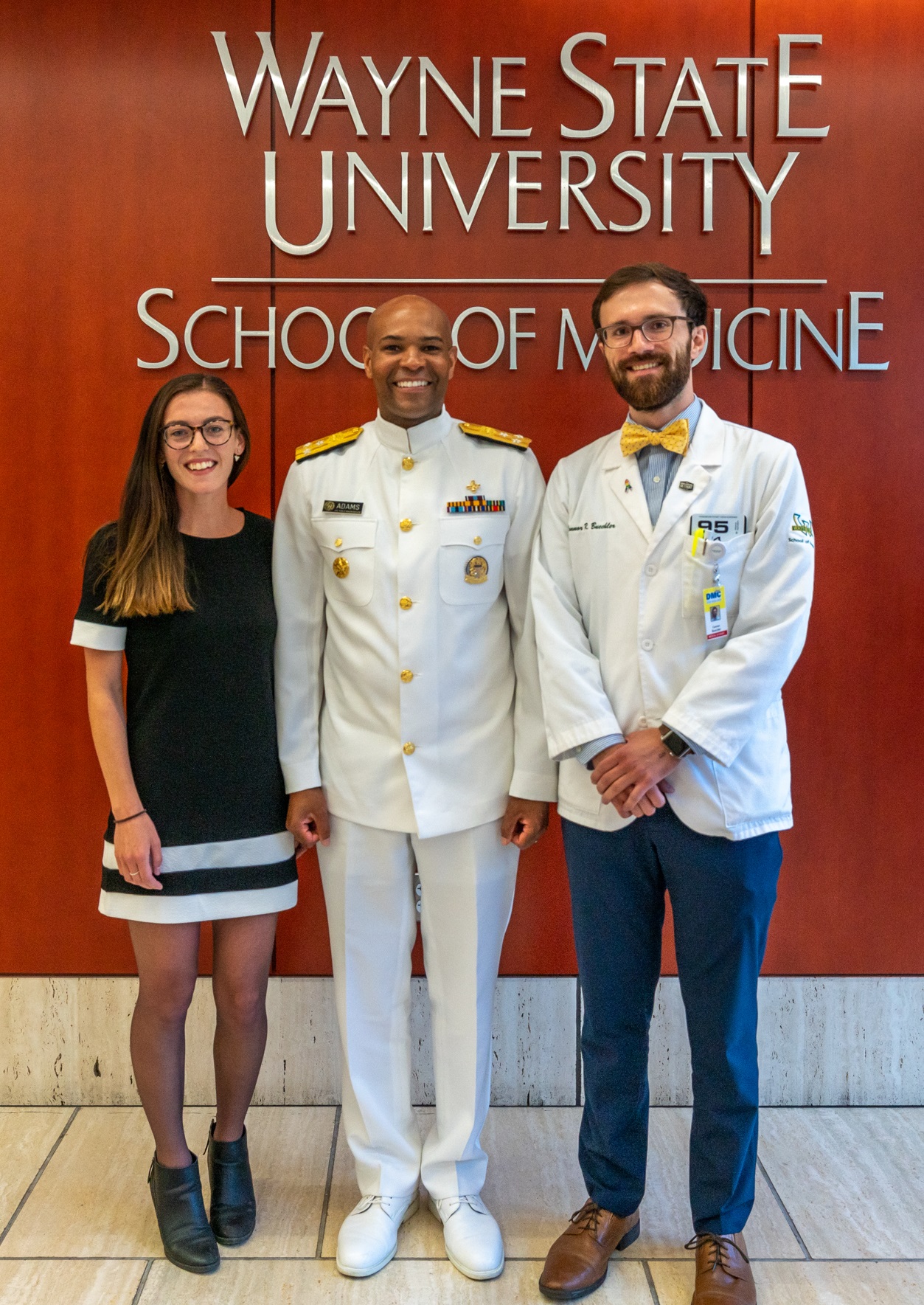 Both discussed the opportunities they have to talk directly to patients through student-run organizations like Street Medicine Detroit.
"I've been personally very involved with health care for the homeless here," Buechler said. "The school allows us to do that. We can have long conversations with people, which you can't do in a clinic. That's the kind of learning experience we get here."
Buechler and Carter are both members of the school's executive senate.
Social accountability is a particularly vital aspect of the new world of medical education, Dr. Baker added. "It (the needle) can't be moved until the entire community is engaged," he said, referencing the 2018 Academic Medicine article he co-wrote, "Socially Accountable Academic Health Centers: Pursuing a Quadripartite Mission."
Present faculty members also discussed the new tobacco research division, the MIDOCs residency program and a collaborative effort to train more addiction specialists.
"The medical students will be inheriting the medical system you're trying to create. I think it is really important you're visiting medical schools," Buechler added.
"It was empowering to hear someone so high up has those same thoughts and feelings," Carter said. "Everything we talked about today does impact the city of Detroit."