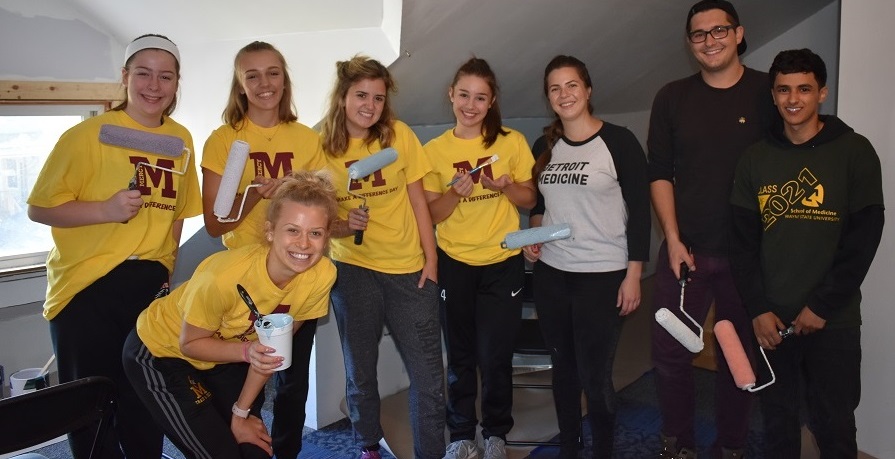 Medical students with the Auntie Na's and Art in Medicine student organizations of the Wayne State University School of Medicine spent the morning of Sept. 28 working with 30 students and two faculty supervisors from Mercy High School in Farmington Hills on six community service projects at Auntie Na's Village in Detroit.
Yellowstone Street at Elmhurst Avenue, on Detroit's west side, is the site of Auntie Na's House, a nonprofit 501(c)3 organization that includes a WSU student-run health clinic focused on women's health and wellness. The adjacent "village" includes houses remodeled or rebuilt this year on the same street of the colorful two-story home that has been in one family for six generations.
A clinic is located on the first floor of a home dubbed the Medical House, renovated earlier this year by members of the Auntie Na Student Organization, or ANSO. The Medical House also is the site of tutoring and art projects by children who participate in Auntie Na's regular community enrichment programming, including summer camps and monthly street bazaars.
The recent volunteer outing celebrated the high school's annual Mercy Make a Difference Day. The medical students also provided tours of the village, and students spoke with Sonia "Auntie Na" Brown about her efforts to provide a safe place for children and families in the area.
"We wanted to provide substantial, meaningful work for the students, along with mentorship opportunities. We also wanted to make good use of the generous funding from Alumni Affairs to accomplish organization goals for both ANSO and AIM," said ANSO President and Class of 2021 student Zaid Mohsen.
Outside, medical students Dazmonique Carr and Samantha Keller led a group in harvesting the community garden, pulling weeds and digging out a new greenhouse while Sammy Dia organized and led furniture refurbishment for the upper-level tutoring space. Furniture included tables, chairs, bookshelves and benches.
"We had an independent station where the students were tasked with putting together a coffee table as a team. With nothing but the instructions and necessary tools, the girls were able to help add a new furniture piece to the health clinic," Mohsen said.
Inside, students painted small canvases with positive messages about how they want to make a difference in the world. The collection will form a cohesive art piece in the tutoring space.
"It was refreshing to see young teens being invested in their community and passionate about making a difference. Their vision and aspiration came through on canvas when they were asked to paint what change they would like to see in the world," said AIM co-founder and President Manpreet Kaur, who led the art activity.
Fellow AIM co-founder Ashley Kramer and ANSO coordinator Timothy Brash led the painting of the upper floor.
"I chose to participate because I really value what Auntie Na's is trying to do for the local community. I think it is so important to invest in your own local neighborhoods because that is what molds young kids," Kramer said. "I really enjoyed the aspect of working with high school kids and talking to them about why investing time in community is so important to me as a medical student. They all seemed to have a great time and were excited about the fact that they were helping in the creation of a tutoring center/clinic. I also felt like I made an impact on them by sharing my values and inspiration for merging my hobby -- art -- with my professional interest -- medicine."
Kunj Patel (ANSO clinic coordinator) coordinated the painting of the patient exam room on the main floor of the clinic.
"We appreciated the opportunity to work with the students of Mercy High School, and we welcome them to join us again in the future. We hope they enjoyed this day of community service as much as we did, and we hope that they continue to make a difference in the communities they call home. We enjoyed getting to know this bright group of students and hope they strongly consider WSU after high school," Mohsen said. "For ANSO, we were happy to have all of our different workgroups represented: Clinic, Youth Enrichment Program, and Garden, Environment and Nutrition. This was a great boost for our Youth Enrichment Program. We will continue to build a sustainable and effective after-school tutoring program focused on promoting literacy. We also want to incorporate more art activities for the youth at Auntie Na's and we hope to build a stronger relationship with AIM to accomplish that."
The Medical House remodeling project was funded by a grant from the Kresge Foundation, with support from Associate Professor of Medicine and Director of Subinternship and Ambulatory Programs Joel Appel, D.O., and School of Medicine Director of Community Engagement and Assistant Professor of Internal Medicine Jennifer Mendez, Ph.D.