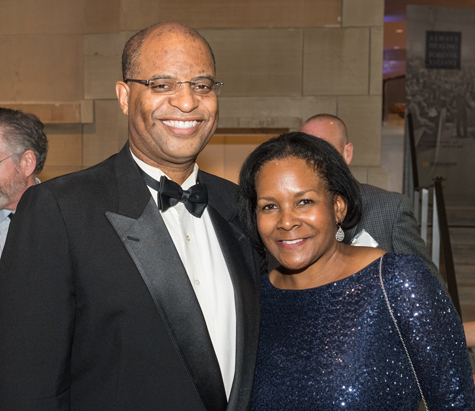 Inspired to help reduce the cost of medical education, John Carethers, '85, M.D. '89, and his wife, Denise Carethers have established the Dr. John and Denise Carethers Endowed Scholarship in the School of Medicine.
"Wayne State University is a wonderful school that trains talented students to excel and become the most outstanding physicians out there," Dr. Carethers said. "As alumni, it behooves us to help further that tradition."
A Detroit native with 11 siblings, Dr. Carethers understands the daunting financial realities of medical education. "Economics play a role in people's decisions. I'm from a big family and, though my family is well-educated we had to make decisions about our education based on affordability," he said. "Cost was a factor when I chose medical school, but choosing the Wayne State School of Medicine was one of the best decisions I ever made."
Dr. Carethers, the C. Richard Boland Distinguished University Professor, John G. Searle Professor and chair of the Department of Internal Medicine at the University of Michigan, credits his WSU School of Medicine education as the catalyst for his continued success in academic medicine.
"After I graduated from the School of Medicine, I completed a Harvard-affiliated residency program at Massachusetts General Hospital. My experience as a resident showed me that the training I received from Wayne State was on par with my Harvard-trained colleagues," Dr. Carethers said. "Wayne State University is a gem that may not be as well-known as Harvard, but the school provides a great opportunity to students."
Dr. Carethers also credits Charles Vincent, M.D., former dean of Admissions, as one of the reasons he was drawn to the Wayne State University School of Medicine.
"Dr. Vincent was the dean of Admissions when I applied to medical school. As an African-American with that sort of stature in the School of Medicine, he was a role model for me, and another reason I decided to choose Wayne State over the two other Michigan institutions where I was accepted," he said.
Today, serving as a mentor and educator, Dr. Carethers hopes to inspire talented students to pursue a medical education. Dr. and Mrs. Carethers established their endowed scholarship to reduce the burden of debt for promising medical students.
"Denise and I both come from backgrounds where we had some challenges and were able to overcome those challenges," Dr. Carethers said. "We want to help students who may be economically disadvantaged but have the brains and the talent to become excellent physicians."
Dr. and Mrs. Carethers hope that others will see the importance of philanthropically supporting medical student education and join them in giving to the School of Medicine. For more information about how to make a gift, contact Jon Goldstein at 313-577-3033 or jgoldste@med.wayne.edu.