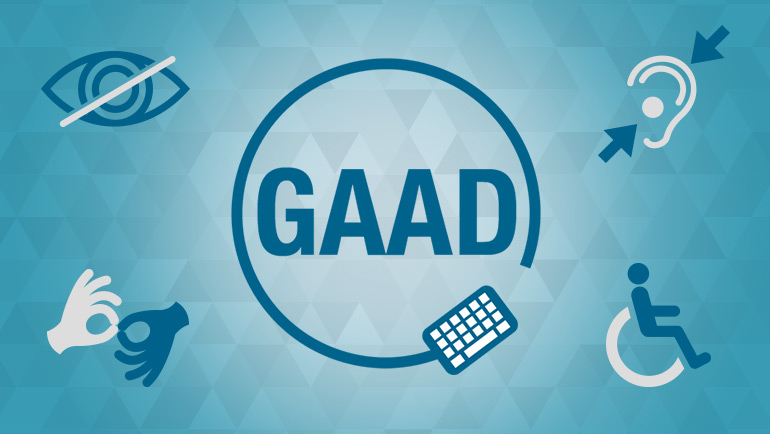 In keeping with Wayne State University's commitment to inclusivity and access, the university will commemorate Global Accessibility Awareness Day (GAAD) Thursday, May 20. GAAD was developed to get people talking, thinking and learning about digital access and inclusion for people with different disabilities.
"The goal is to provide an accessible, usable and welcoming environment for everyone. In the last year especially, we have all been given the opportunity to think more intentionally about how we connect with one another," said Krystal Tosch, web accessibility coordinator. "One of Wayne State's greatest strengths is its diversity, and we strive to provide services, facilities and curricula that promote equality and inclusion. Every user deserves the best experience."
Accessibility touches every aspect of the university community and includes electronic and information technology, instructional materials, collaborative experiences and interactions, and the physical environment. Wayne State's accessibility efforts are led through collaboration between the Web department in Marketing and Communications, the Office for Teaching and Learning, the Office of Equal Opportunity, Student Disability Services, and Facilities Planning and Management, among others.
"Our campus works together to create a culture of accessibility, and in that collaborative spirit we are making these important considerations and adjustments part of our natural processes," said Tosch.
Faculty and staff are invited to participate in events throughout the week in observation of GAAD:
Training: Teaching with accessibility in mind
Join Student Disability Services for an interactive training session that will include an overview of accessibility in Microsoft Word and PowerPoint, adding closed captions/transcripts to your content, and Canvas best practices. The training will be hosted virtually from 11 a.m. to noon Wednesday, May 19. RSVP for teaching with accessibility in mind.
Drop-in: Website accessibility
Join this informal session to have any and all web accessibility questions answered and to connect with your colleagues. Drop-ins are welcome virtually from 9 to 11 a.m. Thursday, May 20. RSVP for website accessibility drop-ins.
Drop-in: Teaching and learning accessibility
Join this informal session to ask questions about accessibility in course materials and design, and connect with colleagues to share ideas and success stories. Drop-ins are welcome virtually from 1:30 to 2:30 p.m. Friday, May 21. RSVP for teaching and learning accessibility drop-ins.
Canvas course
Accessibility training is available on Canvas for all faculty and staff. The self-paced sessions — complete with hands-on components — will include information related to web accessibility. Faculty and staff can self-enroll in this training course.
To learn more about accessibility at Wayne State University, visit wayne.edu/accessibility.