Delinquent lunch balances of nearly 600 students at Gull Lake Community Schools have been erased thanks to a donation from the Officer Collin Rose Memorial Foundation.
"Our namesake Collin Rose was a 2006 Gull Lake High School graduate. He was proud of his hometown," said foundation President Chris Powell, who was Rose's best friend and his training officer at the Wayne State University Police Department. "We're honored to give back to the community in his name. We hope this donation helps rectify the situation and clear the debt of all these families so their children can eat warm meals and concentrate on their studies."
Nineteen percent of the district's 3,086 student population had a delinquent lunch balance as of mid-October. The $3,501.28 donation zeroed out the lunch balances of 587 students who had a negative account. The district had reported a negative lunch balance of $3,418.02 but the foundation opted to overpay with an amount that paid homage to Rose's badge number of 128.
"I expected to hear a number that was going to be in the hundreds of dollars, not in the thousands," Powell said. "We couldn't believe that nearly 20% of the school district had an outstanding lunch balance. We felt good about giving everybody a clean slate. It's fun and rewarding to do this."
One in five children under the age of 18 in Kalamazoo County live in households that are struggling with hunger, according to the Food Bank of South Central Michigan and the national nonprofit agency Feeding America.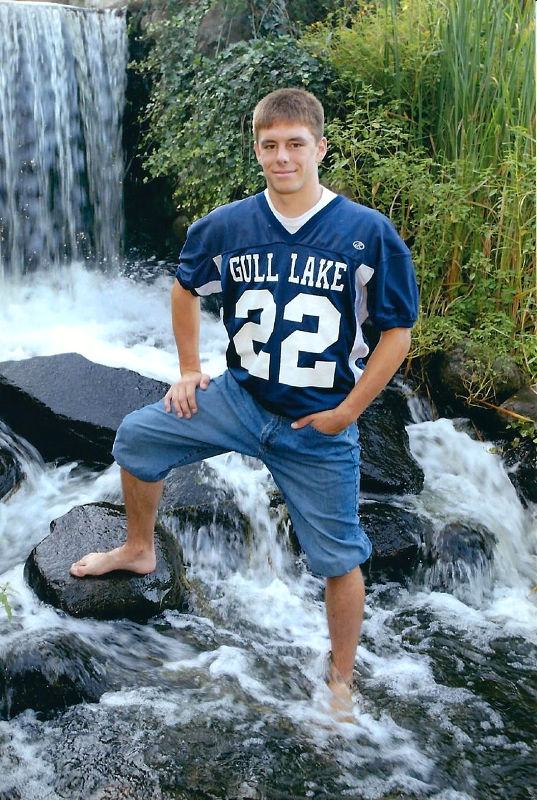 A special presentation ceremony with Rose's parents, Karen and Randy, will take place at the high school on Friday, Nov. 8, at 1 p.m. While the foundation's goal was to benefit the students, the attention it has garnered has already reached national media outlets such as CNN. "We are happy the foundation has chosen to do this in Collin's honor," said Karen Rose. "It's a perfect fit."
The gift comes as the third anniversary of Rose's end of watch approaches. Rose was fatally shot on Nov. 22, 2016, during a traffic stop. He was 29. Karen Rose recalled a story from the 113-day manhunt for her son's killer. One of his co-workers told her that she showed Collin's picture to countless people on the street. She reminded them that there was a reward for information and any lead would be helpful.
"Many responded to her that they recognized Collin immediately because he had bought them lunch," Rose's mother said. "Collin would love buying hundreds of lunches for kids just as much as he enjoyed helping those on the streets of Detroit."
The Officer Collin Rose Memorial Foundation was founded in July 2017 to help ensure that Rose is never forgotten. Since then, the foundation has set up a scholarship in Rose's name, with the inaugural award given to the grandson of an officer killed in the line of duty. The foundation is currently accepting nominees for a K-9 safety grant for canine welfare advocates like Rose, who worked in the K-9 unit.
In addition, the nonprofit organization:
Hosts events that bring together his survivors and supporters
Provides safety gear to K-9 teams around the country
Funds cyclists in the Police Unity Tour and support new line of duty survivors
Aids animal welfare organizations
Places memorial markers for fallen heroes
At an Oct. 22 foundation board of directors meeting, it was unanimously decided to use some of the money raised during the recent third annual Collin Rose 2K9 Memorial Run and 5K to clear the students' lunch debt.
"This is a new area, as far as the foundation's work goes. It's been focused more on honoring fallen police officers and supporting K-9 units," said Amy Stirling Lammers, a member of the foundation's Scholarship Awards Committee and assistant general counsel at Wayne State. "With paying off the lunch debt, this is one more way of keeping Collin's spirit alive. This is what he did in life. What better way to honor his legacy than to do it this way."
For more information, visit the Officer Collin Rose Memorial Foundation Facebook page or collinrosememorial.org.