A Wayne State University School of Medicine faculty member will be a key speaker during the Health Care Leadership Summit webcast conducted by Crain's Detroit Business next week.

Phillip Levy, M.D., M.P.H., the Edward S. Thomas Endowed Professor and associate chair for Research in the Department of Emergency Medicine, will give a presentation during this year's virtual event, titled "Opportunity Amid Crisis." The summit will examine the ways in which the health care industry is changing in response to the COVID-19 pandemic.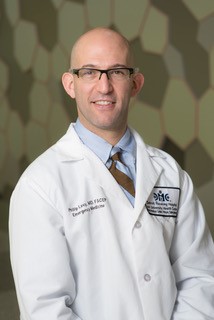 Dr. Levy, who is also WSU's assistant vice president for Translational Science and Clinical Research Innovation, and Wayne Health's chief innovation officer, will speak about the social determinants of health during the 3:30 to 5 p.m. segment Oct. 14.

Crain's notes that people of color in metropolitan Detroit have been disproportionately affected by COVID-19. Experts agree that addressing the social determinants of health, including socioeconomic status, education, employment and social support networks, are key to improving health outcomes. The segment will examine the role of those factors in the pandemic, and how they are changing the way health care is delivered.

WSU's Center for Translational Science and Clinical Research Innovation, directed by Dr. Levy, is the hub of campus-wide clinical research aimed at improving health and health care for Detroit and southeast Michigan. In partnership with the community, the center serves as a focal point for WSU faculty to work with funding agencies and industry partners to design and conduct clinical research involving innovative methods, drugs and devices.

The goal of the center is to work with community advisory boards to determine the direction of the university's clinical research, helping to ensure that studies and discoveries are applicable and available to community members. Through the center, WSU is aligned with, engaged in and informed by the community in its research efforts. The center is positioned to guide the development of grants and early- to late-phase drug and device studies, as well as design and conduct epidemiological studies.

Key to the center's approach is a novel form of mapping health data by census tract to provide information supporting targeted efforts to improve health in areas with historical health disparities. The goal, Dr. Levy explained, is to develop a precision approach to population health, guided by data provided by drilling down as far as possible, perhaps even to individual neighborhoods. Such data provides policymakers with information to laser-focus efforts for substantial impact where the need is greatest.

Known as PHOENIX – the Population Health OutcomEs aNd Information Exchange – this novel geocoded map is housed at Wayne State University using de-identified electronic health records in combination with information on population level social determinants to paint an overall picture of health in Michigan area by area, using color-coding to graphically display differences.

The center also includes an industry-facing entity called Clinical Research One at Wayne to provide a "one-stop shop" for industry partners seeking to conduct research, which in turn can lead to growth in technology commercialization. Industries seeking to test new drugs and devices can contract with WSU to conduct clinical trials across a coordinated network of regional health care systems, with all operations conducted from the centralized location.

Other speakers joining Dr. Levy for this presentation include Brandi Basket, D.O., chief medical officer for Meridian Health Plan Michigan, and Marijata Daniel-Echols, Ph.D., program officer for the W.K. Kellogg Foundation.

Additional topics for the summit include "Health Research Opportunities" from 3:30 to 5 p.m. Oct. 13, and "Health Care Mergers and Acquisitions" from 3:30 to 5 p.m. Oct. 15.

The event begins at 3:30 p.m. Oct. 12, with a keynote conversation with Joneigh Khaldun, M.D., chief medical executive and chief deputy director for Health and Human Services for the State of Michigan.

All sessions are free and will be conducted virtually. Register here.