For Jacob Hoofman, the feeling of being one giant leap closer to his dreams is "one of the greatest feelings in the world."
Hoofman grew up in Lowell, Mich., a farming community on the west side of the state. He decided to pursue a career in medicine when his family went through several incidents involving addiction, "genuinely wanting to be a part of changing someone's life and not be on the sidelines in regards to their health," he said.
He was among the more than 290 new medical students who received their first white coat during the Wayne State University School of Medicine's Welcome Week for the Class of 2024, which kicked off Aug. 24-25 at Chevrolet Plaza outside Little Caesars Arena.
The short white coat indicates they are physicians-in-training.
"Putting on a white coat and wearing a white coat should change you. It should make you think of the awesome responsibility you will have for the rest of your life," said School of Medicine Dean and Vice President of Health Affairs Mark E. Schweitzer, M.D. "Being a physician is a calling. It is not a vocation. And the white coat symbolizes the calling that medicine is."
The students started medical school online in July due to the COVID-19 pandemic that halted face-to-face instruction at WSU in March. Welcome Week was the first time the students met each other and School of Medicine administration and leadership.
"It was great seeing my classmates for the first time. Sharing stories together, laughing and getting to know one another," Hoofman said. "I am an incredibly people-centered person, so seeing everyone and getting to put a face to a name and learn more about the people I am going to be spending so much of the next four years with was just awesome."
The week kicked off with two mornings of socially-distanced meetings during which students sat outside, masked, and spoke with members of their assigned color-coded learning communities that make up their Gross Anatomy Lab team.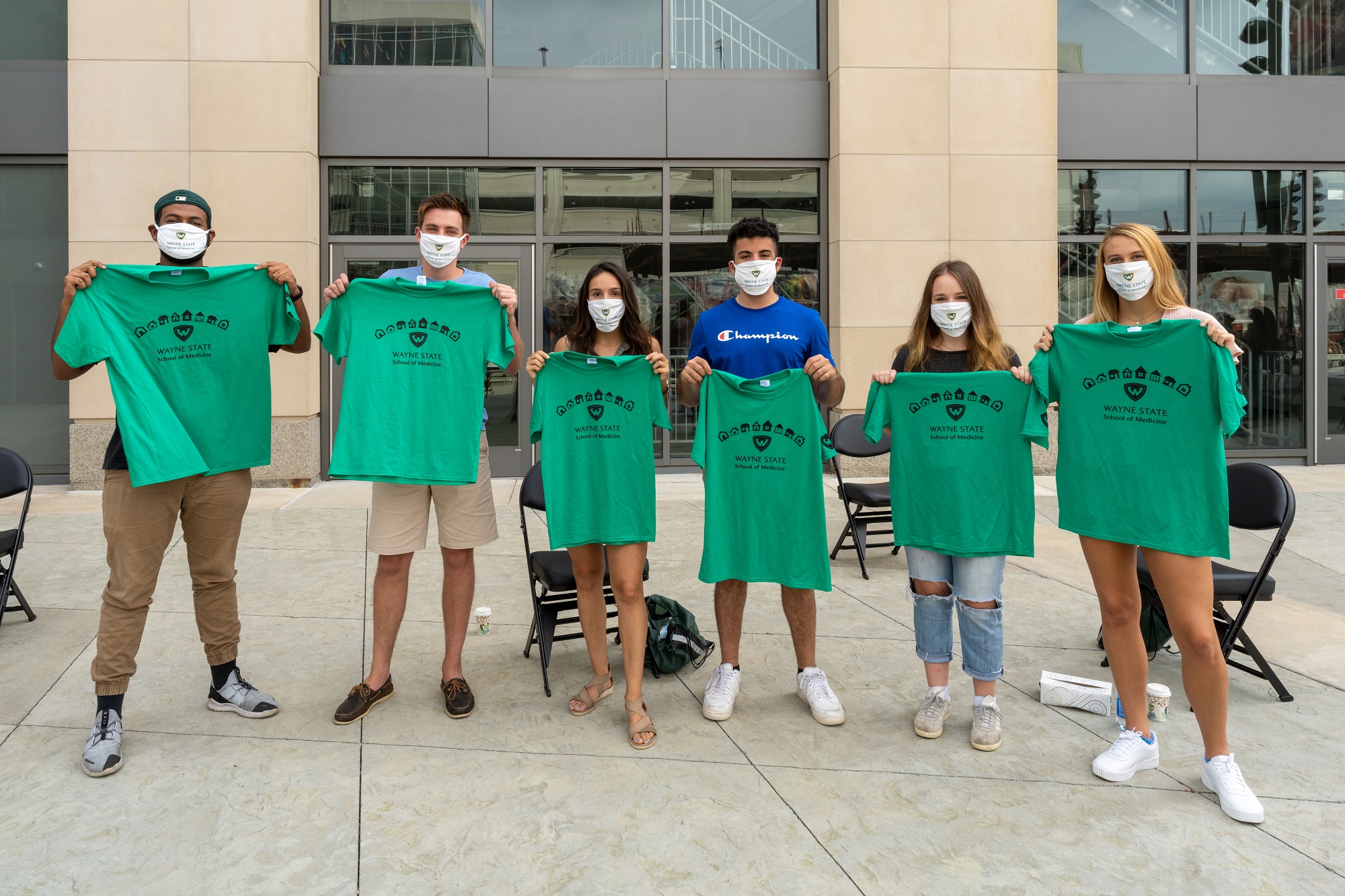 Alexandra Rogers, a Grosse Pointe, Mich., native, was especially excited to start her journey to becoming a physician.
"I have worked very hard for a long time and starting medical school finally makes it feel like it was all worth it. It is a privilege to be starting medical school because it means that someone believed in me, my work ethic, character and ability to be a great health care provider for others," she said.
The students spent the rest of the week attending webinars about wellness, financial health and more, as well as the school's first virtual student organization fair.
"I have had an absolutely great experience with Wayne State thus far. The faculty and staff are very supportive with helping us adjust to medical school, especially during this pandemic," added student Belinda Joseph Benhar, a Windsor, Canada-native. "I'm incredibly grateful that our faculty was able to put on a great event for us students to meet each other in person despite the current circumstances with the pandemic."
The new class, selected from a pool of 10,000 applicants, includes 149 females and 145 males from 22 different states and 25 different birth countries who earned undergraduate degrees from 93 different colleges.
"We are fortunate and proud to have you here. You will have experience things in an environment uniquely different than medical students have experienced for the last 100 years. In many ways, it will be more reticent. I thank you for entrusting your education to us. And I guarantee your education will be superlative," Dr. Schweitzer said.
Medical student Lewis Graham didn't have to travel especially far to attend the festivities.
"I am excited to embark on this journey and pursue my dream of becoming a physician. Additionally, this experience is precious and sentimental for me because I get to attain this distinction in my hometown, Detroit," he said.
In 2011, Graham worked in the Detroit Medical Center with the Project Genesis program.
"My experience with those nurses, physicians, care technicians and patients had shown me that medicine is a meaningful and fulfilling career. I hope to be as impactful as the health care workers I met throughout the years," he said. "So far, my time at Wayne has been both humbling and invigorating. I am working like never before, and my growth over the past six weeks and the next four years is what will help me thrive as a health care provider. What I look forward to most in my first year of medical school is connecting with my talented and brilliant classmates. The wide array of perspectives, experiences and backgrounds should help us learn from one another and learn something new about ourselves during this journey."