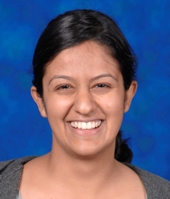 A second-year student at the Wayne State University School of Medicine has been awarded a select Summer Medical Student Fellowship from the American Academy of Child and Adolescent Psychiatry.
Sunali Wadehra won the fellowship. The academy awarded only seven fellowships.
The AACAP fellowship offers students the chance to explore a career in child and adolescent psychiatry, gain valuable work experience, and meet leaders in the field of child and adolescent psychiatry. Wadehra plans to practice psychiatry.
"I am excited out of my mind over this opportunity," said Wadehra, 26, of Detroit. "I find this work so fulfilling, and I have a blast doing it. But more importantly, I feel blessed to have connected to such a wonderful research team with passionate mentors who are so deeply invested in their work. This wouldn't have happened without their support."
The fellowship provides $3,500 and full travel costs to the academy's annual meeting in Toronto this October. She will submit an abstract at the meeting to present her results.
With the fellowship, she will work under the mentorship of Vaibhav Diwadkar, Ph.D., assistant professor of Psychiatry and Behavioral Neuroscience and co-director of the Division of Brain Research and Imaging Neuroscience, and David Rosenberg, M.D., the Miriam L. Hamburger Endowed Chair of Child Psychiatry and professor of Psychiatry and Behavioral Neurosciences. She will use high-dimensional functional magnetic resonance imaging and a sustained attention task to investigate how attentional demands modulate cortico-striatal network interactions in children and adolescents with attention deficit hyperactivity disorder.
"Sunali has demonstrated exceptional zeal and motivation to take on extremely challenging research problems in clinical neuroscience," Dr. Diwadkar said. "Her principal area of work, the application of Dynamic Causal Modeling of brain interactions toward understanding psychiatric disorders, in my opinion lies at the very cutting edge of both neuroimaging and clinical research. It is particularly impressive to me that she and her work have received validation from two prestigious organizations with differing agendas. These awards in part reflect the confidence two highly distinct organizations place in a young and emerging academician like Sunali. It is my privilege to mentor her and I am pleased to see that her efforts have received deserved international recognition."
Wadehra also recently received a Trainee Abstract Travel Award from the Society for Human Brain Mapping. The $460 award will partially offset her attendance at the meeting this week in Quebec to present her abstract, "A disrupted affective pathway in adolescent schizophrenia offspring evidenced using fMRI and Dynamic Causal Modeling." Only 113 of the more than 1,200 entries were selected for presentation.
She and her mentors investigated disordered cortico-limbic network interactions underlying the affective appraisal in adolescent children of schizophrenia patients. They focused on the adolescent years because critical development in cognitive and affective programs occurs during that period and because children at this time may be vulnerable to a combination of environmental and genetic factors that alter normal development.
She explained that the unaffected adolescent children of schizophrenia patients are at greater risk for psychopathology. Since affective impairments are a signal symptom of schizophrenia that emerges before the onset of the illness, studying alterations of the development program in adolescents holds significant relevance.
"Our results are the first demonstration of network analyses techniques to fMRI (functional magnetic resonance imaging) data in children and adolescents at risk for schizophrenia," she said. "Dysfunctional interactions within the emotional processing network provide evidence of latent vulnerabilities that confer risk for disordered adolescent development and eventually the emergence of the manifest disorder."
Wadehra was scheduled to give her presentation June 28 during the Disorders of the Nervous System: Psychiatry oral session.