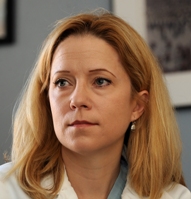 A Wayne State University School of Medicine professor of Emergency Medicine is the new president of the Michigan College of Emergency Physicians.
Melissa Barton, M.D., was elected to a one-year term as president of the college by its board of directors.
Dr. Barton, a 2001 resident alum from the Wayne State University School of Medicine, serves as director of the Wayne State University Sinai-Grace Hospital Emergency Medicine Residency Program. A member of the MCEP since 2004, she has previously served the organization as secretary, treasurer, president-elect, newsletter editor and membership committee chair.
The college, which has 1,459 members, is committed to protecting the longevity and future of individual physicians and emergency medicine as a specialty. The organization promotes policies that preserve the integrity and independence of the practice of emergency medicine.
"I am honored to have been elected by my colleagues in the college," Dr. Barton said.